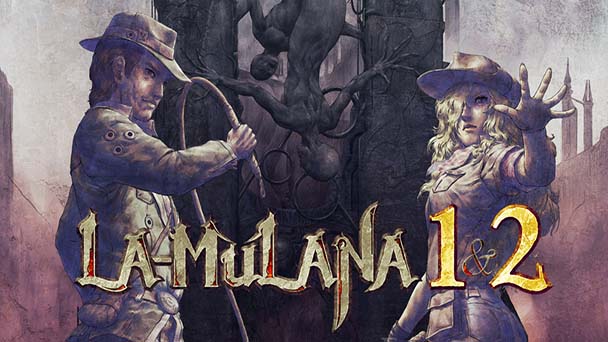 Tougher than a Four Dollar Steak
'Trial and error' based gameplay isn't for everyone. For some, approaching a puzzle and attempting new techniques until a solution is found can be frustrating. If you're the type of person who becomes infuriated by frequent failure, you'll probably want to steer clear of La-Mulana and its sequel. While both games routinely telegraph danger, occasionally a collapsing ceiling or unforeseen pit will remind you that exploring ancient ruins is unequivocally dangerous.
But players seeking the satisfaction that comes from solving fiendish puzzles and defeating formidable bosses across at least fifty hours of play, might want to reconnoiter these two Switch releases. Sure, they're arduous journeys, and I suspect most players might need a guide at one point or two.  But for those who believe there's a correlation between difficulty level and player fulfillment, La-Mulana and its sequel offer a wellspring of hard-earned gratification.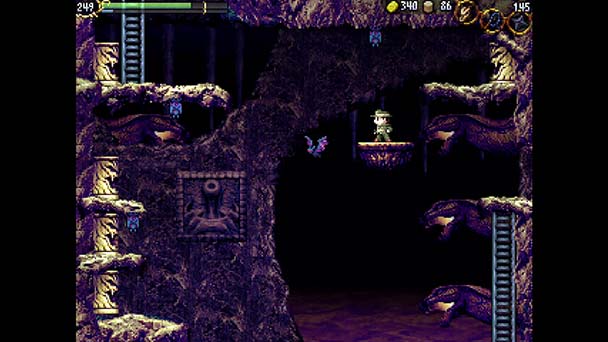 Exploration is Best in Pairs?
Developed as an homage to MSX computers, La-Mulana debuted as a freeware PC game in 2005. Save for a fan-made English translation, the title didn't receive a proper stateside release until a 2012 remake arrived on the Wii. Pleasingly, positive word of mouth helped to crowdsource financing for a sequel, which emerged six years later. While the two titles are now available as separate Switch downloads, the Hidden Treasures Edition bundles both games alongside an art book, soundtrack, and jigsaw puzzle.
Pleasingly, there's quite a few similarities across La-Mulana and its sequel. One of the most remarkable is the breadth of the lore. The original game undoubtedly is inspired by the Indiana Jones films. Clad in a fedora and starting the game with a trusty whip, Japanese-American archeologist Lemeza Kosugi explores the game's eponymous ruins, rumored to be the birthplace of the world's civilizations. Like Spielberg's quartet of films, family plays a key role, and with La Mulana 2, the protagonist is Lemweza's daughter Lumisa.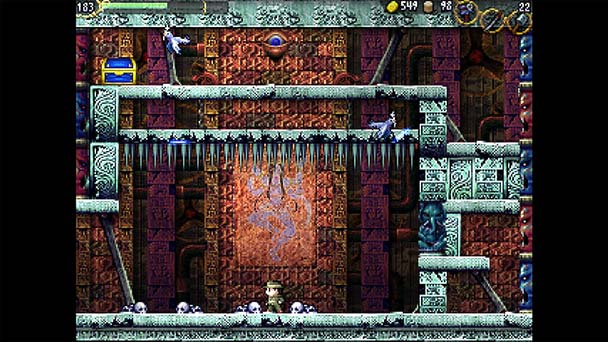 Cleverly, you can play both games without constantly pausing for plot. But those seeking a rich context will appreciate the game's wealth of exposition. Most comes from interaction from the MobileSuperX laptop each explorer carries, conveying comical conversations and a steady dripfeed of advice. Whimsical mythology is rooted in the game's bestiary, where creatures like a charming but deadly Cat Sith (a feline balancing on a circus ball) and a recurring guardian known as Ratatoskr will test your pattern observation skills. Importantly, the games' worldview feels unified, although there's a bit more Nordic influence found in the sequel.
Falling for You
Unlike the cautious existence faced by most game explorers, Lemeza and Lumisa face ubiquitous adversity. Some of that is found in each game's location, where spikes and pits protect from intruders. But it's also in the form of a multitude of enemies. These need to treated with care, as it all too easy to touch one and thrown backward, often plummeting downward. When you are propelled off-screen, creatures respawn, so expect to battle these baddies once more.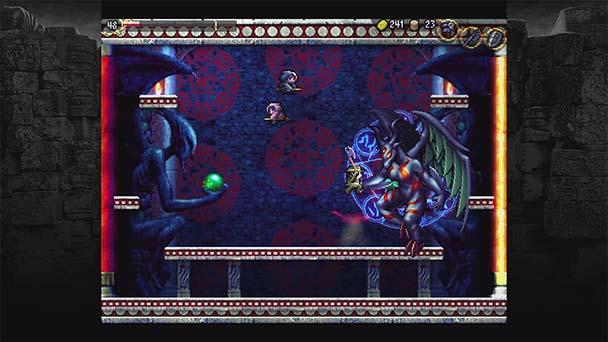 Fortunately, La-Mulana 1 & 2 provide plenty of tools to assist in your endeavors. Each explorer has a far-reaching jump, with Lumisa given a bit more agility in the air. Luckily, you'll collect gold from cracking open pot that litter the playfield. Beside ammo for your main and sub-weapons, you'll also earn gold that can be used to purchase weights that activate switches or even a waterproof bag for your computer. Interestingly, you can even install apps on the protagonist's laptop, although you'll have to wrestle with a limited amount of memory, which might be a bit too realistic.
Action and exploration feel similar to most Metroidvanias, as you leap across platforms and dispatch enemies. But what sets La-Mulana and its sequel apart are the puzzles. These can get perplexing and if you forgo the use of a FAQ, expect to beat your head against the wall. Without giving too much away, many enigmas are rooted in observation, and you'll probably want to pen and notepad nearby, like any respectable cinematic explorer. You'll also want to save often. Neither game offers auto-saving, so you'll have to responsible for your own record keeping.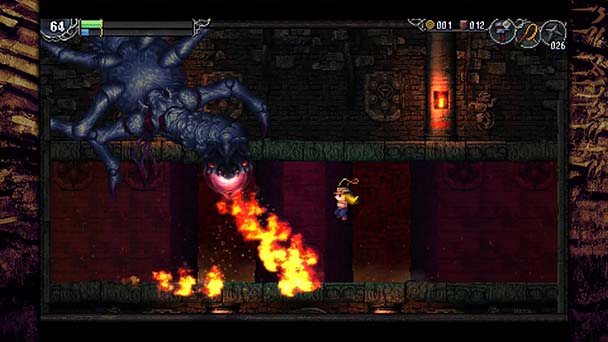 Conclusion
Visually, La-Mulana 1 & 2 both draw inspiration from the two-dimensional games of the 32-bit generation. Spites and backdrops are drawn with a pleasing amount of detail, with the former flaunting fluid animations. Intermittent visual effects like an aura of light that gently illuminates the area around the protagonist or translucent rays that peer in from the ceiling contribute to the beauty. Likewise, both games have an infectious soundtrack courtesy of Houryuu Samejima. Expect the kind of upbeat refrains of gaming's past with a tempo that prods you into adopting an imprudent pace.
Sure, there's plenty of really challenging games out there. But opt for La-Mulana 1 & 2 and you'll uncover a pair of adventures that delivery the difficulty while harnessing a charming retro vibe. That combination might be offputting to some, but those seeking an astonishingly arduous adventure will appreciate developer Nigoro's efforts.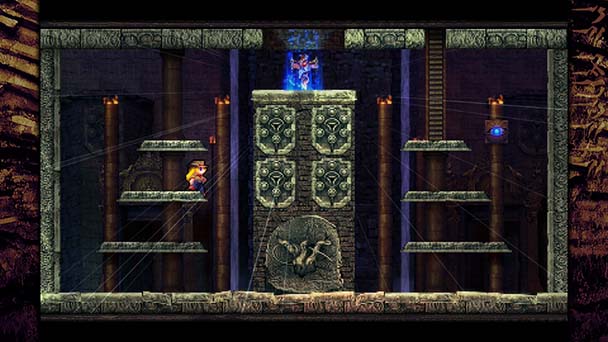 La-Mulana and La-Mulana 2 were played on Switch
with review code provided by the publisher
La-Mulana 1 & 2

Platform:

Switch


Developer:

NIGORO


Publisher:

NIS America


Release date:

March 17th, 2020

Physical availability:

$59.99 physically via

Hidden Treasures Edition Digital availability:

via eShop,

La-Mulana

($14.99) and

La-Mulana 2

($24.99)

La-Mulana 1 & 2 review
Review Overview
Gameplay - 85%
Controls - 80%
Aesthetics - 85%
Content - 80%
Accessibility - 50%
Performance - 80%
77
77%
GOOD
Summary : Brimming with secrets, puzzles, and lore, La-Mulana 1 & 2 offer a consummate challenge. Chipping away at each game's intricacies feel rewarding, but you'll also have to patience to deal with the cryptic clues and occasionally obtuse solutions. The package comes recommend but there's a caveat for the easily aggravated.

User Rating:

4.64 ( 4 votes)