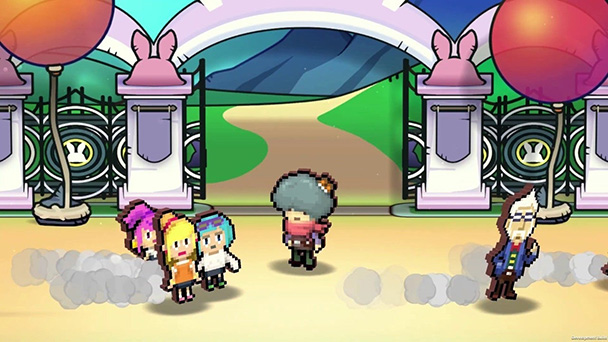 Anticipations might have been lofty for co-developers FuRyu and Netchubiyori's Heroland. With direction from Takahiro Yamane (Fantasy Life), scenarios from MOTHER 3 and Legend of Mana writer Nobuyuki Inoue, visuals from Nobuhiro Imagawa (MOTHER 3, Legend of Mana) and a soundtrack from MegaTen composer Tsukasa Masuko, the title undoubtedly arrives with a distinguished pedigree.
Delve into the recent PlayStation 4, Switch, and PC release and you'll momentarily distinguish its merits. The game's first chapter has the burden of establishing the context, which is intermingled with a necessarily dense tutorial, since Heroland yearns to offer a respite from role-playing convention. You didn't expect a dogged obedience to formula from this game's talent roster, did you?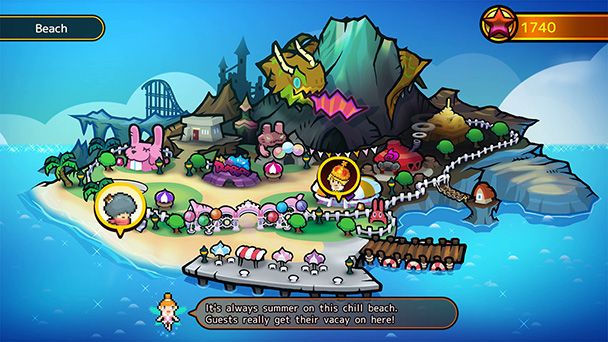 A Summer Job Turns into Servitude
Much like how Michael Crichton's 1973 film Westworld envisioned an amusement park-like experience for enthusiastic patrons, Heroland is a place for attendees to experience a live action role-playing experience. The potential for real danger aside, the destination sounds like an ideal place to earn a paycheck as a tour guide. As least that's what the user-named protagonist believes.
But trouble is foretold when Prince Elric rejects using your preferred name and starts calling you "Lucky". Shortly, you bump into a coworker, breaking an outrageously priced vase. You're deemed negligent and are ordered to work at Heroland until you can pay off this liability. But you're not the only one in a predicament. Prince Elric was recently demoted to eighteenth in line for the royal throne. With a Don Quixote-like mindset, he thinks Heroland is an actual adventure, and he can reclaim his aristocratic status by defeating The Dark Lord. But just like every other monster and NPC in the amusement park, The Dark Lord seems to be another underpaid, diligently working cast member.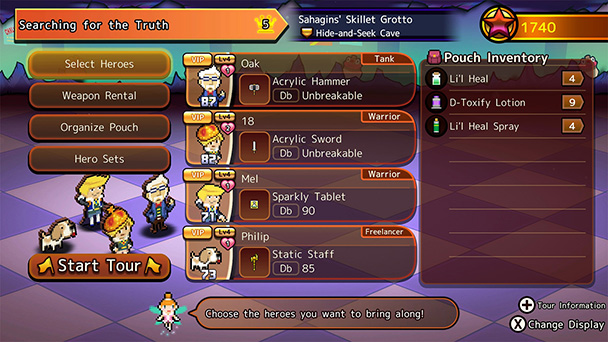 Humor by the Line
Released in Japan as Work x Work, the game's delivered an abundance of witty dialog. Everything from puns, and pop-culture allusions and even sight-gags were worked into almost every conversation. Pleasingly, XSEED has provided one of the most proficient localizations on the year, upholding the game's rapid-fire humor. If you're accustomed to playing RPGs and visual novel with the text set to auto-advance, you might want to reconsider that choice here, or else you'll miss a reference.
Naturally, role-playing traditions provide a lot of room for parody, but that's not the only source of laughter. Witnessing Heroland fastidiously provide backstories for it's growing cast of characters it quite amusing, and when these personalities interact, it grows exponentially more enjoyable. So not only is there a Sancho Panza to serve as a foil for the misguided Prince Elric, but also a fairy who's burdened with the duty of plot exposition. Agreeably, Lucky's own working-class upbringing is juxtaposed against Elric's royal background, providing for some spirited tension between the two. Almost everyone emerges a bit wiser, even Mr. Otterman, Lucky's apparently human coworker who consistently mistaken for an otter. What's especially gratifying is the game's subversive wit; corporate culture receives a respectable roasting across Heroland's plotline.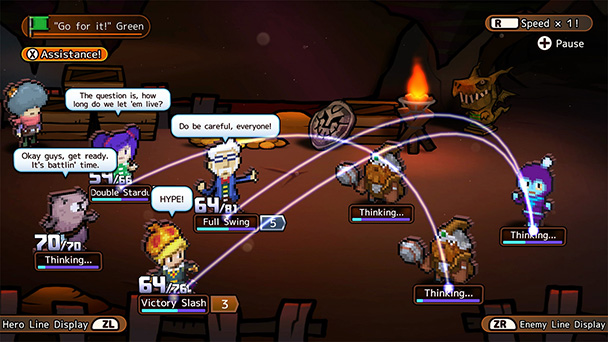 Dungeoneering That's Too Automatic
Heroland's resentment for menial work also emerges during the game's combat. This will undoubtedly be a sticking point for players attracted to the game's storyline. As a tour guide, Lucky isn't directly involved in the game's expeditions, and can only provide guidance to the four-person adventuring parties. Quests play out like a piece moving across a board game, with the occasional junction helping to ensure these pursuits aren't completely linear. Along each stop, you'll oversee bits of conversation, battles, a boss showdown, and if successful, a trinket that can be placed in your living quarters.
The game's fights are turn-based affairs, where adventurers largely act autonomously. They'll choose their targets, decide between normal, magical, and enhanced weapon-based attacks, and even routinely apply a bit of healing to team members.  It's obvious that FuRyu and Netchubiyori wanted to break away from the conventional micro-management behind traditional role-playing systems. But too often, Heroland resembles a clicker game, requiring a modicum of participation from the player.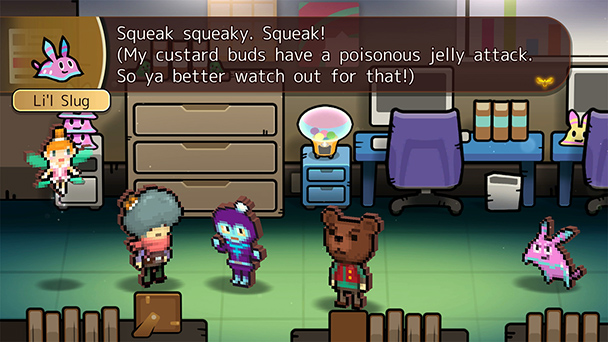 So, You Wanted to Be a Turn-Based Battle Coach?
Players can provide guidance, instructing individual members to apply different strategies or even coaching the entire team to use specific tactics. They can also use items from an inventory that constantly feels small. But these actions are tempered by a cooldown timer that forces players to be selective about their actions. Eventually, success will quicken the speed of the gauge, your item supply will grow, and you always have the option to speed up the pace of battles. But these feel like minor tweaks to a system that far too passive. Another issue is the need to grind characters. While benched adventurers gain a bit of growth, you'll be goaded into replaying battles which can really feel like a chore. Lastly, the tendency for adventurers to overuse and subsequently break weapons can be an annoyance when you don't have complete control over their actions.
That said, there are some upsides to be found. Heroland does a commendable job of articulating the rapport between tour guide and patron. Makes the right decisions and you'll increase your friendship level with the guest, which provides side-questing opportunities. Subtly, you'll also witness a bit of character development. Seeing Mr. Otterman's disappointment signals when a mission reward was a bunch of clams demonstrates the game's command of comedy.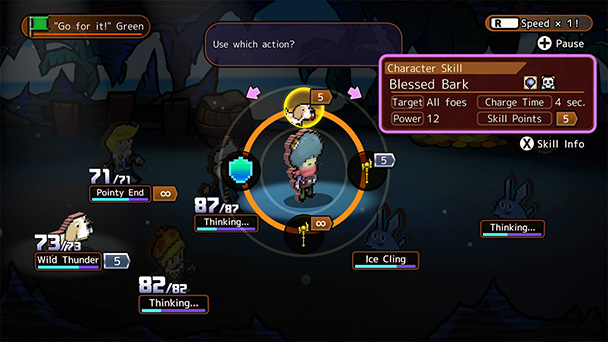 Looks and Runs Great on Switch
Aesthetically, Heroland's visual delivery is just as creative as its plotline. Characters resemble classic 2D pixeled sprites but are rendered at angles that reveal a bit of voxelated thickness. This method allows for some comical effects, with characters stretching out when they're angry or excited, recalling Paper Mario's style. Sonically, the game's soundtrack is charmingly melodic. But the showstopper is Macco's battle anthems that remain harmoniousness even when sped up during accelerated battle speeds.
Heroland's roster of respected talent endows the title with imagination. It's a game crafted by an assembly of endowed artists who've spent most of their lives playing and making role-playing games. As such, its lively skewering of tradition and corporate culture feels distinctive and it poised to delight the genre's most dedicated audience. Just be prepared for disappointment in the battle system, which doesn't provide the gratification in moment-to-moment decisions. Heroland is worth visiting, even if its main attraction needs an overhaul.
Heroland was played on Switch with review code provided by the publisher. 
Review Overview
Summary : A visit to Heroland will you have laughing at the clever dialog and unfulfilled by a combat system that sidelines your involvement. Human interaction can be great and exploitation of labor is bad, the game informs. You'll likely agree with the sentiment but might take issue with the way it's taught.