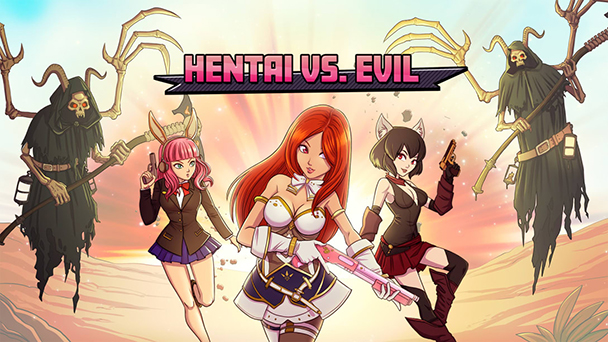 Hentai vs. Evil isn't all that sexy and has a jumble of enemies that seemed culled from the free asset pool. But it's not prohibitively priced and might be entertaining in short doses.
Hentai vs. Evil
Platform:
Switch, also on PlayStation 4
Developer:
Axyos Games, Catness Game Studios
Publisher:
EastAsiaSoft
Release date:
May 27th, 2021
Price:
$9.99, $7.99 launch discount price
Digital availability:
Nintendo
eShop
and other digital storefronts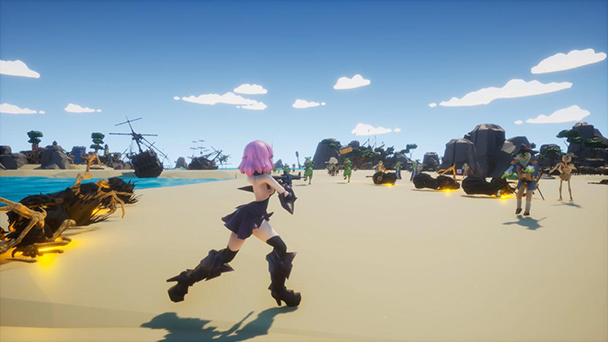 For many Westerners, the expression 'hentai' signals something sexy. Commonly used to describe pornographic manga, anime, and games, the word has been recently co-opted by a legion of PC game developers, eager to exploit the term in hopes of earning a quick buck. From Hentai Waifu to Hentai Weed PuZZles, Steam hosts about 800 different games that incorporate the word in their title. Unless you are attracted to crudely drawn anime-style characters, few of them aren't very sensual.
But in Japan, the term "hentai" (or 変態) isn't limited to erotic media. Referencing the original definition, the first character (変) means "curious" or "strange", while the second kanji (態) refers to a "state" or "condition". Commonly, the term is used to describe an abnormal obsession. But the Japanese language has multiple levels of meaning, and hentai can also refer to a metamorphosis, such as a tadpole transforming into a frog (which is different from the shapeshifting of "henshin").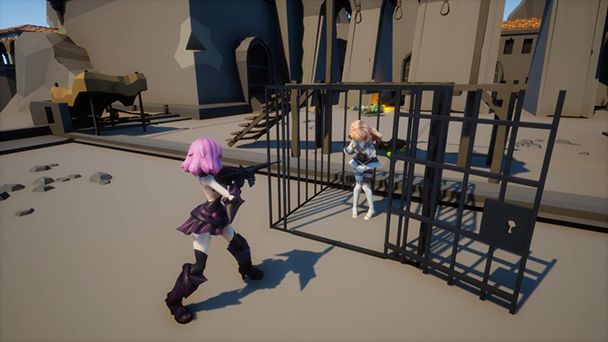 Three Girls, Three Guns, A Bit of Fun
With the release of Hentai vs. Evil, it's not really clear which of these definitions is meant by the developers behind this PlayStation 4 and Switch title. Across a trio of environments that range from sunny suburbs, an island populated by pirates, and an urban city at night, players employ guns to mow down crowds of monsters. Perhaps hentai refers to the character models, who can be dressed in everything from bikinis, sweater dresses, or a blazer and micro-skirt.
Panties are on persistently display with an adjustment of the right stick that controls the camera. While PlayStation owners miss out, the Switch version permits players to go topless or see-through with 'uncensored mode', making for some amusing snapshots with the game's photo mode. But it's far more silly than sexy, and I don't think many hearts will go all doki-doki over the game's trio of plastic- looking, nameless protagonists.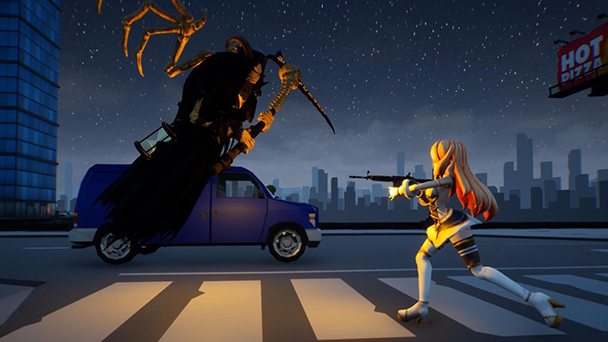 "Don't Fear the Reaper" is a Blatant Lie
Likely, they won't go too wild over Hentai vs. Evil's two play modes. Rescue modes, tasks players with first killing a dozen Grim Reapers. But you'll have to worry more than just about the scythe-wielding monstrosities who dogged pursue you if you draw too close. Subordinate creatures also dot each milieu and you'll have to deal with everything from undead cops, skeletal pirates, and orcs who look like fugitives from high-fantasy game. Meanwhile Survival mode dispenses with the liberation, offering a rather straightforward score-chase against mobs.
Your choice of weaponry is typically selected at the start of a game, although you might stumble on alternatives scattered about. There's a 30-round automatic rifle, an 8-round shotgun, and a woefully impractical sniper rifle. Since enemies are all programmed to make a beeline for you, a long-range rifle is ineffective at dealing with frequent throngs of foes. The one assist that Hentai vs. Evil does provide are toolboxes which float in midair. Gun one of these down and you'll earn a perk like flaming bullets or exponentially increase damage, albeit for half-minute or so.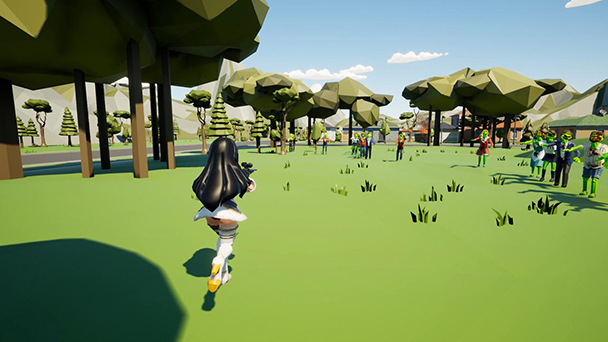 A Solid Engine That Needs More Substance 
But that's not to say Hentai vs. Evil isn't enjoyable, at least in brief spurts. With qualities like mode selections that aren't maintained across each run, HvE can feel more like a tech demo that an actual game. But there is some satisfaction to be found given the game's responsive controls, fairly fluid framerate, and succinct playtimes. Sure, there's not a lot of strategy, and the title is a bit dubious, but occasionally a breather filled with simple, pulpy action can be invigorating.
That said, it's hard not to feel that Hentai vs. Evil's foundations could have been expanded. Had Moscow-based Axyos Games added meta-game elements that steadily boosted the power of your firearms and rewarded playtime, the title would likely maintain interests for longer than a weekend. As it stands, the game's arsenal grows stale a bit too quickly and you'll have seen everything there is to offer in about an hour.
Hentai vs. Evil was played on Switch with
review code provided by the publisher
Review Overview
Summary : Hentai vs. Evil has the foundations for a solid game, but it's just not (ahem) fleshed out enough. Gunning down orcs and skeletons is mildly fun, but players might a bit more substance and sexiness.