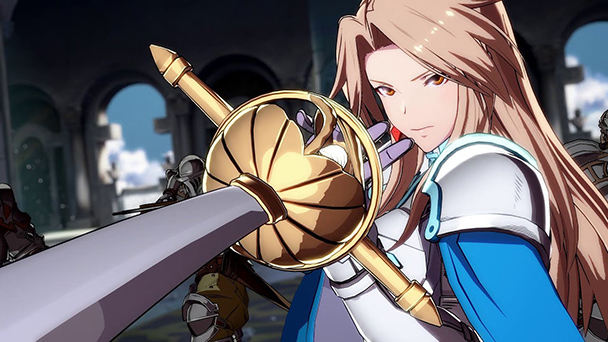 Fighting Game Auteurs
Beyond beloved franchises like Guilty Gear and BlazBlue, Arc System Works is no slouch when it comes to adapting existing properties into fighting games. From Persona 4 Arena to Dragon Ball FighterZ, the Yokohama-based developers have delivered one-two combos that supplied intricate mechanics coupled with retina-blistering visuals.
With the PlayStation 4 release of Granblue Fantasy: Versus, the studio tackles adapting Cygame's well-liked role-playing game/gacha puller into a fighter. Save for a few issues like a diminutive roster, their latest is another winner. Whether you're here for the opulent visuals or to retest your quarter-circling abilities, Fantasy: Versus undoubted lives up to Arc's prodigious pedigree.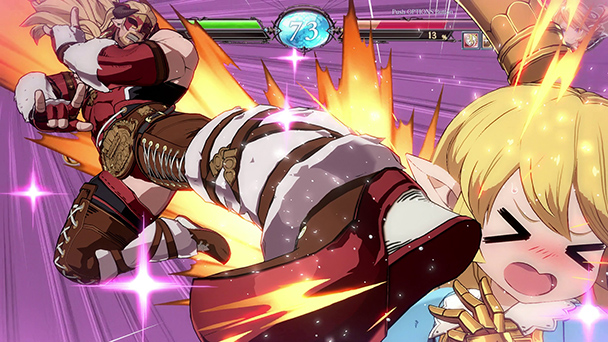 Tutorials That Offer Actual Coaching
If you're inexperienced with fighting games, Granblue Fantasy's Free and Mission Training Modes are ideal places to familiarize yourself with the fundamentals. The former offers the conventional arena for trying moves against AI drones and provides numerical indicators of damage amounts. But it's the latter that's especially helpful. Here, a succession of teachings not only impart the basics of combos and special moves but articulate the strengths and weaknesses of every strike. Satisfyingly, its robust enough to transform a complete newb into at least a scrappy intermediate-level combatant.
Certainty, it helps that Granblue Fantasy is one of the most accessible fighters that Arc System Works has ever created. As its core is the conventional light/medium/heavy attacks that date back to the Street Fighter II era. While the developers are too shrewd to include double-digit combos, tapping the same attack button executes basic auto-combos, giving newcomers a boost of confidence.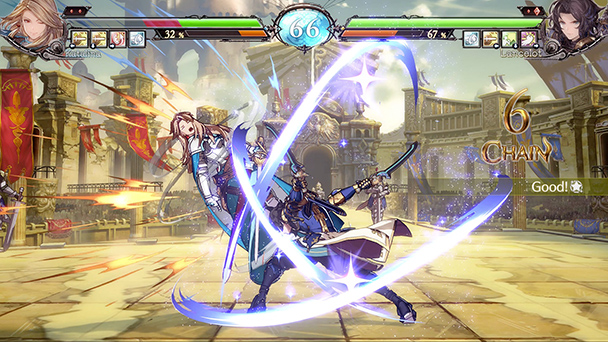 You Think You're Special?
But things get more interesting with the inclusion of AB attacks. A press of the fourth button with a tap on the directional pad discharges a special move. But to keep Granblue from descending into button-mashing territory, use is accompanied by a cooldown. Those who've mastered hadokens and spinning piledrivers can opt for traditional movement inputs where they'll be rewarded for their efforts with a much shorter cooldown.
Smartly, the developers ensure that experience is justly rewarded. Play rewards combatants who control space with skilled fighters able to box an opponent into the corner to dominate a match. But that's not the only way to emerge victorious. Judicious dodging and throwing as well as having a block at the ready can disgrace a careless adversary. Unlike most anime-styled fighters, Granblue Fantasy: Versus favors the ground-based game, eschewing the air dashes and high-speed movement common to the sub-genre.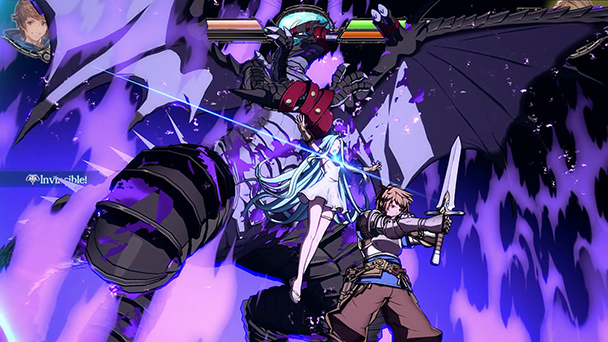 Unique Fighting Styles Across a Lean Cast
Versus' roster is a bit of a mixed bag. One the upside, the game's eleven fighters play distinctively. Ferry, the game's whip-toting spirit maiden has a deadly reach and a 15-hit combo for foes that get too close. Meanwhile, Metera can keep opponents guessing with double jump that can provide distance, while her massive bow distributes melee and ranged strikes. Players who like to delve in and master each character could easily spend weeks with the game's default roster.
But paradoxically, the inventory of playables can feel a bit condensed for a modern fighter, especially when contrasted against Dragon Ball FighterZ's 21 characters and 3 unlockables. Adding insult is the presence of season character passes and color packs to help expand the game's roster. Although Versus' shuns the monetized gacha pulls of its source material, the standard edition can feel like it's using the old "foot in the door" sales technique to lure you into future purchases.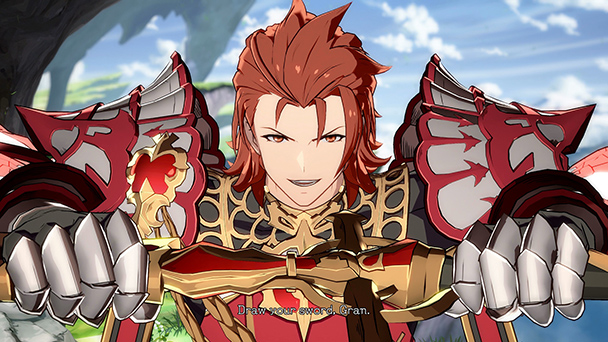 That said, some solace can be found in Versus' RPG mode. Here, you along with an optional local or online partner will take on quests, where a multitude of enemies materialize across a battlefield that resemble a traditional, horizontally-scrolling fighting stage. Although hacking through the nondescript enemies can be a bit tedious at times, the presence of boss battles and the ability to earn premium tickets (and even unlock a character) incentivizes play. If you're a fan of GranBlue lore, then there's some storyline to be found. Just don't expect the writing to do much more than reference material from the mobile title.
Conclusion
Aesthetically, Granblue Fantasy: Versus confirms Arc's ability to make polygonal combatants resemble their sprite-based counterparts. Expectedly, the title captures the Arthurian stylings, drifting airships, and evocative azure skies and grassy knolls of Cygame's game. For some, witnessing Hideo Minaba's detailed character designs spring to life will produce joy, especially during the post-fight celebratory poses and cutscenes found in RPG mode. Although Nobuo Uematsu didn't contribute to the soundtrack, GranBlue collaborator Tsutomu Narita works alongside Yasunori Nishiki and Picnic to produce the orchestral swells poised to delight the ears. Potentially, the only issues with the game's performance are the slightly protracted load times and occasionally laggy netcode.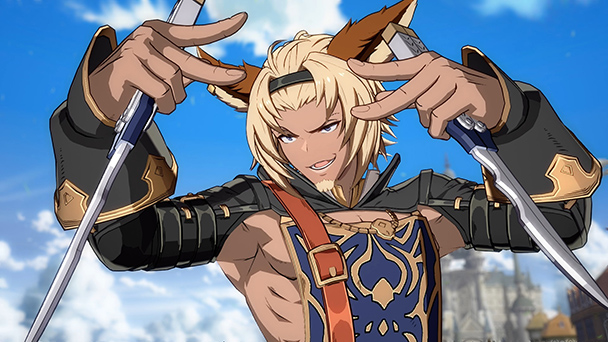 Arc System Works has repeatedly proven to be fighting game authorities, having crafted an array of top-tier franchises. Undoubtedly, Granblue Fantasy: Versus upholds their reign with pugilism that's both accessible to newcomers and intricate enough for connoisseurs. While success is blemished by roster that's a bit too lean, there is a sufficient amount of variety found in each fighter's arsenal. It's always a bit tragic when worthwhile games are undermined by miserly marketing practices.
Granblue Fantasy: Versus was played on PlayStation 4
with review code provided by the publisher. 
Granblue Fantasy: Versus review
Review Overview
Gameplay - 85%
Controls - 90%
Aesthetics - 90%
Content - 65%
Accessibility - 75%
Performance - 80%
81
81%
VERY GOOD
Summary : Whether you're entranced in the sumptuous character art or just refined combat, Granblue Fantasy: Versus largely delivers, converting Cygame's mobile title into a respectable fighter.

User Rating:

4.35 ( 4 votes)