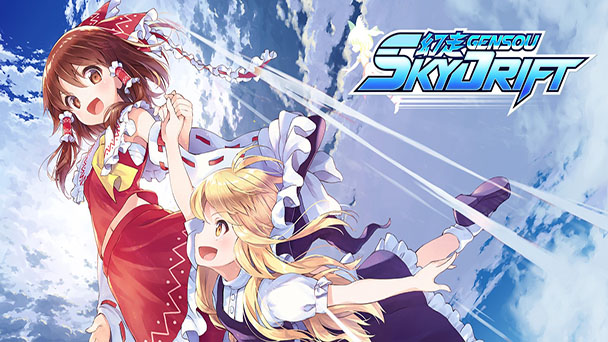 The Touhou Project began with a collection of meticulously-coded bullet-hell shooters, or danmaku. Coded by a former Taito programmer who operated under the moniker of Team Shanghai Alice, the games earned distinction not just for the mind-boggling number of on-screen projectiles thrown at the player, but also for their inventive setting and characters. Set in a fiction land called Gensokyo, where Feudal tradition, folk lore, and pop culture intermingle, Touhou quickly resonated with players. When coupled with creator's refreshingly lax approach to the property, fan-crafted efforts soon proliferated.
Over the past two decades, conventional lead Reimu Hakurei's adventures are remarkable diverse. No longer just the protagonist in shooters, Reimu and her Gensokyo-based brethren have starred in doujin-developed fighting games, platformers, puzzlers, and rogue-likes, seemingly penetrating almost every genre in gaming. With the release of Gensou Skydrift, Reimu and nineteen other characters tackle sixteen different racing circuits, all in the hopes of a first-place finish.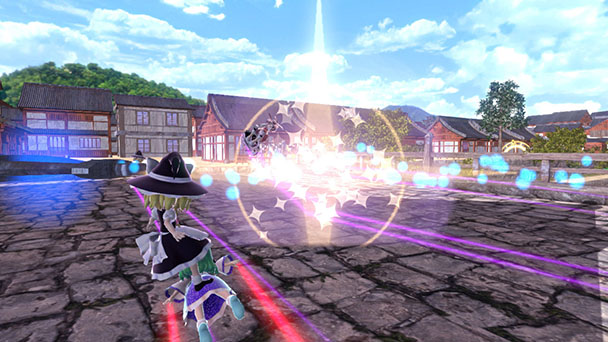 Ride me, Reimu!
While the standard approach would have been to give each competitor their own kart, Skydrift pairs up its characters, having one girl ride on the back of another girl who floats above the ground. But fortunately, no one is permenantly stuck doing vehicular duty. Delve in the game's campaign and you'll shift control of Touhou luminaries, with brief visual novel-style conversations contributing exposition to help fuel the rivalries. If you're not familiar with the Gensokyo universe, the dialog won't make much sense, but at least newcomers can skip these sequences. Interplay between characters isn't particularly deep, with developer illuCalab focusing on the action.
The other feature to keep characters from permanently becoming human hoverboards is the games switching mechanic. With a button press, the two girls swap places, providing a short burst of acceleration. But more importantly, switching provides an opportunity for resource management. As you careen across each course, rings deliver a speed boost. Flying through them also fills a gauge. Once full, you can convert the meter into a spell card that provides Mario Kart-like weapons and perks. But with Skydrift, each girl has their own gauge, permitting prudent players to bank multiple magic items.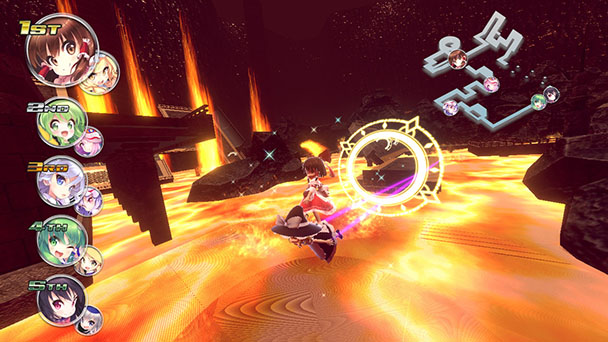 Two Finger Drifting
While the campaign's first two circuits offer some succinct instruction, Skydrift requires you to learn some things on your own. As the game's moniker implies, drifting is fundamental for success. Unlike most games that require players to tap a button to let the back-end slide out, here you'll have to simultaneously hold the accelerator and the brake. Playing on both Switch and PC, a claw grip feel like the best method for two-button drifting. But when coupled with spell card functionality mapped to the top triggers, hand cramping was inevitable across longer play sessions.
Although the first few courses send players rocketing over flat surfaces, Skydrift soon revels its true ambitions. Head to Remilia Scarlet's mansion and you'll glide across walls and wind through hallways, potentially losing track of which surface is the floor. Increasingly, tracks become filled with forking paths that aren't always shown on the mini-map on the top-right corner of the screen. Generally, course design is proficient, but there are a couple of a ring-boosters and environmental objects that might cause you to lose the first-place finish needed for advancement.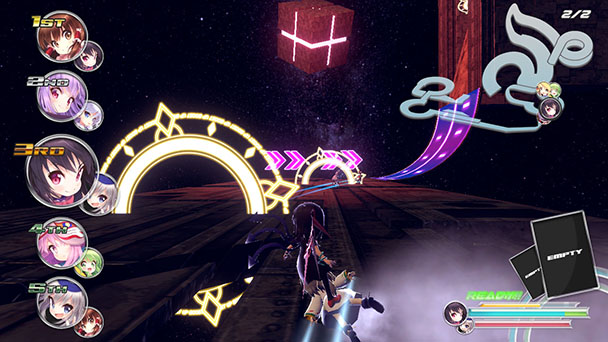 Curse That Rubber-Banding Remilia
Like many racers, rubber-banding is employed to keep things taut. As such, you'll rarely gain a decisive lead over your opponents. But on the upside, it's fairly easy to recover from a collision with the course wall or when an adversary skewers you with magic daggers. Generally, Skydrift isn't as grippy as other racers, with players having to anticipate tight turns in advance. Even when a drift was initiated, CPU-power competitors seem to have a prejudicial advantage.
Considering the game's doujin roots, it's not surprising that Gensou Skydrift has a few visual blemishes. Texturing in environments like Youkai Mountain and Seirensen can look a bit plain. While the PC version retains a sixty frame per second output, things are quite as smooth on Switch with a few course exhibiting less fluidity. Musically, the game's collection of remixed Touhou tracks is capable, helping to set a pace for the intense racing.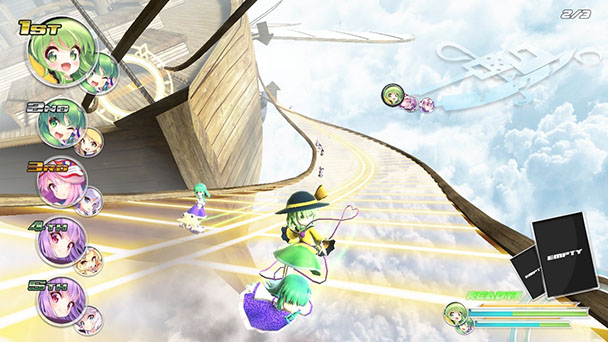 Conclusion
Content-wise, Skydrift comes up a bit short. Beyond the main campaign, there are options for individual, local and online multiplayer matches. Although the latter was reasonably, lag-free matchmaking on both versions proved time-consuming given the game's current audience size. The title's racers all have their own distinctive traits, from Remilia's spear shot that stabs its way to the leader to Suwako's ability to release a slow-storm. But beyond these behaviors, the game's roster feels a bit too homogenous.
The idea of Touhou girls riding their acquaintances like surf boards seems promising. But woefully, Gensou Skydrift doesn't do enough with the concept, offering little of the playful innuendo that players might be hoping for. But even more regrettable is the game's execution, which lacks the nuances and polish exhibited by capable racers. At twenty dollars, Skydrift is an interesting curio, but is hardly essential.
Gensou Skydrift was played on PC and Switch with review code provided by the publisher. 
Review Overview
Summary : While The Touhou Project has inspired some prestigious fan-made games, Gensou Skydrift isn't one of them. Essentially, it's a decent racer but nothing more.