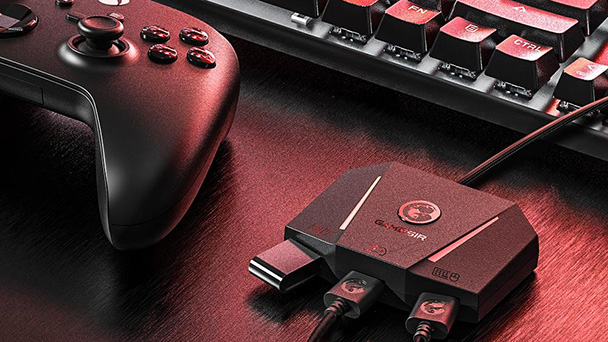 Looking for the upper hand in multiplayer competitions? The GameSir VX2 AimBox provides the mouse-and-keyboard accuracy to console users if your conscious is willing to comply.
GameSir VX2 AimBox
Platform:
Xbox One, Xbox Series X/S, PlayStation 4, PlayStation 5, and Nintendo Switch
Connection:
Wired (for Controller and Console); Wired & 2.4GHz Wireless (for Keyboard & Mouse); Bluetooth 5.0 (for GameSir App)
Audio port:
3.5mm jack (not supported on PS5)
Power:
USB (No battery required)
Micro-USB Cable Length:
50 cm / 1.64 ft
Type-C Cable Length:
50 cm / 1.64 ft
Product Size:
80*58*18.5 mm / 3.15*2.28*0.73 in
Net Weight:
84 g / 0.19 lbs
Package Size:
129*123*29 mm / 5.08*4.84*1.14 in
Gross Weight:
186 g / 0.41 lbs
Price:
$59.99 via
GameSir
, $49.99 via
Amazon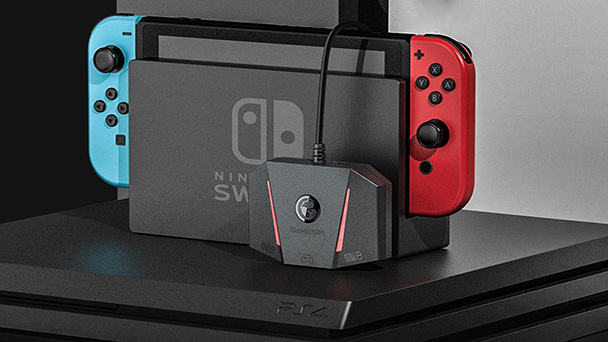 We all know that cross-platform titles like Apex Legends, Call of Duty: Warzone, and Star Wars: Squadrons don't offer a fair match between PC and console participants. The difference is rooted in the control schemes. In first- and third-person shooters, a sweep of the mouse can immediately spin the camera around for a PC player. Or users can fine-tune their aim, making diminutive adjustments with the peripheral.
But analog sticks aren't as versatile. Sure, there's some distinction between gently tilting the nub and pushing it to the physical boundary of the controller. But attempting to rotate the in-game camera 180 degrees is hardly an instantaneous action. Depending on the sensitivity setting, you might have to hold the stick for more than a second. That kind of delay can be deadly. Likewise, making pinpoint aiming adjustments with a controller just doesn't offer pixel-level precision.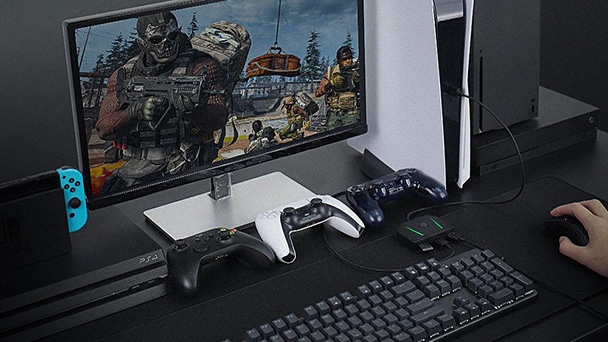 Opening Pandora's Box
The GameSir VX2 AimBox permits players to reduce the gap in cross-platform titles, while introducing disparity in platform-restricted ones. While it's not a panacea, it can improve performance without the worry of being suspended or banned for cheating. As such, those with little concern about ethics might want to give the fifty-dollar device a go.
Open the minute cardboard shipping box and you'll discover the VX2 AimBox, a USB-C cable, a micro-USB cable, and an instruction booklet. The succinct guide details setting up with device for use with the PlayStation 4, PlayStation 5, Xbox One, Xbox Series S/X, and Switch. But you might need two additional items. PlayStation 5 owners will need a third-party controller to play PS5 games, since the Aimbox is unable to spoof the Bluetooth communication of a DualSense. And if you play to using a wireless mouse and/or keyboard, you might need an additional USB cable to provide additional power for the AimBox.
Setting up the VX2 AimBox with a console might require a few device resets (performed via the single, large button on the top of the device). On other systems, it was necessary to disconnect and then reconnect the USB cable linking the AimBox to the console. But after at least a few attempts, connections were made with each contemporary console. Pleasingly, GameSir has programmed individual displays of lighting to show a successful coupling on each piece of hardware.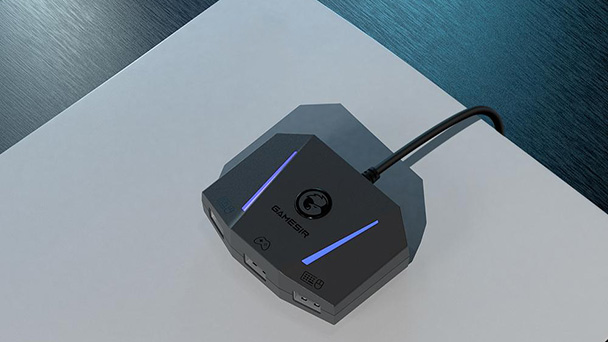 Remember Life before the Ubiquity of Firmware Updates?
However, there are a few more details that will likely need to be taken care of before gaining the upper hand in battle. Like most modern devices, there's are the obligatory firmware update (my review unit required two of them). GameSir's manuals state this must be handled by a Windows 10+ PC, but it can be accomplished via the app. But that's part of a larger issue. On Android, the Google Play version isn't compatible with a worrisome number of headsets. If that's the case, you need to install a APK and some security warnings. Because of this, the AimBox gives off a mediocre first impression. It can feel like a work in progress rather than a refined consumer product.
On the upside, the app offers a handful of platform-specific defaults for titles like Rainbow Six: Siege, Doom Eternal, or Division 2. There are some concerning gaffes (Days Gone is listed under the Xbox Series heading), but on the upside you can create your own custom settings or download user created ones. Options like sensitivity, smoothness, mouse acceleration and well as custom button settings are all possible. Know that remapping things like the WASD keys isn't supported, though.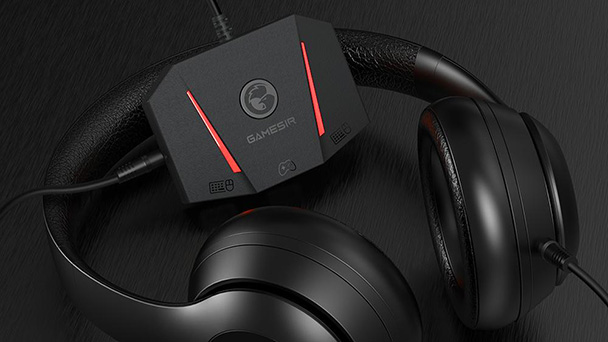 Blurring the Spaces Between Between Consoles and PCs
Perplexingly, the VX2 default setting is vastly unreturned, requiring a bit of in-app tweaking. But once this is accomplished and your playing preferences are established, the AimBox lives up to its promise. Sure, there's are tiny cues that you're not playing a game with native mouse-and-keyboard support. But most of the time, the device comes amazing close. I asked three PC gaming veterans to volunteer and every one of them was pleasantly surprised how good a mouse-and-keyboard-controlled Halo Infinite felt on console.
While the reoccurring refrain was, "just play on PC", all three testers said if they only had a console, they'd pick up the fifty-dollar peripheral. "I doubt it could handle RTS (real-time strategy) games, but for shooters, I'm surprised at how well it works", one stated. That statement proved only partially prophetic through. Playing through Sudden Strike 4 and Halo Wars 2 wasn't as dreadful as feared. "I'd call it serviceable. But honestly, if someone could patch in quick keys and I had no other hardware, it might work." But attitudes soured a bit when the volunteers were told of the list of unsupported games on PlayStation 5. From Call of Duty: Vanguard, Battlefield 2042, to Fortnite, there's a number of high-profiles titles that won't work with the device on Sony's platform.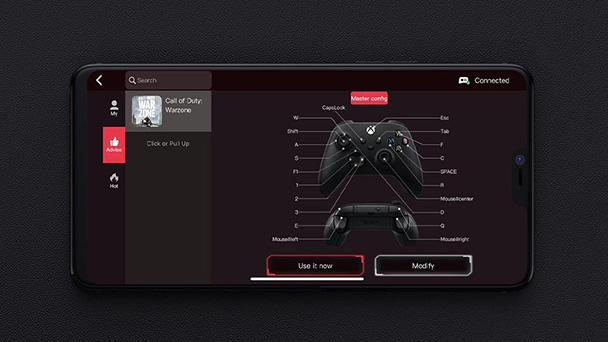 Conclusion
An upgrade over the previous AimBox (which adds a 3.5mm audio jack that can be used with everything but the PS5), the VX2 does the improbable. For most platforms, mouse and keyboard control feels organic, only losing some of its fluidity when sensitivity in turned down. If your main console isn't a PlayStation 5 and you can stomach being a cheater, GameSir's peripheral offers some pleasing functionality. Let's hope they smooth out the set-up process, though.
GameSir VX2 AimBox was provided for review by the manufacturer. 
Review Overview
Summary : Ever wanted mouse-and-keyboard control on console? The GameSir VX2 AimBox largely delivers on that promise as long as you don't exclusively use a PlayStation 5