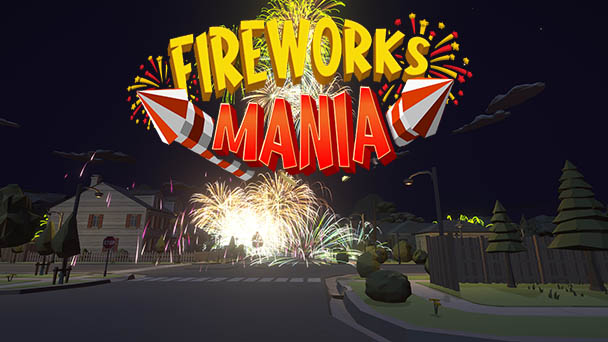 'Safe and Sane' or completely reckless, Fireworks Mania – An Explosive Simulator provides you all the materials you need to create a professional synchronized display or even a wild act of destruction.
Fireworks Mania – An Explosive Simulator
Platform:
PC
Developer:
Laumania ApS
Publisher:
Laumania ApS
Release date:
December 17th , 2020
Availability:
Digital
Price:
$11.99 via
Steam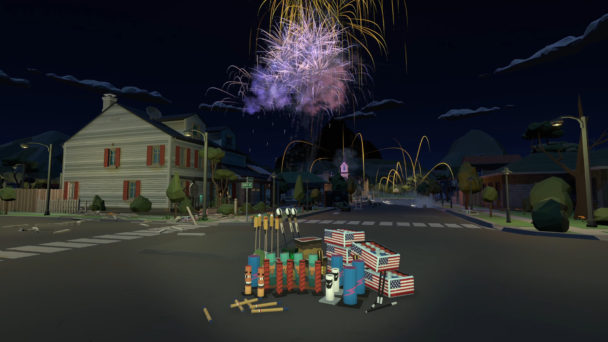 Let's make it clear: Fireworks Mania isn't a game in the traditional sense of the term. There's no story, motivation, goals, or guidance. But developer Mads Laumann's creation is remarkable addictive, providing players with unlimited amounts of rockets, firecrackers, and other explosives. Looking at the title's screenshots you might assume Mania is spiritual successor to 1985's Complete Computer Fireworks Celebration Kit.
While traditional firework displays are possible, so is riotous recklessness. An Explosive Simulator tosses all safety guidelines out the window, drenches the rules with gasoline, before setting them ablaze in a blistering conflagration. Yes, Fireworks Mania – An Explosive Simulator is pyrotechnic pornography, allowing you to reproduce the kinds of urban vandalism that would earn you a prison term in real life.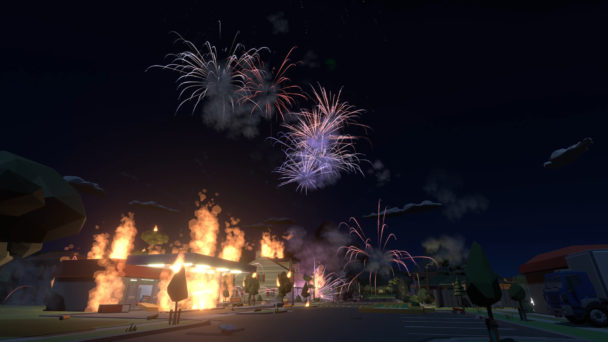 Breezy Set-up of Displays
Initially, you'll choose from two venues: a suburban town and a rural settlement. The select isn't just cosmetic. Each locale offers vandalistic opportunities. There's a gas station with a 4X4 just waiting to go up in a screen-shaking, monitor-illuminating inferno. Or you can pile a heap of propane tanks around a grain silo. But the only voice inviting you to cause that much destruction is the lizard brain deep inside your skull.
Pleasingly, Fireworks Mania – An Explosive Simulator's user interface favors quick set-ups of explosives overly precisely timed pyrotechnic spectacles. Bring up a menu by tapping the 'Tab' key, and you'll be able to sort through categories of rockets, cakes, firecrackers, novelties, tubes, and props. Pleasingly, each category has between five and nineteen variations, extending everything from rockets that can coat the sky with color to strobe effects.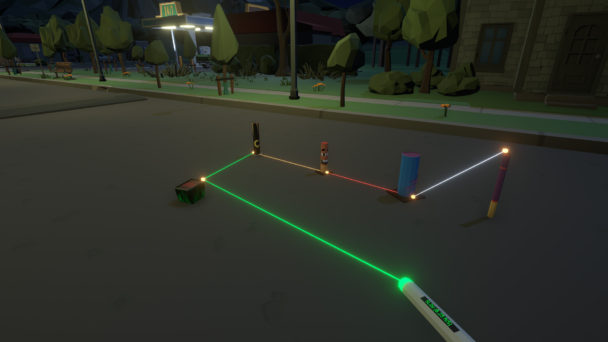 An Offer You Can't Re-Fuse
Using the mouse and keyboard, Mania's control scheme provides two placement types. A tap of the right mouse button freezes a firework in an upright position. If you want a succession of rockets to launch their payloads skyward, this can be accomplished in seconds. Alternatively, the left mouse button drops a firework down. This is handy for filling a backyard pool or truck bed with explosives. When you need more precision, Fireworks Mania offers a Physics Tool, allowing players to precisely adjust the position and angle of each pyrotechnic.
Chain reaction are possible with the use of the Fuse Tool. Resembling a laser pointer, this device creates wire-like connections between each firework. By scrolling the mouse wheel, players can set the burn rate, allowing for a rapid procession of detonations or time to run to the hillside to watch a farmhouse packed with explosives go up in a single blast. Pleasingly, Laumann understands that set-up time for each display should be as short as possible. As such, you can wave the Connection Tool across a heap of rockets and cakes, laying down a spider-web of fuse in a second or two.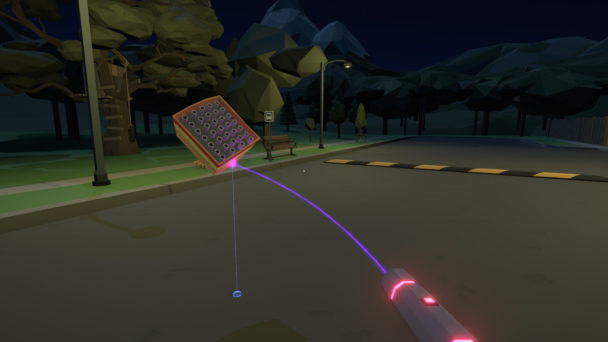 Proficient Performance, until a Room of Explosives Ignites
When it comes to performance, Fireworks Mania makes an admirable attempt to keep the framerate up. Create displays that fill the skies with a succession of rockets, and you'll be able to crank the settings up to "Ultra". Here, the burning skyrockets soar, leaving a realistic trail as they cut through the sky. When they explode, expect showers of particles, followed by wafts of lingering smoke. But when the delinquent tendencies take hold, you'll probably want to dial down the settings. While the actual explosion is in real time, Fireworks Mania can bring systems to a halt just before detonation. Even on a i7-10700 with a RTX 2070 Super, there was a two-second delay before a mountain of pyrotechnics filled with entire sky with fire.
If you have ever watched YouTube videos of firework depots accidentally igniting, it's obvious Laumann has research pyrotechnic explosions. Here, large denotations momentarily simulate the blinding blast and are accompanied by screen shake that conveys the amount of destructive power at play. Fireworks Mania doesn't employ conflagration modeling, so you won't start fire that raze an entire town. But pyrotechnics can create small fires as well as ignite nearby fireworks. Once I spend a half hour filling a truck with explosives and trying to blow it up with a precisely placed rocket a block away. It's this kind of improvisational play that makes Mania so addictive.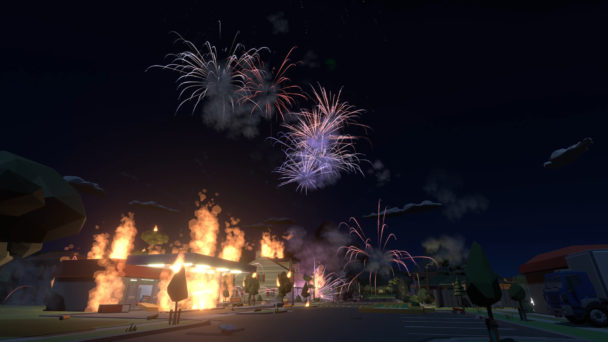 Conclusion
In its current state, An Explosive Simulator is missing a couple of indispensable features. Ideally, there would be a save and perhaps a share function, to preserve those meticulously crafted displays. Another worthwhile addition would be replays, as well as a camera perspective that wasn't locked to the ground. A controllable drone would also make a very welcome addition to Mania.
But it's evident that progress is being made. Small details like the distinctive sound of each firework are gratifyingly captured. Whether it's the shrill shriek of a ground-based cake or the percussive blast of a model M-80 (expectedly, there's no licensing), Fireworks Mania captures all of the sounds of pyrotechnic revelry. About the only noise that's missing is the howl of police sirens. Playing with fireworks without fear of arrest or bodily injury makes Mania mandatory for any firebug.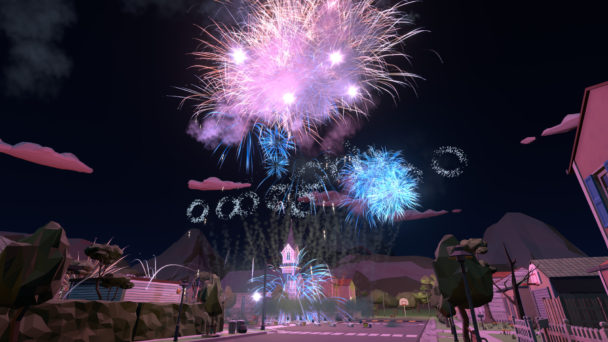 Fireworks Mania – An Explosive Simulator was played
on PC with review code provided by the publisher. 
Review Overview
Summary : Until someone comes up with a way of replicating the scent of scorched gunpower and the sulfurous sting of smoke in your eyes, Fireworks Mania - An Explosive Simulator is the best outlet for pyrotechnic fantasies. Better yet, there's no way to send yourself to the ER.