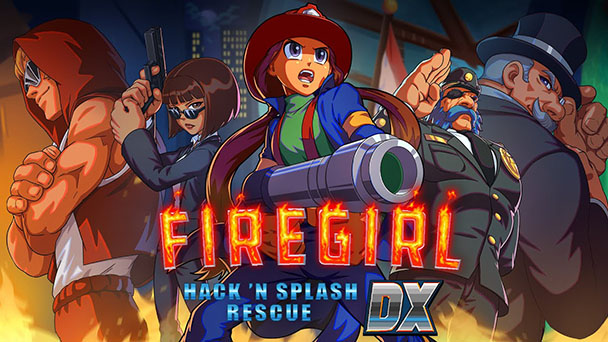 Firegirl brandishes adorable looks and enjoyable action reminiscent of respected platformers. But lackluster performance and a lack of explanations means this game is more tepid than blazing hot.  
Firegirl: Hack 'n Splash Rescue DX
Platform:
Switch, also on PC, Playstation 4, Xbox One
Developer:
Dejima Games
Publisher:
Thunderful
Release date:
June 22nd, 2022
Price:
$17.99
File size:
552 MB
Availability:
Nintendo
eShop
and other digital marketplaces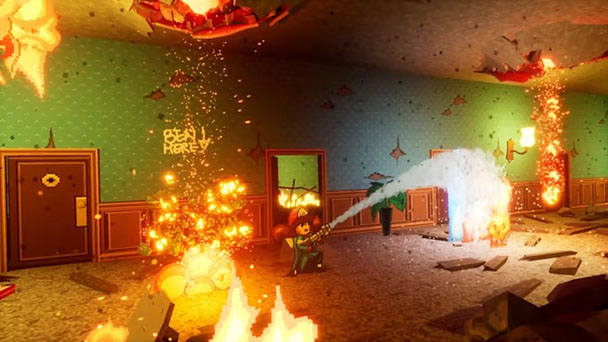 Firefighting has a restrained but respectable track record in gaming. Tiles such as 1995's The Ignition Factor, 1998's Burning Rangers, 2004's Firefighter F.D.18, and 2009's Real Heroes: Firefighter have each offered their own gratifying interpretations of the life-saving occupation. Whether they favored staunch simulation or leaned toward the fantastical, each title demonstrated that extinguishing roaring flames and rescuing people can be adapted into enjoyable entertainment.
Flaunting delightful spritework, attractive backdrops, and some roguelike mechanics, Firegirl Hack 'n Splash Rescue seemed like a worthwhile contender for the firefighting pantheon. Originally released on PC in 2021, Firegirl had plenty of potential. Players wielded a hose that was dowse blazes as well as offer Super Mario Sunshine-like enhanced jumping.
But with an unforgiving learning curve and infuriating procedurally-generated environments, the title probably should have spent more time at the academy. Hack 'n Splash Rescue DX remedies some issues, but some of the more problematic design decisions remain. Even worse, Switch performance is sub-par.
Learning on the Job
Hack 'n Splash Rescue's interactive tutorial explains many of the game's fundamentals. Swinging an axe is reminiscent of playing a brawler, as you use the tool to splinter doors and demolish obstructions in your path. Operating the hose to put out fires is just as straightforward with the right-stick controlling the direction of your limited supply of water.
But the game's first imperfection becomes apparent when you try to use the pipeline for a jump boost. Here, the game deviates from platforming tradition, and you're only receive additional elevation is you release water downward at the start of your leap. Assuming the mechanic works like a traditional double-jump will likely lead to a few premature deaths for Firegirl.
But that's not the only odd control quirk. In Hack 'n Splash Rescue's fire station HQ, you'll move from one section to the next, purchasing upgrades or affixing medals to your uniform. But the game's mission start position isn't really signified, and you'll immediately jump into a confirmation/rejection selection when stepping into the area. You'll eventually grow accustomed to the peculiarity, but like several other elements in Firegirl, the game should clarify these details. This lack of explanation led to me failing the inaugural mission a few times. Later, the game won't communicate that you need to equip medals to receive associated perks. Sure, it's gaming convention, but gentle reminders are always helpful for newcomers.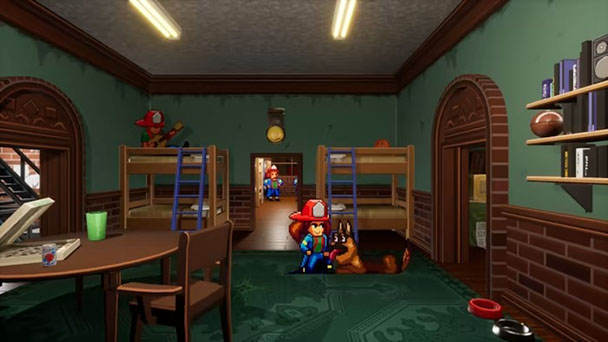 Like the Internet, Fighting Flames is a Sisyphean Task
Hack 'n Splash Rescue's mission habitually have you saving people inside burning buildings. Ideally, you'll accomplish that and make it to the exit before the mission timer expires and the building collapses. While that's enjoyable, actual firefighting is the real delight. Yes, the game takes some creative liberties. You'll face clusters of anthropomorphic flames on floor and ceilings that can be snuffed out with a gust of water. There are also prickly-looking embers float in the air creating navigation hazards.  Occasionally, flares release bat-shaped cinders that make a beeline for Firegirl.
While unrealistic, it's enjoyable to defeat these hazards and complements the game's platforming. Unfortunately, the rewards for your firefighting efforts aren't always worth the effort. You'll receive a second or two of compensation toward the mission countdown which doesn't always cover the time is takes to drench flames. As such, the satisfaction of putting out buildings and saving structures feels undervalued, only ambiguously feeding into the game's tracking of your growing fanbase.
Fortunately, DX does remedy one of the more infuriating elements of its predecessor. Even a disastrous mission will still provide some money that can be used to upgrade your hose, axe, or firefighting gear. The original release had a tech-tree and unlocking skills was arduous.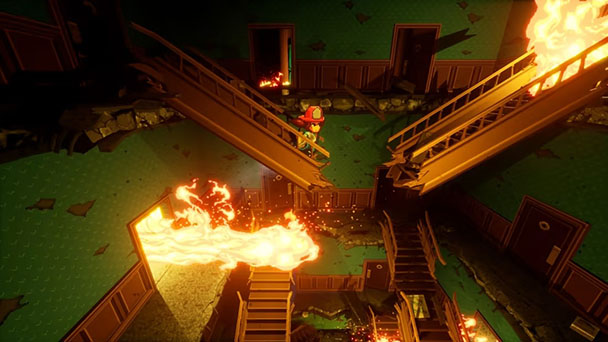 Switch Performance is Inferior
Undoubtedly, Firegirl Hack 'n Splash Rescue DX is a charming title. Narratively, there's backstory to explain the conflagrations as well as provide a legacy for the plucky protagonist. The sprites used for Firegirl and well as enemies are delightfully, adding personality to the proceedings. While the game's environments don't offer radically architectural diversity, there is visual variety as you make you way through different types of venues. You'll get to see a lot of each location. Hack 'n Splash Rescue is far too ambiguous about the location of survivors. Having some kind of perceptible 'ping' of their whereabout would have helped lessen frustration.
At launch, the game performs rather poorly. When entering a new room, Firegirl can freeze for a full second. Occasionally, you'll also experience hiccups when confronting flame foes, resulting in instances where you'll take damage. When reviewing the game in handheld mode, I suffered at least three lock-ups, forcing me to reboot the game. Given the frequency of these glitches, I'd definitely wait and see if developer Dejima Games provides some aid to our courageous fire captain-in-training.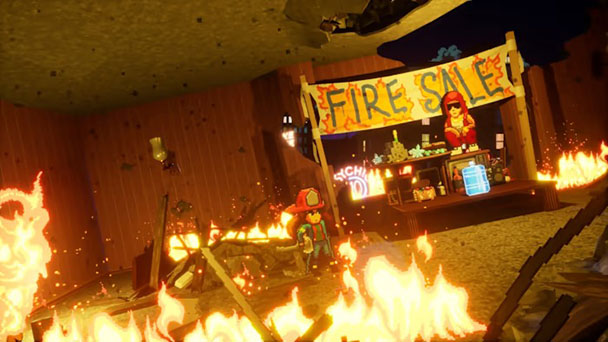 Firegirl: Hack 'n Splash Rescue DX was played
on Switch with review code provided by the publisher. 
Review Overview
Summary : Occasionally, Firegirl Hack 'n Splash Rescue DX show glimpses of aptitude, as she launches herself skyward with a blast of her hose. But this second attempt at firefighting still has some lingering hindrances.