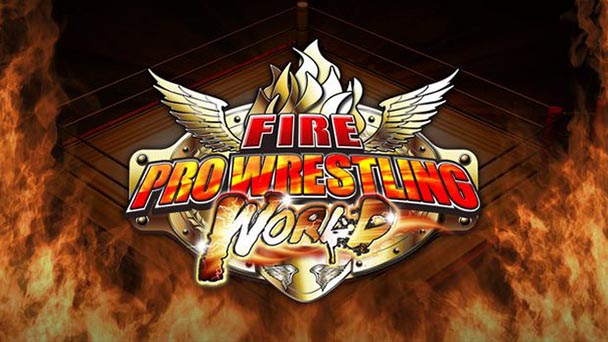 It may seem unfathomable, but Spike Chunsoft's—and formerly Human Entertainment's—Fire Pro Wrestling franchise is nearing its thirtieth anniversary. Originally conceived by the late Masato Masuda, who worked on Nintendo's Pro Wrestling on the NES, the Fire Pro series of sprite-based wrestling simulators is often considered by genre enthusiasts to be the definitive wrestling video game experience. Over the past decade, releases have slowed to a crawl, with the biggest "highlight" being an Avatar-based game on Xbox Live Arcade that garnered more boos from long-time fans than post-heel turn Tommaso Ciampa. Fortunately, Fire Pro's eagerly anticipated return to the home console ring is finally upon us. But is it a superkick party or a stale legend milking nostalgia on an indie card at a county fair?
To many, Fire Pro Wrestling World will be their first taste of the series. With that being the case, the very first thing that needs to be said about the gameplay is that this is absolutely not a button-masher. Fire Pro is all about proper spacing, strict timing and precision. Even landing a jab, dropkick or clothesline can be no small task since simply being close to your opponent doesn't necessarily guarantee that the move will connect. You have to line up each strike perfectly. Grappling, initiated by walking into your opponent, can also be a challenge to master since there is a specific split-second window of opportunity to enter a direction and button press. A tutorial that covers some of the trickier aspects of World, such as grapple timing, can be found in the game's new Mission Mode. Don't expect to become a virtual "Nature Boy" Ric Flair overnight. The learning curve is as steep as any mountain John "Bradshaw" Layfield has ever climbed, but once you're past it, World's technically-sound gameplay becomes as compelling as any Pay-Per-View main event.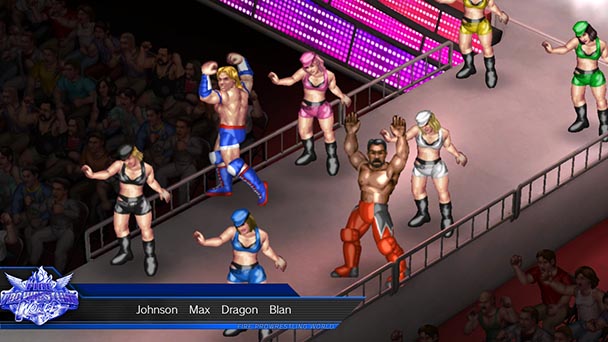 Hot on the heels of the company's cross-promotion with Bandai Namco's Tekken 7, New Japan Pro-Wrestling takes center stage as World's lone licensed organization. Around forty of NJPW's top wrestlers are represented, including Hiroshi Tanahashi, Kazuchika "Rainmaker" Okada, Tetsuya Naito and the Bullet Club's Kenny Omega, all of which look amazing (by modern-retro graphics standards) in-game. Additionally, a group of fictional wrestlers created by Spike Chunsoft rounds out the leaner-than-usual default roster. Unlike earlier installments in the franchise, World breaks from tradition by lacking the "parodies" of real-life wrestlers and federations. The parts to create the missing talent still remain in the Edit Mode, though, and are waiting for you to reassemble them.
Regardless as to whether you're playing online or offline, the variety of match types included is excellent. Industry standards, such as single, tag team (up to four-on-four), handicap, cage matches and eight-man battle royals are all present and accounted for. Even barbed wire deathmatches and UFC-style MMA cage fighting are here, as well. You can also set up tournaments and leagues with their own match types and rules. Keeping things interesting in Fire Pro is not hard to do. Sadly, enjoying many of these matches online was a difficult task during my review time. Every bout that I played suffered from some sort of input lag that was enough for button presses to register a half-second or so late, throwing off grapple timing completely. Alleviating this in some slight way was a match option titled Player-CPU. This type of online play is based on something the Fire Pro community calls simming. It has you pick a wrestler for the CPU to control on your behalf during the match. It's a neat way to shake things up, but no real substitute for actually wrestling another person. When watching the computer play for you is the most enjoyable part of the online play, you know there's a problem. A patch to improve the netcode is supposedly in the works.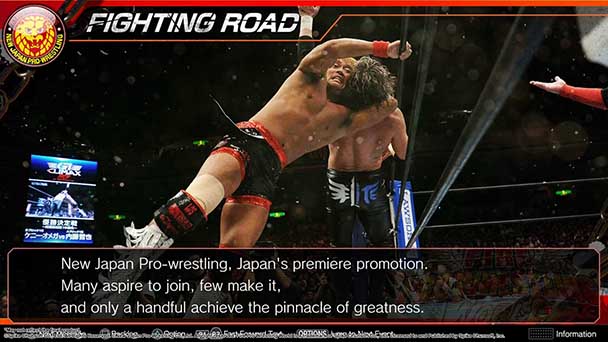 For the single players, Fighting Road serves as World's main story mode. This visual-novel-meets-wrestling-game is similar to a mode from Fire Pro Wrestling G back on the Japanese PlayStation One. You start off as a customizable rookie for New Japan and try to climb the ranks in pursuit of the IWGP Heavyweight Championship. As you win matches, you unlock new moves and earn Training Points that can be spent on various exercises that will strengthen your wrestler in different ways depending on what routine you choose. Assisting the text boxes in telling the story are still images of whichever NJPW fighter is speaking. Most wrestlers are given a brief introduction featuring actual match photos, making Fighting Road a great way to familiarize yourself with Japan's top wrestling promotion. While the development team has been good about knocking out bugs in a timely manner, I did notice text in one sequence advancing automatically at an unreadable pace. Don't be too surprised if you have to tolerate the occasional glitch.
Outside of the wrestling itself, the meat-and-potatoes comes from the vast Edit Mode. In it, you can create not just every wrestler who has ever lived, but rings, referees and even championship belts. You're not just limited to looks, stats and moves, either. The A.I. is fully customizable, allowing you to determine how frequently, and in what situations, a wrestler uses a certain move. Furthermore, the Edit Mode has been expanded on significantly over the previous games. Wrestlers now have nine layers for you to apply clothing or other design elements to, enabling the ability to fine-tune ring gear to perfection. Created wrestlers and referees can be published online on FPW NET for others to download and use. The way the service was implemented on PS4 is a bit counterintuitive, at least at first. Instead of having a menu screen that uses the game's user interface to display all available content, launching FPW NET brings up the Fire Pro website on the PS4's web browser. After logging in with your PlayStation Network account, you can view and subscribe to the content of your choice, all of which will be downloaded or updated upon starting up the game. Wrestlers do need to be moved from "Retired" to a faction in Team Edit before they'll show up on the character select screen.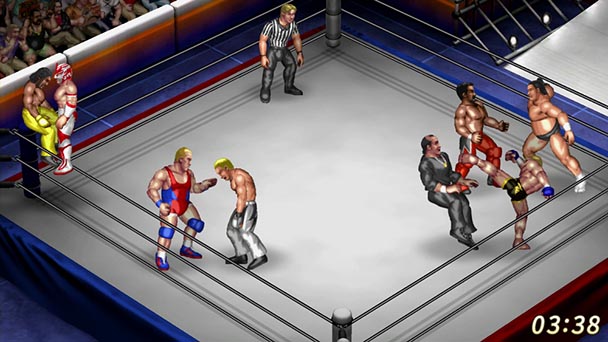 It's somewhat difficult to assign a firm grade on the amount of content World possesses. On the one hand, the "wrestling sandbox" nature of the game and community-created content could, theoretically, keep things going for a lifetime and beyond. However, looking at what's actually included with the base game, it falls well short of what Fire Pro Wrestling Returns offered on the PlayStation 2 over a decade ago in regard to the number of default wrestlers, referees, rings and even background and entrance music available from the get-go. Franchise vets will probably head straight for the Edit Mode without even batting a blood-soaked eyelash at anything that's pre-made, but players who are unwilling to spend hours on-end tinkering with a created wrestler or rely on community creations due to quality inconsistencies will get a stellar New Japan Pro-Wrestling game and little else.
At long last, wrestling game fans have something to cheer about. An alternative to the yearly WWE 2K game is here and it's a good one. Sure, it's not as pretty as Becky Lynch or Sasha Banks, but the gameplay is worthy of the Hall of Fame. And with the limitless potential of edits and community creations, you might not need another wrestling game this generation. If you can work through the learning curve and forgive the occasional bug, you'll come to find that Fire Pro Wrestling World truly is "just too sweet."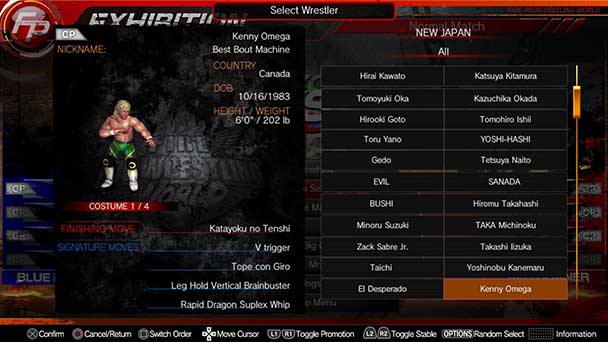 Fire Pro Wrestling World was played on the PlayStation 4
with review code provided by the publisher. 
Review Overview
Summary : The timeless Fire Pro Wrestling gameplay burns as brightly as it ever has. World is leaner on default content than I was expecting given the series' history, but a quality Edit Mode and FPW Net community creations help to fill the void. For years, wrestling fans have wanted an alternative to the annual WWE 2K game and now they have it. Better yet, this one's a strong contender.