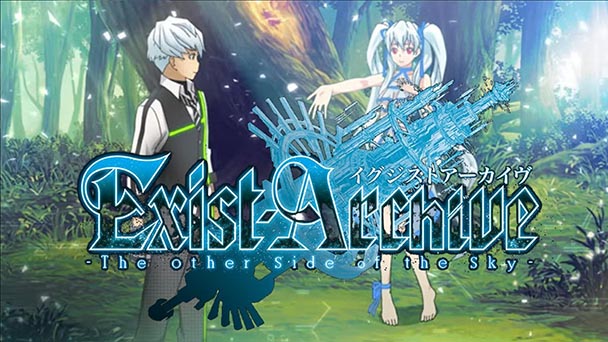 2000's Valkyrie Profile is considered to be one of the PlayStation One's best role-playing games. Exploration adopted light platforming mechanics, as players navigated two-dimension environments, using an ice shot to solve puzzles and shun any unneeded battles. Combat felt fresh and lively, with character attacks mapped to the DualShock controller's face buttons, allowing players to issue potent combos. But like some prodigious properties, Tri-Ace's effort was never surpassed.  While Valkyrie Profile: Lenneth was a competent PSP port, both PS2-based prequel Valkyrie Profile 2: Silmeria and Valkyrie Profile: Covenant of the Plume for the Nintendo DS struggled to outshine the inaugural game.
With Profile's core team- director Yoshiharu Gotanda and lead designer Masaki Norimoto, along with composer Motoi Sakuraba, Exist Archive: The Other Side of the Sky's development team seems devoted to rekindling the synergy that propelled Valkyrie Profile. And save for a new name and context, it's clear that Tri-Ace (working alongside Spike Chunsoft) is hoping to create another role-playing classic.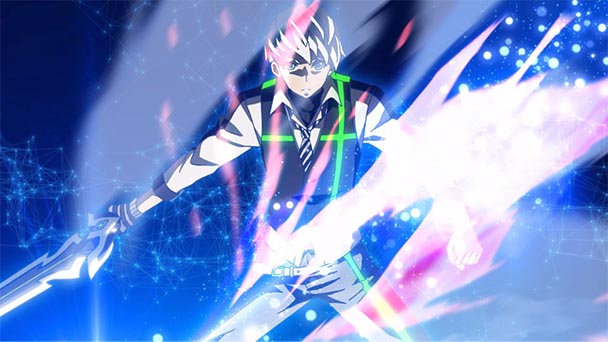 Certainly, those ambitions are articulated during the game's concise introduction. Employing an animation that's just a few key frames shy of fluid, the opening cinematic shows lead character Kanata riding his motorcycle across a bridge, as he notices a peculiar red object hurtling across the Tokyo skyline. A jump cut reveals a group of curious onlookers peering down a smoldering abyss in the middle of street. The camera finds a battered Kanata and a mysterious onyx-haired girl at the bottom, their demise seemingly imminent. Adding an addendum that inverts the meaning of the traditional fatalistic sentiment, the women tells the protagonist, "I don't want to die…with you". Seemingly, Tri-Ace isn't interested in another conventional love story.
What emerges is a battle between two warring factions across a purgatorial setting known Protolex. On one side is a malevolent deity known as Yamatoga, who was split into a dozen pieces and embedded into the bodies of humans in an effort to keep him fragmented and enfeebled. On the other is a guardian called Amatsune, who is committed to preventing Yamatoga's resurrection and might just be able to guide the game's cast of human's home. Functionally, players serve as Amatsune's errand boy, tackling both stages that move the plot along and side mission that can be repeated to level up characters and equipment. But largely, Exist Archive does a commendable job at masking these pursuits, by drip-feeding parts of the plot.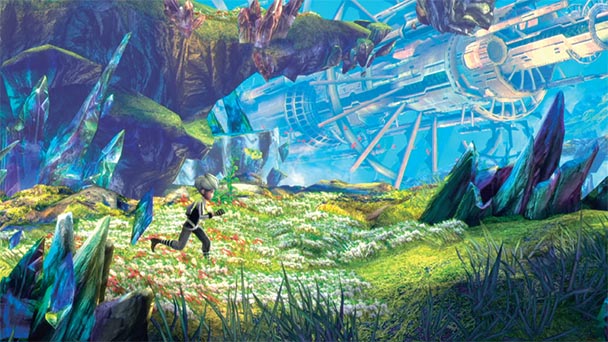 Unlike many role-playing games that compel gamers to sit through engorged scenes of exposition, Exist Archive employs an economical approach. The title's plot is regularly told through its main missions, where concise conversations liberate plot points and there's no town hubs or overworlds to slow the pace. While exploring environments, players might also stumble across enclosed crystals. Gathering these, delivers additional details, revealing what's going on with a character's family back on earth or providing a bit of backstory. Assisting the game's narrative potential is a main cast who is both likable and intriguing. Largely, seeing the interactions between these characters is one of the game's best payoffs.
That's not to say that Exist Archive's mechanics are lackluster. Save for a bit of floatiness when jumping and a worrisome tendency for the game to crash and revert back to the Vita's menu system, exploration is an enjoyable endeavor. Irrefutably, Valkyrie Profile as well as Metroid are the inspirations, with stages which gate areas until abilities like a double jump or the capacity to power boost from a crystalized foe are procured. While a bit of backtracking is required and the game has the tendency to reuse environmental designs, there's usually enough enticement to make the jaunt worthwhile. Uncover an entire map and you'll earn incentives that make all of the alcove hunting worthwhile.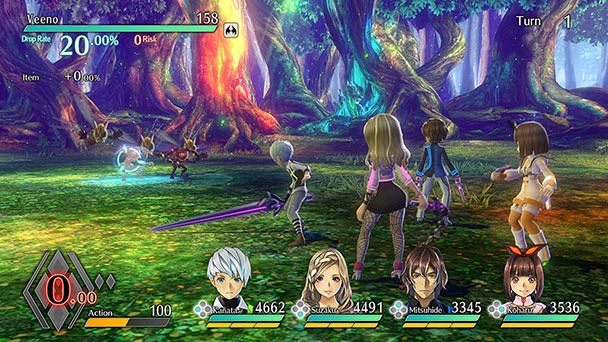 Enemies appear in front of you and on your mini-map, so there are few surprise encounters. Once the screen makes a transitional twirl, you'll find team taking turns with a clusters of foes. Conflict is split between attacking and guarding phases, with a slash during navigation pushing your team toward taking initiative. During offense, your party has a finite amount of AP points- and with a press of one of the face buttons, you can send a member into action. While arbitrary button presses might siphon damage from foes, most players will prefer a more methodical approach. Beyond using the right characters to exploit elemental and physical weaknesses, you might also consider strategies like opening with your Mayura, the requisite storm mage. Not only can her twister take off hit points, but it also has a tendency to bunch up opponents, offering an ideal set up for a character with an arm that can strike multiple enemies at once.
Undoubtedly, skillful defense is important too, since letting an attack get will reset your bonus gauge, tarnishing the likelihood of obtaining loot. Recalling the action commands of the Paper Mario and Mario & Luigi franchises, a well-timed button press can either reduce any incoming damage or complete eschew an attack. Given the game's forgiving difficulty level and tendency to level up past stage recommendations, guarding against lesser foes isn't much of an issue. But when fighting bosses and determining what body parts to disable, you'll need to play more cautiously.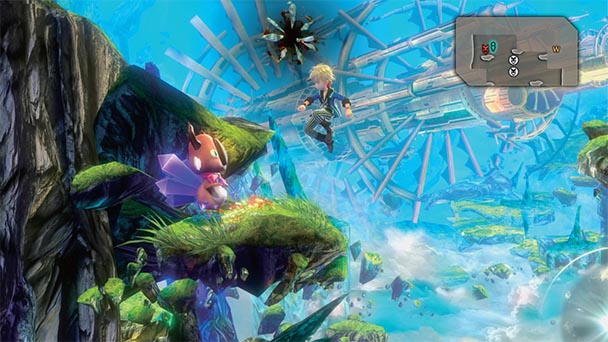 Undeniably, Protolex's environments are pleasing on the eyes. Even on the PS Vita, stages are especially lush, teeming with exotic, richly-hued flora. The main cast is rendered in chibi-style, with combat close-up revealing weapon upgrades and a nice amount of texturing detail, whether it's Kanata's herringbone slacks or Suzuka's spider-web-styled tights. While the Vita version struggles to maintain a thirty frame-per second output and has load times that are perceptible, the PS4 iteration is unwaveringly fluid. As such, the console iteration should be the choice if you favor performance over portability. Pleasingly, both versions extend dual-language voice over, with both casts delivering commendable performances. Musically, quite a few tracks evoke Valkyrie Profile's musical accompaniment, albeit with technology that allows the MIDI-like instrumentation to sound much more orchestral.
Whether by name or spirit, the industry has an affinity for reinvigorating past successes. With similar navigational and combat mechanics, Exist Archive: The Other Side of the Sky is undoubtedly trying to replicate one of Tri-Ace's beloved properties. Mostly, the title succeeds, extending a fifty-hour adventure that bound to summon a smile from any role-playing veteran. Although Exist Archive isn't perfect, the game's mechanics and aesthetics are skilled enough to earn a recommendation.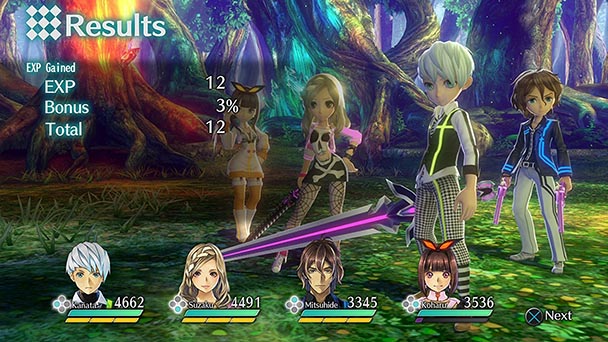 Exist Archive: The Other Side of the Sky was played on the PlayStation 4 and PS Vita with review code provided by the publisher.
Exist Archive: The Other Side of the Sky
Platform: PlayStation4, PS Vita
Developer: Tri-Ace, Spike Chunsoft
Publisher: Aksys Games
Release date: October 18th. 2016 (US)
Price: $59.99 via retail and PSN (PS4), $39.99 via PSN (Vita)
ESRB: Teen
Review Overview
Summary : Consider Exist Archive: The Other Side of the Sky Tri-Ace's apology for the mediocre effort exhibited by Star Ocean: Integrity and Faithlessness. Unlike that title, Exist Archive is a game that lives up to legacy, even if it doesn't manage to surpass it.