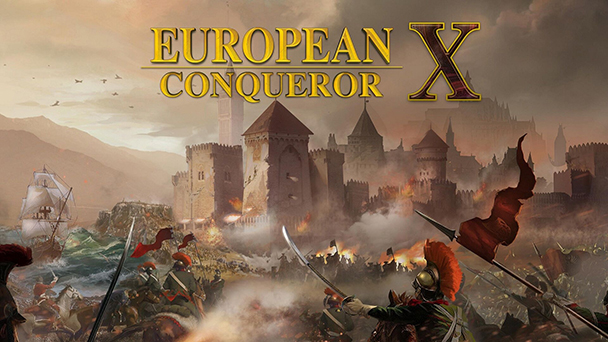 Some developers leap across genres like a frog jumping from one lilypond to the next. But that's not the case for EasyTech, A Chinese studio who's been crafting historically based, turn-based war titles for over a decade. Adhering to a tabletop-like formula, the developer has made twenty different battle simulations, across periods as diverse as the Three Kingdoms era, the Revolutionary War, and World War II.
Highlighted by a Conquer mode that tasks players with a Napoleonesque takeover of the continent, the release of European Conqueror X for the Switch is likely to please armchair generals, as long as they don't mind a bit a reduction in historical verisimilitude. There's a generous amount of content for the game's ten-dollar price. Beyond the aforementioned task of defeating all of your European rivals, there are campaigns which provide in-game currency that can be used to give a stat boost to your units. Additionally, there are challenge missions, which true to their name, ramp up in difficulty.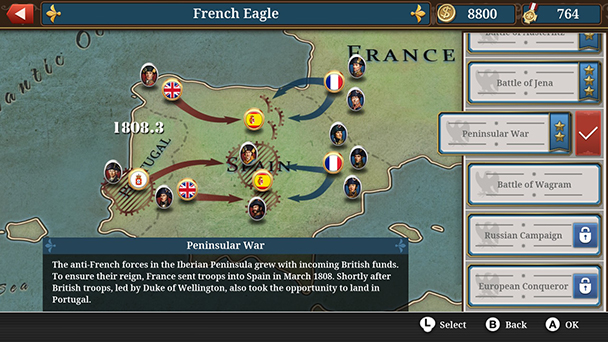 Striking a pleasing balance between the accessibility of Advance Wars and the sophistication of Civilization, there's complexity to the battles, but the title rarely feels intimidating. Thanks to a five-part tutorial and AI willing to simulate susceptibility, you'll be proficiently directing units around with ease. Mercifully, Conqueror X doesn't even force you to commandeer all your units at the start of the game. Early on, the AI controls key combatants, providing a welcome amount of assistance.
But before your invasion of the European continent begins, you'll have to battle through the American Revolution and fight a few battles along the Canadian border. The inclusion of both might seem a bit odd at first given the game's moniker, but we can only assume it's the developers attempting to woo a wider audience.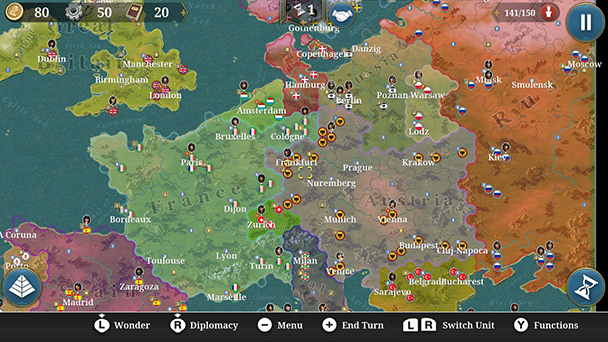 Making your way to the frontlines shows Conqueror having a handle on the fundamentals of combat. Players trade turns with the CPU on hexed battlefield, with indicators for unit availability and movement range while a small window reveals terrain effects. When one of your infantry, cavalry, artillery or naval units in in range to attack, a red crosshair appears. Moving the cursor to one of these targets and a single button press initiates an animation. After, numbers emerge to show the amount of damage traded by the two units. The only real issue with European Conqueror X's moment-to-moment play is that the game doesn't readily show unit stats.
While you can rock-paper-scissors your way through the first several battles, gradually the game's nuances become increasingly important. Soon, you'll be scouring city management menus in an effort to enhance your towns using resources from captured settlements. These improvements allow for perks like more advanced troop types. Placing generals and royalty in towns provides benefits, and you'll obviously want to secure these townships with defense towers or barricades. Gratifyingly, you still beat technologically superior foes with large numbers, but it'll take a great deal of effort. For fans that appreciate when tactical games support multiple strategies, Conqueror X will be contenting.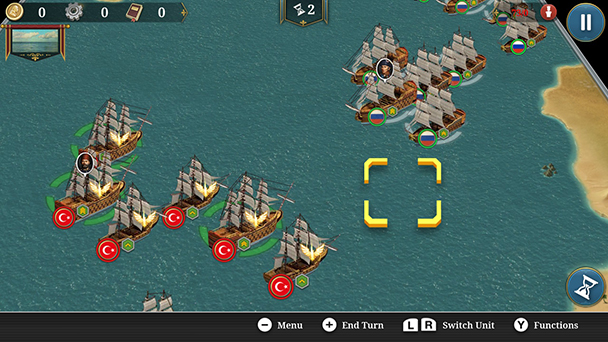 And while the title doesn't have distinct difficulty settings, there's a way to adjust the level of challenge in Conquest mode. Select out of the minor factions like Sardina or Naples and you'll face an uphill battle given your limited resources. But much like selecting one of the weaker clans in Nobunaga's Ambition, few things feel as rewarding as the underdog's path of victory.
But don't expect the intricate balance of reputation, intimidation, and deceit that the Koei-Tecmo franchise delivery. Although battles begin with some sense of historical accuracy, there no diplomatic component to be found. While that simplifies the proceedings it also removes much of the fascinating geopolitics from the era. And while you'll definitely visit Leipzig and Waterloo during the course of your career, the game's small battlefields can't convey the complexities of each conflict.  What's more, Conqueror X doesn't provide much in the way of context, mudding an opportunity to get immersed in the game's campaigns. Those who value accessibility won't mind, but if you're a purist, you'll want to seek out a more sincere simulation.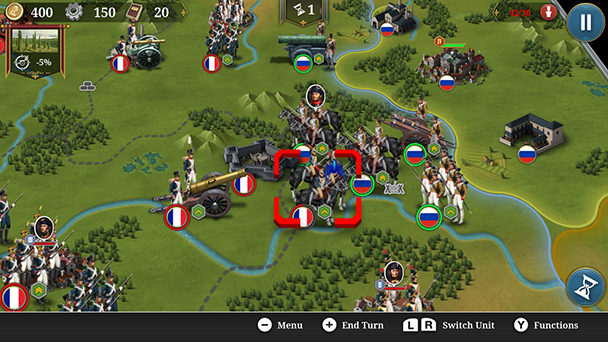 European Conqueror X was played on the Switch
with review code provided by the publisher.
Review Overview
Summary : European Conqueror X provides an engaging way to wade through the Napoleonic wars. The game favors approachability over complexity and offers a wealth of content for an affordable purchase price.