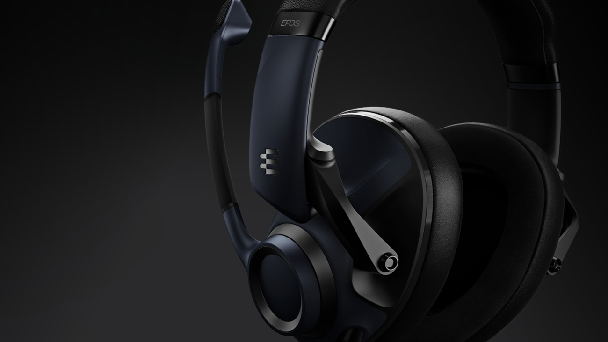 With the industry favoring wireless, conspicuous looking headsets, the Epos H6Pro turns its back on trends. The objective is luxurious sound at a moderate price point, alongside aesthetics that aim for elegance rather than ostentatiousness. Largely, the H6Pro meets their marks.
Epos H6Pro Open Acoustic Gaming Headset 
Dimensions:
3.35 in. + 7.28 in. + 7.48 in.
Connectivity:
Wired connection with 3.5mm jack input

Weight:
11 ounces

Price:
$179.99 via
Epos
and other retailers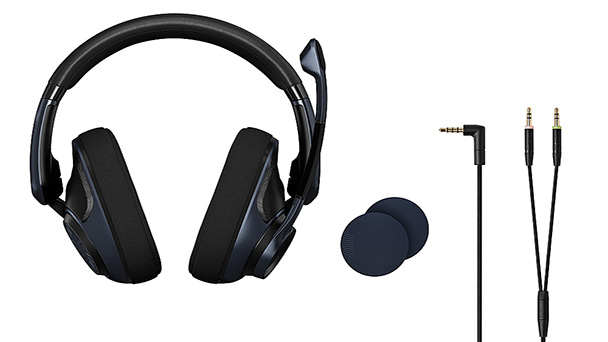 Once Sennheiser's dedicated gaming division, Denmark-based Epos branched off on their own in 2020. One year later, the results of their newfound independence are here, with the H6Pro line forging a bold new direction for Epos. Available in either a closed or open earcup design, we've been using the latter for the last two weeks, at least six hours a day. Save for a few small design blemishes, we're thoroughly impressed by the H6Pro's performance. And the inconspicuous looks are advantageous in work settings.
Many modern headsets are opting for Bluetooth functionality. While freedom from being tethered to a device can be liberating, wireless headphones often have a few tradeoffs. Not only is sound degradation common (unless both the source and headset are using the aptX HD codec), but audio dropouts can occur when other nearby devices are using the 2.4 GHz radio frequency band. Then, there's the issue of lag. It's not uncommon for headsets to have a delay up to 300 milliseconds. That might not sound like much, but when sound is synchronized with on-screen action, the consequence can be distracting.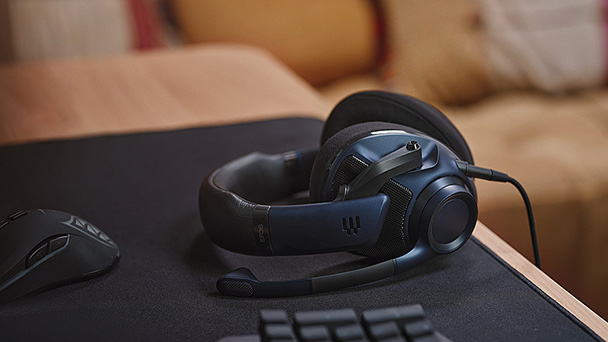 Virtuous Versatility
Intriguingly, the Epos H6Pro eschews many of these issues by opting for a standard, 3.5mm wired connection. The fundamental upside of this design decision is versality. You can use the headphones with almost any modern device (of course, mobile phones and tablets without a traditional headphone port will require an adapter).
For owners of multiple consoles, this can be beneficial. Instead of having to juggle Bluetooth connections across a Switch, PC, Xbox Series X, and PlayStation 5, plugging in a wire is far faster and easier. That's especially true for the latter two devices, where you can plug in the 3.5mm connector right into the controller. Somehow, this wireless connection doesn't introduce any discernable lag or dropouts, with audio that's effectively indistinguishable from a corded connection.
The one peculiarity here is that Epos opts for a 2.5mm output connector. It's pleasing to see two different 98.43 inch cables in the box, a 2.5mm to a single 3.5mm and one with twin 3.55mm tails, for computers that split audio. While 2.5mm to 3.55mm cords aren't as rare as they used to be, in the event of a lost cable, know that using an old patch cable isn't possible.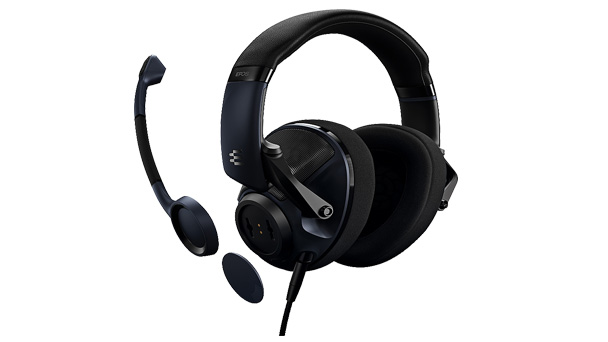 Sumptuous Sound Quality Free of Gimmick
Across a multitude of games that delivered that offered everything from plaintive, piano-driven soundtracks to the kind of driving metal anthems found in fighting games, the H6Pros performed unwaveringly well. By eschewing the expense of circuitry and batteries needed for wireless technology, Epos has favored the analog components that helps deliver the kind of sonic luxury associated with high-end headphones.
The 42-millimeter drivers helped percussive explosions felt suitably punchy, while games loaded with analog-style synth work sounded especially sumptuous. When it came to mids, vocals were sharp and didn't blend into the backdrop. Given the open-air design of the H6Pro, highs felt rich but not exaggerated. Epos has engineered a congenial sonic style that seems to complement any genre we tossed at it. And if you want to just listen to music, the headset shines. From Perfume's effervescent pop hooks to Vangelis' score for Blade Runner, the headset exposed many of the aural nuances disregarded by most of our other gaming headsets.
If you're accustomed to the unnatural sound of budget headsets, the H6Pro's can truly invigorate gaming. In execution, it almost feels like upgrading from standard definition output to high-def. Sure, the basic sonic output is the same, but chances are, you'll notice the little details that composers and sound engineers inject into their work. Pleasingly, the sonic upgrade is comprehensive, with some of the arpeggios of retro games sounding especially opulent.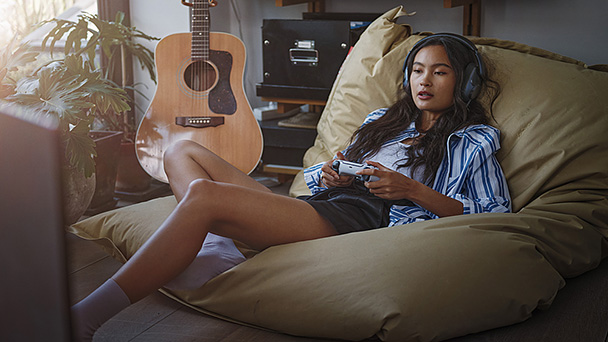 Form and Functionality
The H6Pro ships with an extended bidirectional microphone that can be lifted to mute input. When communicating with others, vocal quality was described as both "good" and "above average". Pleasingly, the boom arm can be removed and replaced with one of two bundled magnetic disks, allowing the H6Pro's to blend when in scrutinized spaces. But an issue emerges from the headset's desire for symmetry. On the other side of the mic, there's a rotating disk for volume control. It's not a premium feeling nor as exact as a knob, making adjustments feel inelegant.
Otherwise, the headset's plastic and metal construction feels solid. These materials allow the H6Pros to weigh 11 ounces, putting it pretty squarely between the Razer Kraken X Ultralights (9.3 ounces) and the bulky Astro A50s (13 ounces). Over protracted play sessions, you won't forget that you're wearing a headset, but there's not enough heft to cause fatigue. Once the padded head bar and adjustable cup level was properly sized, there was little of the cranial squeeze felt by some headsets, which can make your head feel like it's in a vise.
A leatherette cushion rests on the top of your head, while foam padding is used on the ear cups. Both tend to wear out, so it's pleasing that the latter can be replaced. Hopefully, Epos' two-year warranty will take care if any issues emerge with the former. After two weeks of decidedly non-pampering daily use, the H6Pros stood up admirably, with the device's Sebring classy Black finish resisting marring.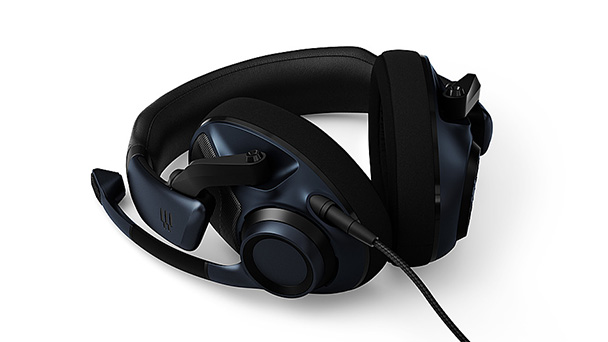 Conclusion
Yes, one hundred and eighty dollars is substantial price for a wired gaming headset. But if sound quality and comfort are your main priorities, the H6Pro excels. Living up to its impressive pedigree, if you're looking for a device that offers some of best sound quality in a sub-$300 headset, these should be one of your first picks.
Tech-Specs
Dimensions: 3.35 in. + 7.28 in. + 7.48 in.
Weight: 11 oz.
Driver: 42mm Neodymium
Impedance: 28 Ohms
Frequency response: 20Hz – 20,000 Hz
Microphone type: Bidirectional, 10 – 10,000 Hz mic response
Connectivity: Wired connection with 3.5mm jack input
Price: $179.99
Review Overview
Summary : With exceptional sound quality and ergonomic engineering that permit all-day wear with fatigue, the Epos H6Pro Open Acoustic Gaming Headset is poised to make you overlook its wireless rivals.