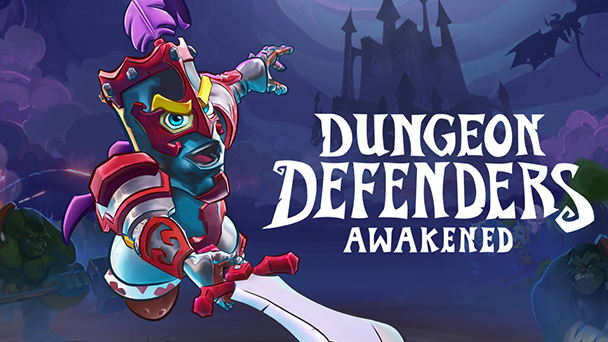 Dungeon Defenders: Awakened offers a few quality-of-life improvements but follows the original game's formula a bit too closely. Still, if you're looking for a portable action/tower defense title, there's satisfaction once you look past the game's inelegant user interface and unit reductions.
Dungeon Defenders Awakened


Platform:
Switch, previously on PC and Xbox One
Developer:
Chromatic Games

Publisher:
Chromatic Games
Release date:
August 4th, 2021
Availability:
Digital
Price:
$29.99 via the Nintendo
eShop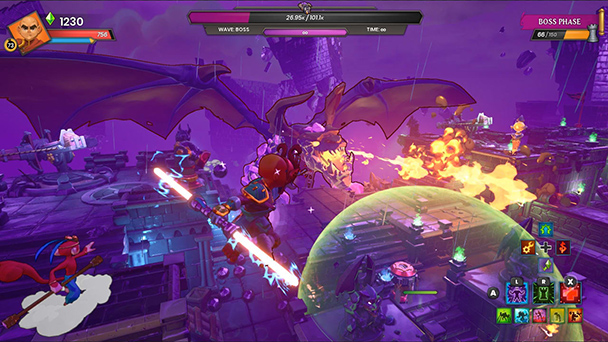 For many, Dungeon Defenders' follow-ups failed to match the quality of the original 2011 game. 2014's Dungeon Defenders Eternity aimed to rebalance its predecessor, but the lack of a single-player component and the presence of micro-transactions at launch alienated fans. A year later, Dungeon Defenders 2 pivoted to a free-to-play model, but behaviors like pushing daily quests and a deficiency of bug-quashing meant it never acquired a large and lasting audience. After raising more than $338,000 through crowdfunding, Dungeon Defenders: Awakened aimed to revisit the roots of the 2011 title. But for some, the latest entry might merely feel like a glossy retread. Here's the silver lining: while the Switch version shares the same user interface issues with the previously Xbox One iteration, it's habitually solid when it comes to performance.  But there's a catch.
Mostly Superior Visuals, Same Cast, But Cuts for Performance
First, the good news: the shift to Unreal Engine 4 provides a few visual advantages. Head back to the Deeper Well map and you'll immediately appreciate the higher fidelity, and increased draw distances. Defender's cartoonish aesthetic was always eye-pleasing, but now it's been hoisted a notch or two, with elements like ceiling texturing and luminous lighting from crystals and other environmental features. Animations are improved too; the Monk now swings his staff more confidently and less robotically.
Playing Dungeon Defenders on a portable system is a satisfying, but there are sacrifices with the Switch's 6.2-inch screen. Groups of foes in the distance tend to visually clump together, making it hard to gauge the exact size of enemy clusters. Text size on the menu is another issue. While it was readable for me, three-hour play sessions produced eyestrain.
Seemingly, the developers shrank the amount of on-screen action to help bolster the performance of the Switch version. As such, you'll be able to build fewer towers, attack rates for turrets are slower, and visual effects seem to be retrained. Fortunately, it's a comprehensive rebalancing that doesn't affect the difficulty too much but makes the game just a bit less impressive.
Awakened brings back the original quartet of fantasy-archetype characters, who retain their youthful look from the first game. There's the stalwart Squire who favors melee weapons and defensive devices such as a column of whirling blade, or the Apprentice who specializes in pillars which eject brilliantly hued colored fireballs or arcs of lightning. The Monk manipulates auras, creating areas where opponents are slowed or allies can be healed, while the Huntress is a master of ranged combat and explosive traps.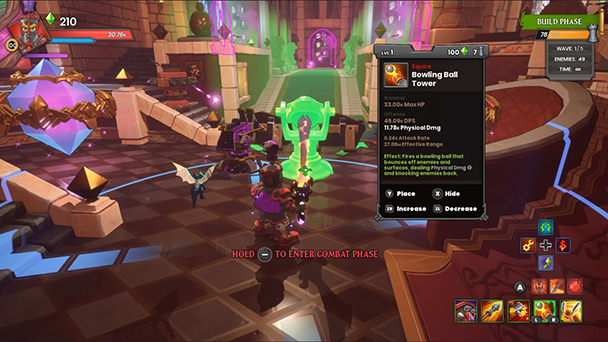 Improved Agility and Adjustments to Turret Building
Largely, navigation has been improved with the incorporation of a double jump for each character. Dungeon Defenders blends action with traditional tower defense elements, so responsiveness is imperative for survival. Pleasing, the Switch versions retains the same 30 frame-per-second output of its console brethren. Although the framerate is habitually stable, at present there seems to be a bug that can cause it to plummet to unplayable levels. This can happen in both single and multiplayers games, and essentially forces you to restart the stage.
Another change with Awakened is found when laying down defenses. Whereas the first Dungeon Defenders used a functional but inelegant radial menu, now controller users will use directional pad inputs to repair and upgrade their turrets. Constructing units still takes several seconds, which is rather puzzling, since there's no timer during build phases.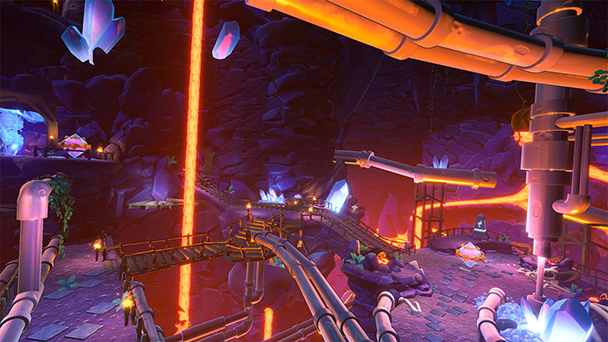 Some Improvements, But Not Enough
While the Switch iteration of Awakened improves the user interface, there's still a lot of room for progress. Several times when I tried to repair my turrets, the game wouldn't let me until I slightly repositioned. Selection highlights are barely discernable in menus, text can be cut off, and the diminutive font makes reading item stats rather difficult. Small additions like a 'repair all' function for your turrets would be welcome, instead of having to recharge each ensnarement manually.
Whereas you were once forced to level up each character separately, Awakened employs a 'Hero Deck'. If you enjoy grinding up each combatant individually, you can still pursue that endeavor. But others might want to create additional character cards, with each member earning experience uniformly. That way, you'll unlock access to some of the game's more useful traps without having to grind.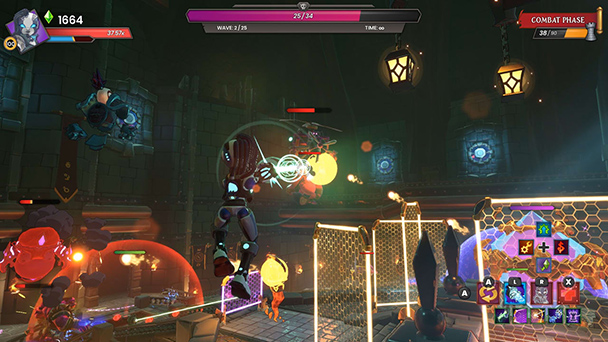 Adventurers with Larger Pockets
Small, helpful tweaks have been made to the foundations of the original Dungeon Defenders. No longer do characters have limited gem-carrying abilities, forcing players to shift between collection and construction. Enemy processions are clearly marked with highlighted trails. Currently, you can still get surprised by foes who successfully make their way to the crystal. There's a text warning when you're under siege and you can still open a practical map, but a smaller, simplified picture-in-picture tracker would help find those remaining stragglers.
Yet, Awakened draws a bit too much from the inaugural game. While there are new maps, the majority of what's available is a recycled upscale from the first game. The same goes for most monsters and defenses, distributing a nagging sense of familiarity as you level up your characters. Yes, there are a few divergences to be found, with new bosses (who still lumber toward your Eternia Crystal, soaking up loads of damage). But for returning players, expect a strong sense of dungeon déjà vu.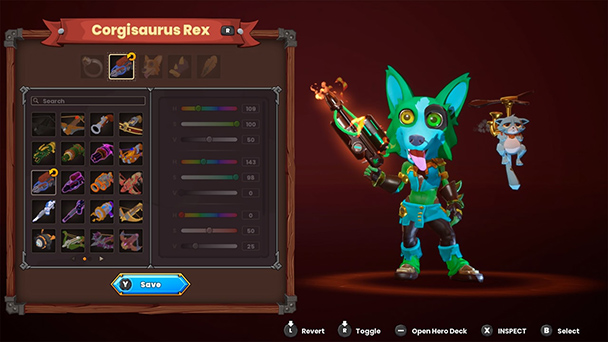 Lifeless Loot System
Unfortunately, some of same faults are present too. Most notably, Awakened's loot system contributes very little to the game. Currently, you'll gain a wealth of weapons and armor from enemies as well as an end-of-wave reward. But very little makes any difference to play. I'm sure all those single-percentage point increases are boosting stats, but they seem imperceptible during play. As for weapons, upgrading existing ones provided to be much quicker than testing the DPS of new ones back at the game's hub.
And that's another core fundamental issue with the game. While the development team has concisely favored accessibility, stimulating risk/reward mechanics aren't abundant in Dungeon Defenders. If you're the kind of tower defense player who gets a thrill out of seemingly cheating the system, watching elemental damages stack up and decimate opponent health bars, the game can be a bit simplistic. I'd love to see tech trees or the kind of mutable tower types found in DG2: Defense Grid 2 contribute a bit of strategy. Mostly, Awakened is just about maxing your DPS output and getting things ready for that massive fifth and final wave.
Conclusion
Dungeon Defenders: Awakened is lot of fun and might just outshine its predecessor. A decade on, the blending of setting up traps and tackling opponents directly is immensely enjoyable, and mostly the game still scales sell between individual play and four-player cooperative matches. That said, expect the telltale signs of a rushed port, with satisfaction undermined by a muddled user interface and cutbacks to augment performance.
Dungeon Defenders: Awakened was played
on Switch with code provided by the publisher 
Review Overview
Summary : Repelling waves of invaders remains enjoyable in Dungeon Defenders: Awakened, despite some setback with the Switch port.