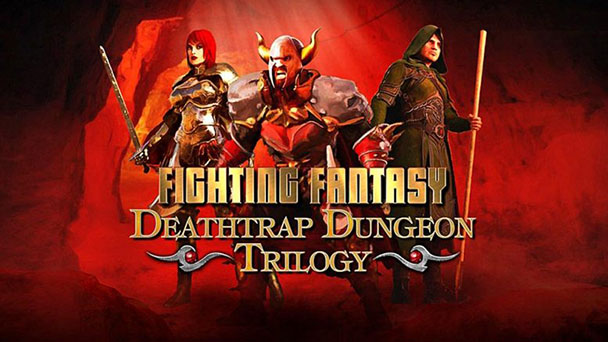 Across the eighties, Games Workshop co-founder Ian Livingstone wrote eleven single-player adventure gamebooks. Each built upon the basic framework of Bantam Books' popular Choose Your Own Adventure series that delivering branching storylines, where different decisions directed readers to specific pages.
Livingstone's Fighting Fantasy line added table-top elements like dice rolls and a trio of statistics. Given the gaming technology was still in its infancy, books like Deathtrap Dungeon, Trail of Champions, and Armies of Death offered some of the richest single-player role-playing experiences around. If you lacked a group of friends who played table-top pursuits like Dungeons & Dragons, the Fighting Fantasy series was the next best alternative.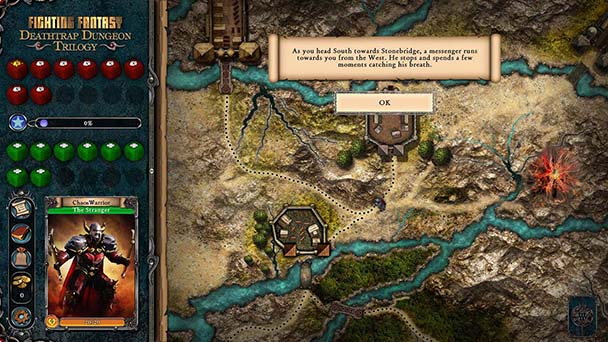 Before Final Fantasy There was Fighting Fantasy
Of course, technology advanced in the ensuing decades, gradually incorporating the kind of intricacy that makes role-playing so gratifying. Unsurprisingly, interest in the Livingstone's books ebbed for years, with audiences spellbound by stories spun by their new computerized dungeon masters. But over the last few years, an appreciation of Ian Livingstone's works reemerged, resulting in three new gamebooks and now somewhat quizzically, an interactive adaption of Deathrap Dungeon and its two sequels.
This isn't the first adaptation of Deathtrap Dungeon we've seen. With Livingstone's involvement, Asylum Studios turned the property into a PlayStation One game in 1998. Largely, it dispensed with the expositional elements, interpreting the trek through a trap and monster-filled lair as unsympathetic action game. In 2010, Big Blue Bubble returned to the property to its roots, with an iOS title that brough back the pulpy prose, striking illustrations, and dice rolls. But when the license expired, Deathtrap Dungeon was pulled from the market.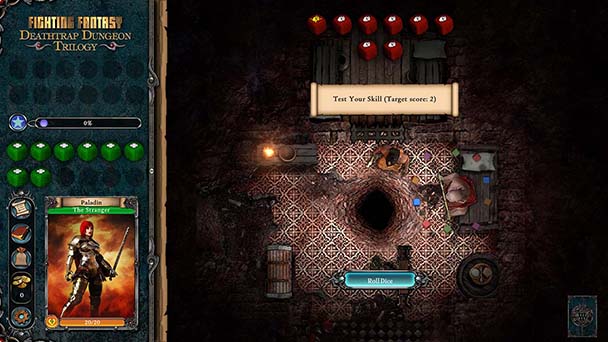 Divergences Yes, But Difficulty Undamaged
Pleasingly, table-top game adaptors Nomad Games (Talisman, Mystic Vale) follow a similar approach that respects Livingstone's concept. Delve into the first game of the trilogy and you'll discover an interpretation that complements the books writing with serviceable visuals and a few new mechanics. The latter are especially welcome, incentivizing progress and tempering the book's notoriously difficulty challenge. Fortunately, Fight Fantasy's balance of memorizing, attention to signaling, and randomization remains intact, so those nostalgic for narrative-based adventures should appreciate this reasonably-price compilation.
After selecting from six classes of heroes, assigning skill and luck presets, the starting number of lives, and one special skill, your character accepts a challenge issued by Baron Sukumvit. Risking their lives for the possibility of a 10,000 gold piece prize, the labyrinth lurers a multitude of challengers every year, but hasn't produced many tales of success. Adamant about winning the kingly sum, you venture into the deadly subterranean warren.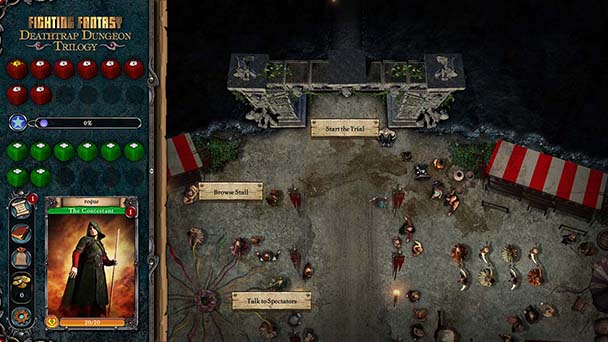 Venture Forth!
Inside, you'll find a visual representation of the trial, with overhead perspective of the action and glowing orbs that represent branches. Nomad Game aimed for a global release, so while you'll find abridged Chinese, French, and Japanese translations of the text, you won't enjoy any spoken voiceover. Obviously, vocalized descriptions of the dungeon's details would have been welcome, as would the occasionally inclusion of Iain McCaig's original illustrations. But Nomad's reworking helps speed things along, making for a much faster trek that flipping through well-worn pages. One advantageous addition is the inclusion of an orchestral soundtrack, adding a cinematic quality to the proceedings.
The other more remarkable appendage is being able to upgrade your skill and luck dice. Periodically, these are thrown to calculate the outcome of the game's turn-based combat or to measure the chance of escaping from a trap. As you preserve, you gain experience and be able to improve your chances for survival. Gratifying, these benefits remain for your inventory of player lives, softening some of the game's frustrations.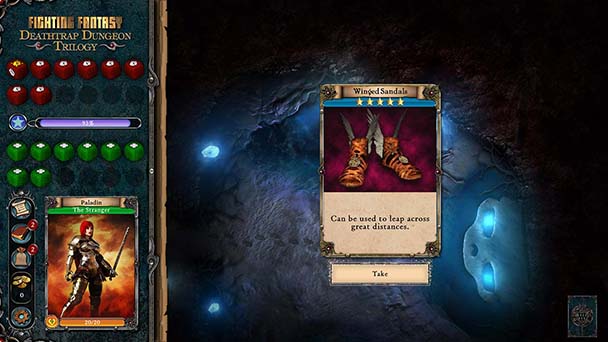 Locked Away in the Dungeon
That said, you'll still have to make your way through Deathtrap Dungeon, before venturing on through Trail of Champions and Armies of Death. Curtly, the other adventures are unlocked only after success; it would have been cordial if Nomad offered to open them after a specific number of failed attempts.
Trails iterates on the basic setup found in Deathtrap Dungeon, contributing plenty of new quandaries, creatures, and ensnarements, as well as some gladiatorial showdowns. Armies of Death shifts away from the solitary explorer, putting the reader in command of a large regiment tasked with defeating an undead legion and ensuring the safety of the region of Allansia. It's deviation from formula and elevated stakes undoubtedly make it the showpiece of the trilogy.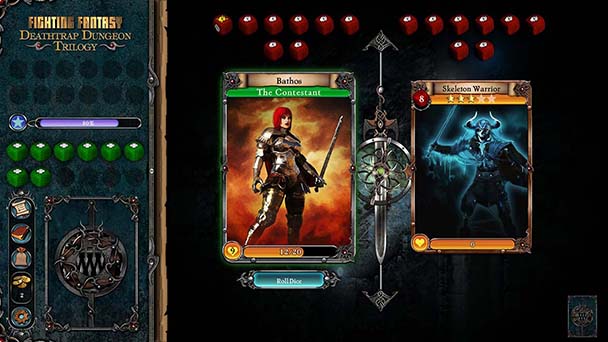 Conclusion
Deathtrap Dungeon has not only survived but flourished across the journey from book to game, and finally, back to interactive form. Shift across mediums can be tricky affairs, but Nomad Games truly comprehends the splendor of the source material. Changes generally enhance things rather than dilute the experience, a circumstance all too common in these kinds of adaptations. Another factor is the value of this package. Livingstone's novels sell for about ten dollars, making a trio of adventures for the equivalent price quite a bargain.
Deathtrap Dungeon Trilogy was played on
Switch with review code provided by the publisher. 
Review Overview
Summary : With a death of action, spartan visuals, and text-based description, Deathtrap Dungeon Trilogy isn't for everyone. But invest a bit of imagination and a healthy amount of determination into the compilation and you'll be appropriately rewarded.