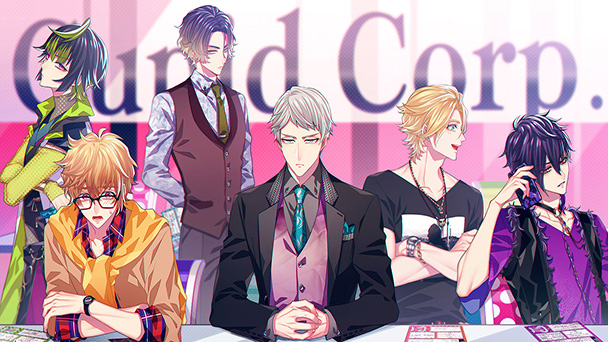 While a bungled localization might have troubled Cupid Parasite's launch, the lighthearted visual novel is all patched up, and posed to delight fans of the medium.
Cupid Parasite


Platform:
Switch
Developer:
Otomate, Idea Factory

Publisher:
Idea Factory International
Release date:
November 2nd, 2021
Price:
$49.99 via
Nintendo eShop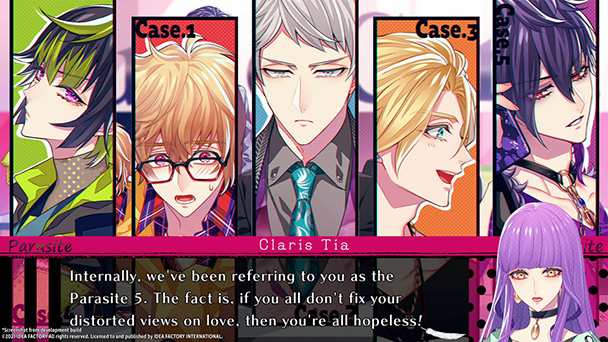 While small launch bugs afflict many launch titles, Cupid Paradise's publishing was especially problematic. As a visual novel, writing is a fundamental component for the genre. But the title suffered from a few localization gaffes that ranged from unedited text in three of the six routes to a lack of signaling when dialog was spoken or merely a thought. Now, a month and a half later, patch 1.01 is here to remedy Cupid Parasite's wayward behaviors, mirroring the curative actions of most visual novel protagonists.
Yes, there are several seemingly blemished personalities here, laying the foundations for plenty of pulpy romantic comedy. The second word in the title refers to a quintet of characters who are referred to as the "parasite five". Each seems to suffer from an issue prohibiting them from finding romance. From a bachelor who chases after involved women to another who is so reluctant to reveal his identify that he leaves the dating part to his secretary, there's a satisfying collection of guys eagerly waiting to be understood and loved.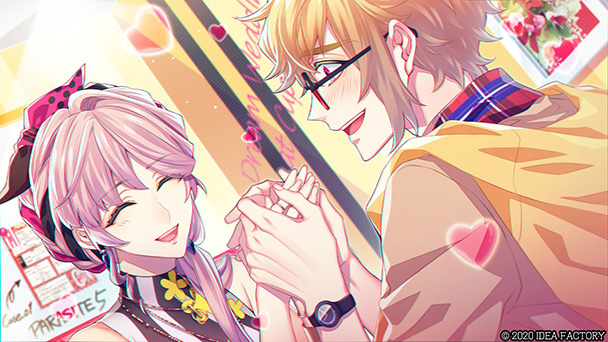 An Arrow Through the Heart
The "Cupid" part of the title refers to your role. You play as Lynette Mirror, who is the top bridal advisor for the Cupid Corporation. Acting as both a matchmaking service and a wedding planning company, Lynette is especially effective at bringing lonely singles together. Naturally, she's an ideal candidate for working with the Parasite 5. And since it's revealed within the first few minutes, it's not a spoiler to state that Lynette has an intriguing secret. She is Cupid, the literal goddess of love, sent into the human realm to reverse the trend of break-ups and a waning birth rate after upsetting her father, Mars.
Yes, Cupid Parasite is pleasing self-aware, often poking fun at everything the difficulties of finding a partner in a contemporary setting to the legitimacy of "reality" television. The novel's occasional flashbacks to Celestia and its remixed Roman gods offer a spirited skewering of mythology. Here, you'll meet secondaries like Cupid's auntie Minverva. Reimagined as a human obsessed, freethinker, she's the relative an overprotective father worries will be a bad influence.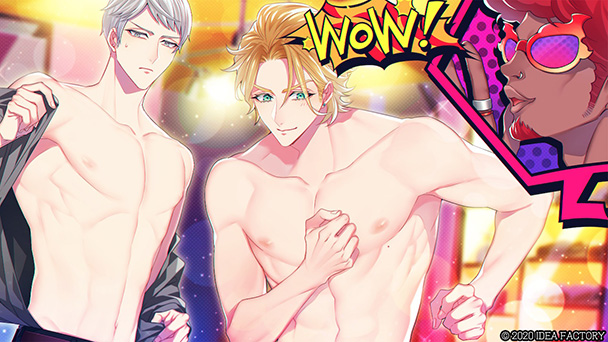 The God of Love, in Love
But a number of smart writing decisions pushes Parasite past its peers. Often otome will present a cast of flawed bachelors and it's up to the protagonist to mend each potential candidate.  But there, it's more about understanding the perspective of each potential partner, rather than repairing their individual deficiencies. As a matchmaking god, Lynette is far more skilled in initiating relationships rather than being an active participant in one of them. As such, her tender naivety and malleability make her an ideal lead.
Many romance novel rosters seem built with spreadsheets, with each pursuable character constructed around an inventory of idiosyncratic traits. Although it can be a satisfying to learn about each character, the system can feel formulaic. Cupid Parasite's cast is rooted in Canadian psychologist John Alan Lee's color wheel theory of love. Each bachelor embodies a different type of love which ranges from Eros (a love of beauty), Storge (love as friendship), to Pragma (practical love).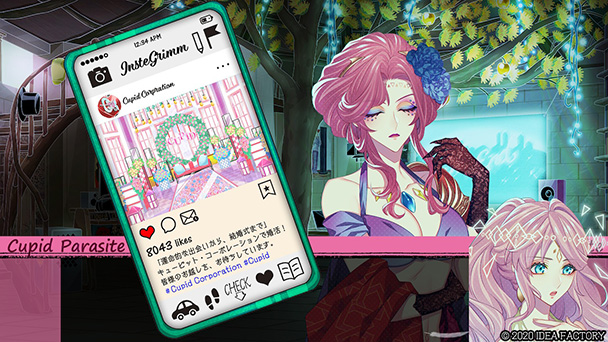 Shadow Innuendo Had Me Laughing So Hard I Cried
While the romantic roster could have been reduced to drab archetypes, Otomate's writers routinely exhibit creativity, fleshing out each character in imaginative ways. Parasite's embodiment of agape love is willing to do everything for love. While that might sound appealing at first, the novel isn't afraid of depicting how that can be off-putting as well. And there's at least one trashy bachelor who gets a heaping helping of karma. While I initially was reluctant to tackle his route, Paradise provided a particularly satisfying lesson.
Cupid Parasite's other virtue is that it is far less dour than many otome. The world is rendered in perpetually bright hues, signaling its lighthearted approach to relationships. References to Western works are plentiful, with playful renaming of characters and brands. Additionally, the game's soundtrack is exceptional, offering highlights like The Biscats rockabilly opening theme, "You Can't Hurry Love". Other songs evoke Etta James' "At Last" or the distinctive harmonies of The Beach Boys, complementing the exposition and testing your musical knowledge.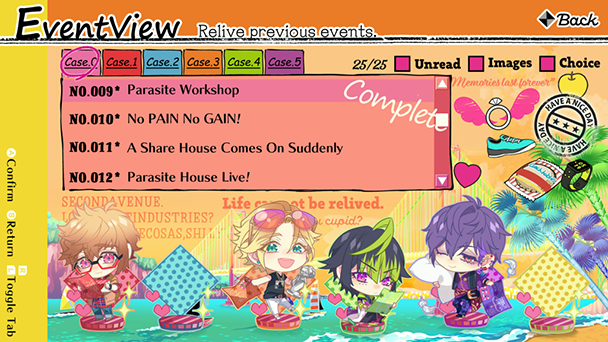 The Love Queen of Los York
Beyond a mid-game personality test that tests compatibility with your route partner, most of Parasite is guided by in-game flowchart. This visualizes the game's branching plotline and any alternate endings. Since Cupid Parasite has a rather involved story structure, with plenty of endings of routes, the chart is quite assistive. Additionally, you'll be able to listen to in-game music, and view CGs. While reading, you can review bits of previously seen conversations.
Given the novel's six routes, it can take between 40-50 hours to see everything that Cupid Parasite has to offer. Those seeking an experience that's more playful and lighthearted than most VNs will likely enjoy Otome's matchmaking romp. Elevated by an entertaining cast, a creative set-up, and now, an untarnished localization, Parasite is fated to steal hearts.
Cupid Parasite was played on Switch with
review code provided by the publisher
Review Overview
Summary : Cupid Parasite's localization has been remedied, allowing readers to enjoy one of the best interactive rom-coms around.