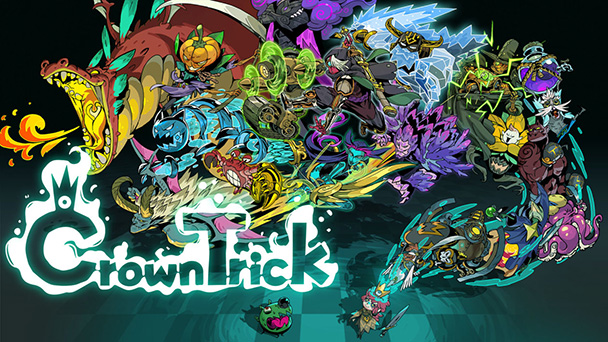 While the try, die, repeat cycle feels familiar, the rest of Crown Trick's execution is unique. Fans of turn-based title should appreciate the sense of dominance that comes with the powers of defeated foes and traits like teleporting around bosses.
Crown Trick
Platform:
PC, Switch
Developer:
NEXT Studios
Publisher:
Team 17
Release date:
October 16th, 2020
Price:
$19.99 via digital download, 10% launch discount
Availability:
Steam
,
Nintendo eShop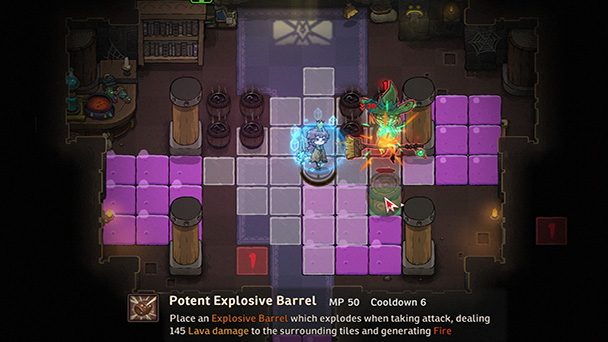 With nearly as much predictability as the phases of the moon, several new roguelikes appear every month. Most are respectable efforts, generating tension around permadeath and incorporating just enough incentive to justify multiple play-throughs. But given the growing number of roguelikes on the market, distinction is becoming an increasingly rare commodity. Fortunately, the recent PC and Switch release of Crown Trick injects just enough variation into the crowded sub-genre.
Shanghai-based NEXT Studios' (Biped, Death Coming) title opens with lead character Elle awaking in a mystifying landscape, where a sentient crown cryptically explains that unleashed nightmares are causing destruction and chaos. Speaking standoffishly, the headpiece informs Elle that she's the chosen hero fated to save the world, before adopting a spot atop Elle's head. While the role of savior is a clichéd one, Crown Trick keeps many of its mysteries undisclosed until much later, letting a sense of uncertainty hang over the proceedings. Wisely, the game's conversations are succinct, so you'll be heading into the brainy, baddie-busting action without much delay.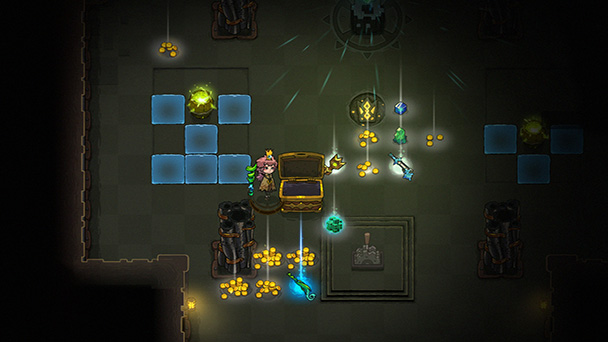 Melee and Ranged Weapons
Every run begins with Elle selecting a randomized weapon from a pool that grows over subsequent playthroughs. Crown Trick uses a turn-based system that's similar to the Mystery Dungeon games. Every time Elle moves, monsters also reposition themselves across a grid-based playfield. But your loadout in Crown Trick operates quite differently, with melee swings able to inflict damage on multiple tiles, rather that just in front of you. Expectedly, enemy attacks operate similarly, and you'll see numbers on the grid that count down before an attack is executed.
Naturally, you'll battle a lot of low-level fodder that provides Elle with gold as well as Soulstones. The former needs to be spent during your run, as you'll forfeit any carried currency upon death. Sporadically, you'll encounter slot machines, gachas options, and even a shopkeep at the end of a dungeon, all eager to size your wealth. Soulstones are a gateway into more enduring upgrades, offering to do things like augment your life-rejuvenating elixirs or your Blink ability.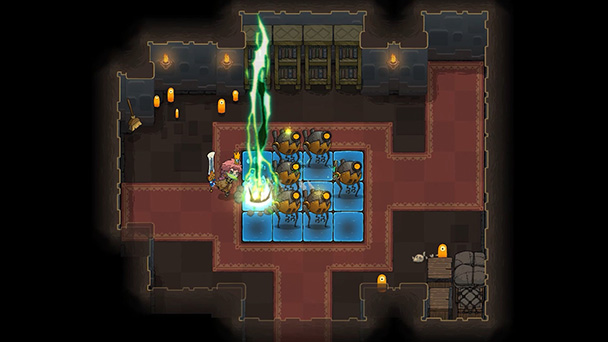 Think Element-ary
Pleasingly, Elle grows quite powerful across each playthrough. The aforementioned Blink allows you to teleport around each room, without worry about turn-taking. As such, avoiding an imminent assault so appear behind an enemy is rewarding. As a run endures, it becomes increasingly necessary to use, since battlefields tend to be littered with objects like explosive barrels, or even puddles or water, which make for precarious footing when foes have electric attacks. Pleasingly, this ability recharges after entering every new room, or when you 'break' opponents- hitting them enough times to put them into a stun state.
Elle's other abilities are received after you defeat mid-bosses. Eliminate threats known as familiars and you'll inherit up to two abilities. While enemy design is original, there are remarkably imaginative, with beats like giant chickens, and ambulatory scarecrows. Walk up to one of the designated spots in a dungeon, and you'll be able to carry the capacities of two familiars, freely switching between abilities. Additionally, Elle can pick up items, summons, and relics, with the latter providing some worthwhile passive abilities.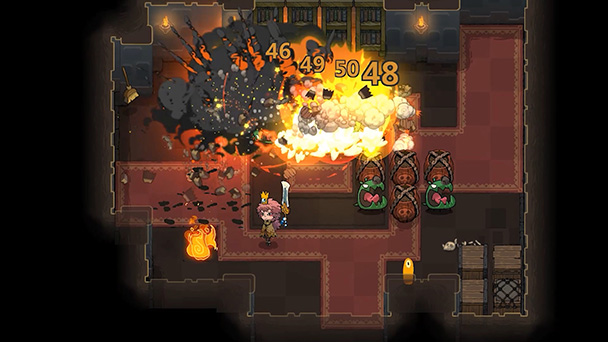 Subordinate Spawning is Nearly as Bad as Boss Healing
Although the assemblage of these elements might seem excessive, you'll need every advantage when tackling Crown Trick's bosses. There are tough battles, that will have you moving about cautiously. Often, your very last item or summon will be the fight's decisive factor- so there's some adept balancing going in these showdowns. But that's not always the case throughout a playthrough of Crown Trick. Periodically, the RNG gods will overlook you and you'll have to persevere with a collection of second-rate gear. While it's a common trait with roguelikes, that doesn't mean it has to persist.
One of the other issues with Crown Trick is there's not all that much variety. All too often, enemy stats merely increase in size, instead of the game providing new foes to skirmish against. While random elements test your improvisational skills, once you've learned a foe's movement patterns and attacks, fights can grow stagnant. Another issue is that loot isn't always incentivized. All too often, I stuck with an early-game weapon, as new arms didn't offer an advantage. Ideally, perseverance such be justly rewarded.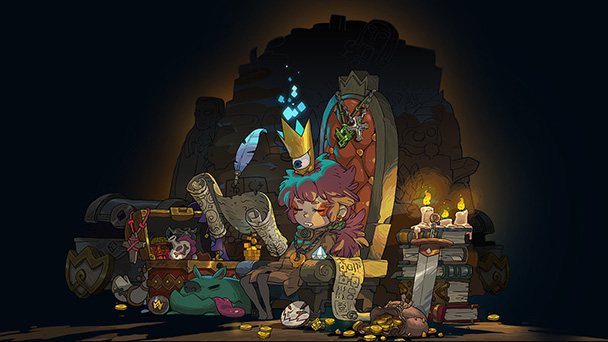 Conclusion
Despite a few minor problems, I'm contemplating a purchase of Crown Trick on the Switch, just so I can play the game on the go. Typically, I do this when a game is captivating, and this title narrowly makes it over that hurdle. At least some of the allure is the game's art. While there's not a surplus of animation, the game's sprites are attractively drawn, and effects like explosions are eye-grabbing often filling the screen with conflagration.
If you appreciate a cerebral workout during dungeon crawling, then Crown Trick deserves consideration. Although assistance comes from abilities augmented across multiple playthroughs, mastery is also rooted in experience. Learning how to enter a room and kill everything with a sequence of moves feels gratifying. With Crown Trick, it's a proficiency learned through repetition rather than generated with quick reflexes, setting the game apart.
Crown Trick was played on PC with
review code provided by the publisher. 
Review Overview
Summary : Crown Trick's turn-based strategy operates as fast as you can think, providing distinction to this attractive rougelike.