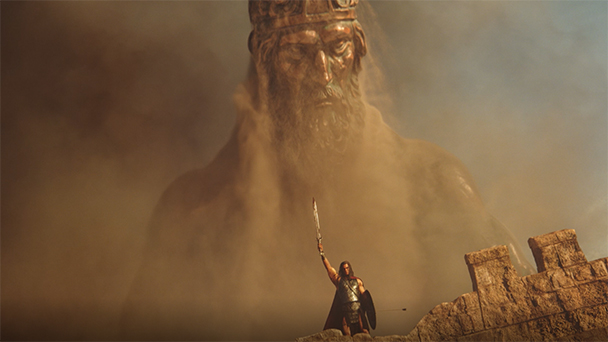 Game adaptations of Conan The Barbarian have often struggled. The character's first interactive outing, 1984's Conan: Hall of Volta, was an eleventh-hour adaption. Launching alongside the theatrical release of the film, Conan the Destroyer, it was a hasty reworking of a boomerang-tossing platformer that felt far removed from the action shown in the film. 2007's Conan for the Xbox 360 and PlayStation 3 was only marginally better, putting the dominating Cimmerian in a generic beat 'em up. The same could have been said for Conan Exiles, an open-world survival game set in Hyboria. With complicated crafting and tedious combat, the title garnered notice mostly for its graphic brutality.
With the release of Conan Unconquered on the PC, veteran real-time strategy gurus Petroglygh (Star Wars: Empire at War, Universe at War: Earth Assault, Grey Goo) hope to give Robert E. Howard's pulpy series the kind of interpretation it rightfully deserves. But largely, a significant number of small missteps sully the experience. In execution, Unconquered delivers the difficulty. But like a few of the character's adaptations, often forgets about the fun.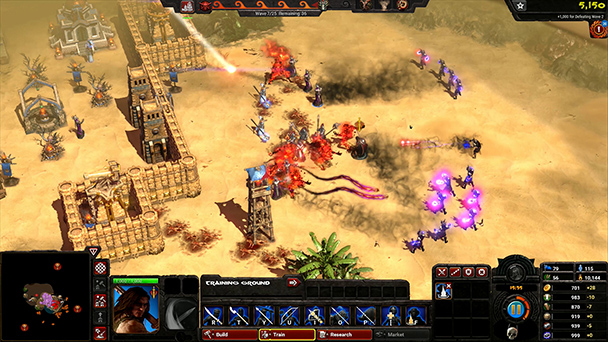 The Colossal Cimmerian
Certainly, Petroglygh's decision to place the character in a real-time strategy/tower defense-style hybrid was noble. While the books depict Conan as a nomad, in Unconquered he's situated at a remote outpost, with the neighboring terrain teeming with savage creatures like giant spiders and scorpions. While your desert town is randomly generated outside of the five-stage campaign, Unconquered determines the number of barriers and starting towers, creating a seemingly sturdy outpost. But soon, the hordes start trying to breach your perimeter with a relentless tide of attacks. You're tasked with resource management and the cultivation and control of units, as you attempt to defend the base as long as possible. If you've played They Are Billions then you're already familiar with the formula.
One of the fundamentals for any Conan game is conveying the conqueror's overwhelming power on the battlefield. In Howard's fiction, no human is mightier than the lead character. In Unconquered, this is conveyed through the Hero system, which lets players select from Conan or Valeria. Should you opt for the Deluxe Edition of the game or the DLC, you can also play as Kalanthes and a reskinned King Conan. But given Kalanthes' handy ranged attack, it feels like Petroglygh is unfairly putting the squeeze on players.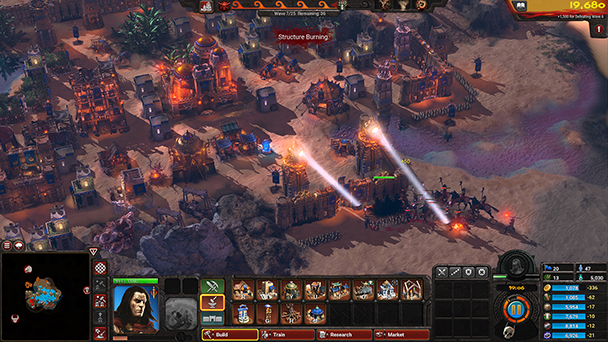 Enemies at the Gate, Yet Incentive to Explore
Regardless of which hero you select, they're likely to be one of the strongest units on the battlefield. Seeing Conan mercilessly cleave through hordes is rousing, as he eviscerates enemies with a few swings of his mighty sword. Should Conan or any of your other grand heroes fall, they'll be resurrected after a minute. But a lot can happen in that sixty second duration when your potent protagonist is off the battlefield. Although you'll assign armies to attack and defend against foes, your hero will be doing the bulk of the heavy lifting. Unsurprisingly, there are the ones capable of eliminating the world's giant foes, securing a relic in the process.
While RTS titles often require players to juggle between development and deployment, Unconquered raises the intensity to frenzied levels. Although the tutorial teaches the fundamentals of survival, Petroglyph wants you to discover success through experimentation. Undoubtedly, it's a daunting task, with a great deal of complexity when civil engineering. Difficulty if rooted in the game's economic model, and if any of the game's resources become in short supply, it can lead to disaster for your outpost. Unconquered shirks the traditional single-purchase model for defenses, meaning you'll have to continually provide food and gold for your army, wood to maintain your defensive walls. Since natural resources are limited, the game prods you into expanding your settlement. The larger your city is, the more difficult it is to defend.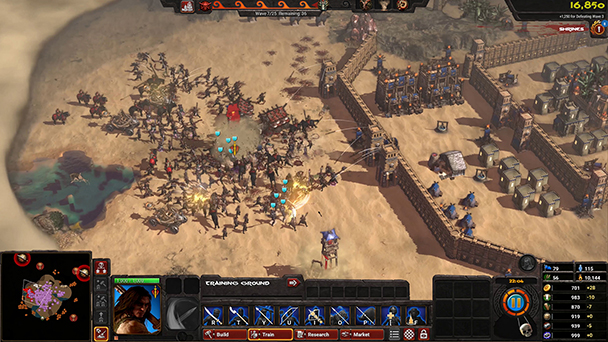 Conan's Weaknesses Are Quite Apparent 
But several design blunders tarnish the experience. Enemy AI is particularly frustrating, with seemingly primitive creatures automatically finding the weakest spot in your walled fortress. This could be offset if the intelligence of your own troops was up to par, but far too often, they'll stand idly unless specially ordered to battle the breach. Even giving orders can be vexing, since your units aren't good at pathfinding and lack the ability to adopt formations. When your walls catch fire, putting out the blaze is more difficult that it should be.
Some of these issues are diminished when you play Unconquered with a cooperative partner. With additional assistance, the game's endless inventory of emergencies can be handled mutually, which is every bit the friendship test it sounds. But tragically, this creates its own problems, with players unable to share some structure. As such, you're going to have to train your own troops and conduct your own technical research, which undermines the sense of solidarity. Cooperative play also doesn't remedy Unconquered's metagame, either. Although, you'll improve elements like walls and ensnarements, the upgrades don't radically reduce the level of frustration.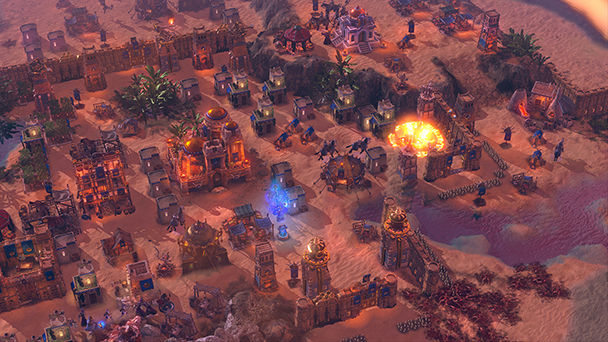 Fellow Conquerors Desperately Needed
Given Petroglygh's involvement with the remaster of Command & Conquer, it can feel like Conan Unconquered was pushed out the door to make room for a larger project. Unquestionably, there's some good ideas here and an innovative use of the license. But moment-to-moment gameplay is poised to induce frustration. If you're planning on tackling Conan's Sisyphean task, make sure you have a co-op partner not just for the in-game assistance, but also to share your grievances with.
Conan Unconquered was played on PC with
review code provided by the publisher. 
Review Overview
Summary : Conan Unconquered is brimming with primal potential as you aim to keep massive invasions from breaching your growing perimeter. But it also feels unfinished, exhibiting a lack of balance, polish, and an objectionable approach to DLC.