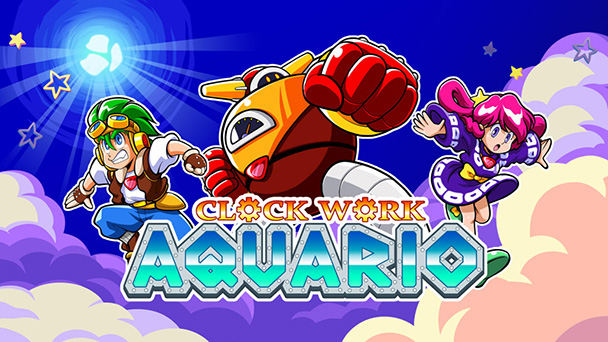 Clockwork Aquario's lackluster arcade tests doomed the title to cancelation. But twenty-eight years later, Westone's title has been resurrected from the coin-op graveyard. But look past the attractive spritework and sumptuous sounds and you'll find a pretty originary game. 
Clockwork Aquario
Platform:
PlayStation 4, Switch
Developer:
Westone Bit Entertainment, ININ Games
Publisher:
ININ Games
Release date:
December 14th, 2021
Price:
$19.99 via digital download
Availability:
eShop
and other digital marketplaces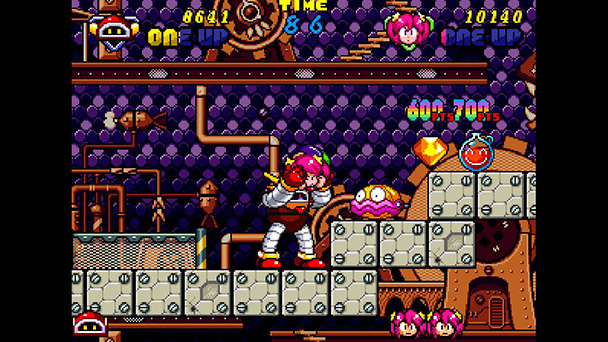 The industry's shift from pixels to polygons wasn't without casualty. Case in point: Westone Bit Entertainment had built a solid reputation on action platformers in the Wonder Boy/Monster World series. But in 1993, when the developers tested Clockwork Aquario in Shinjuku and Ueno arcades, the reaction was decidedly tepid. Audiences were lukewarm toward the hop-and-bop genre, which was already prevalent on home consoles. Adding to their indifference were 3D titles like 1992's Virtua Racing, as well as 1993's Virtua Fighter and Daytona USA, which exhibited visual novelty that 2D games just couldn't quite match.
Unsurprisingly, Clockwork Aquario release was cancelled. When Westone folded in 2013, some of the game's source code was thought to be lost forever. But between the efforts of ININ Games and original developer Ryuichi Nishizawa, Aquario was rescued. In the process, the game earned a Guinness World Record for the longest production period, with a development span of 28 years and 81 days. Sorry, Duke Nukem Forever, but you've been bested.
The Slow Simmer of Aquario
After nearly three decades, it's obvious that Clockwork Aquario flaunted some lustrous qualities. But had it ever been given a proper release, Aquario probably would have joined the ranks of hundreds of other ordinary arcade cabinets. While the title has some inspired aesthetic choices, players won't feel one of those riveting states of flow until they're thoroughly mastered each stage and boss battle. The best coin-operated games immediately hook you before soliciting a steady supply of pocket change. But it takes a while to warm up to Aquario's staccato pacing.
The beginning of a run permits players to select from three protagonists. Huck Londo is the green haired, goggle-clad male while Elle Moon is his twin-tailed female counterpart. There's also Gust, a large and slow-moving robot, whose height can sporadically cause impediments on parts of different stages. The selected protagonist will hunt down a degenerate fish-man named Dr. Hangyo, who is plotting world domination from Aquario, his undersea headquarters. Like its arcade contemporaries, storyline is skeletal.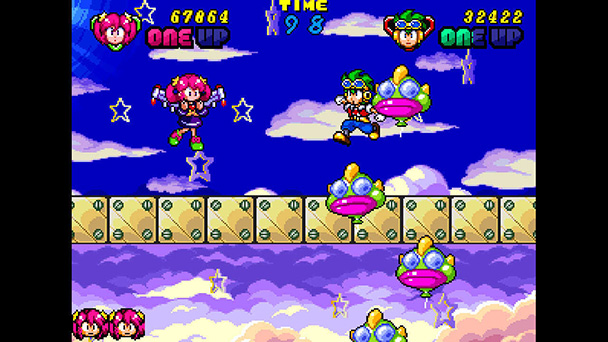 Clockwork Has SEGA-esque Qualities
With stages that feature sinewave-shaped pathways and abundant amounts of colorful spritework, it's clear that 1991 Sonic the Hedgehog served as an inspiration. Backdrops with menacing robo-fish and layers of striking, parallax-scrolling clouds would feel right at home in SEGA's darling franchise. There's a nice sense of visual reward across the game's short selection of stages, with dithered rainbow roads and ominous bosses that fill the screen. Aurally, Shinichi Sakamoto's spirited soundtrack is delight to the ears, but marred by the game's raspy, nearly unintelligible digitalized voices.
Play is built around a stun, grab, and throw mechanic. Jumping on or melee attacking most enemies puts them in a daze state, where they can be picked up and flung at other foes. Scoring combinations are earned by targeting chains of enemies, with level design often stacking foes horizontally or vertically. But mixed in with common foes are enemies who are popped with a single strike or inflated into they burst, like Pookas from Dig Dug. As such, you have to carefully 'read' each stage, looking for ways to eliminate a cluster of threats or exploit scoring opportunities for the local leaderboard.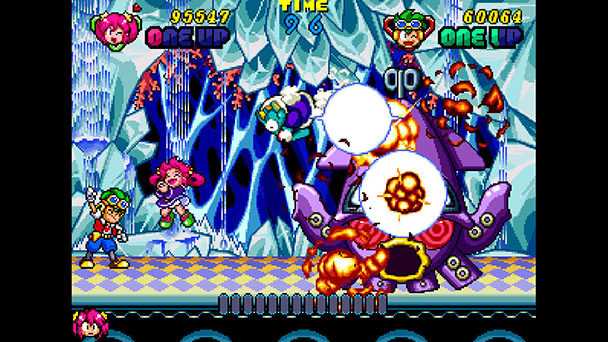 The main problem is that Clockwork Aquario requires level memorization. The first time a foe is flown at you from an incline, the game's constricted perspective leaves little time for reaction. Fortunately, the game tempers this by endowing each life with a second chance, much like when Sir Arthur loses his armor in Ghosts 'n Goblins. In execution, it can feel like a cheap fix for the game's sporadic lapses of signaling danger. Traits like this separate the arcade classics from undistinguished coin-ops.
Conclusion
Those hoping for extra modes and additions might be slightly disappointed by Clockwork Aquario. While there are visual filters to add CRT-style effects, difficulty is handled by modes that restrain the number of available stages and the quantity of continues you have, rather than offering a more organic method. Depending on the skills of your local partner, cooperative play can either make the game easier or frustrating, as you attempt to fling your collaborator at adversaries. Beyond access to a mini-game, you'll find developmental drawings and two soundtracks. But you won't find any interviews with any of the original designers, which seems perplexing given the game's unique history.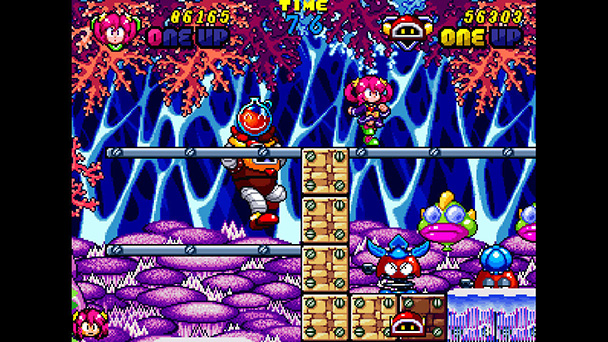 Revising an arcade game that's been abandoned for nearly three decades is an exciting proposition. At best, Clockwork Aquario feels like opening a time capsule and rescuing a relic from a bygone era. But that excitement might feel diminished by Aquario's mechanics, which feel serviceable but never sublime. Remove the novelty of the game's history and few would take notice of this title.
Review Overview
Summary : Enjoyment with Clockwork Aquario expects an appreciation for arcade history. Those with little interest in the medium might find little more than a mediocre action-platformer.