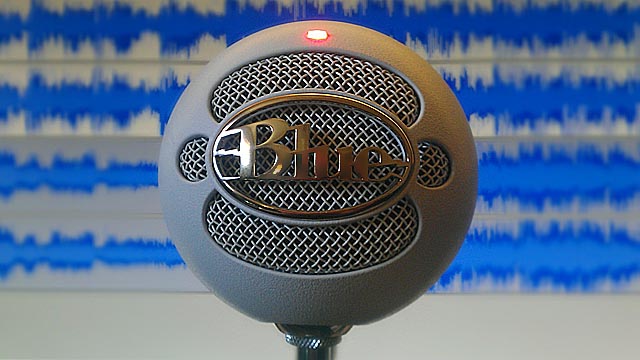 The science of digital sound is often governed by measured sacrifice, a professional sound engineer recently told me. The most obvious example is found when someone wants near perfect audio- which comes at the expense of a substantial file size. Compress the recording down and the overall quality of the sound mix drops accordingly. Recording equipment is often the same, he explained. First-class hardware can help create a radiant master track, and can often offset the loss of fidelity when a podcast has to be squeezed down into a manageable file size.
Regretfully, many podcasters use inferior microphones when recording their shows, resulting in predictable sub-par sound quality. One alternative can be found with the Snowball, Blue Microphone's recording device. With a street price as low as $57.95 this piece of hardware comes recommended to budding broadcasters looking for a sturdy, versatile microphone at a reasonable price.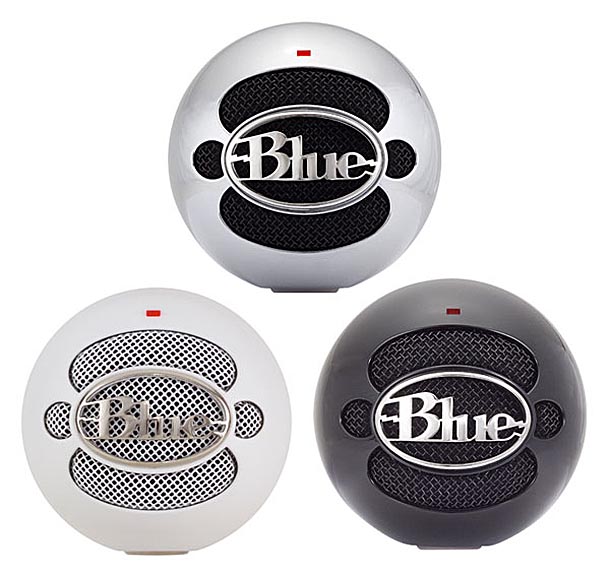 With its USB interface, the Snowball was quickly recognized by our Windows 7, Vista, and XP-running machines (and purportedly works on Macs using OSX 10.6.4 or higher, as well as iPads with the 4.3 iOS update). As with all digital mics, the hardware's default input levels are accessible through Window's Control Panel options. On each of our test systems, the Snowball's default gain setting resulted in muted but agreeable sound levels when recording speech, without any signs of clipping or distortion. The richest voice recordings were made with the microphone a few inches away from our mouths, using a pop filter to eliminate the snap of sharp consonant sounds (such as the first "p" in "popping").
With a slide of the setting switch, the Snowball transitions from directional, cardioid microphone which picks up sound directly in front of the unit, to a omnidirectional mic capable of catching roundtable conversations. While this mode enabled the hardware to hear from a roomful of participants, there was one nagging downside- output was heavy in the midrange, lending conversations a telephone-like quality. Luckily, a bit of Audacity's equalization tweaking was able to sweeten the highs and lows, giving the recording a more natural feel.
An additional setting uses the Snowball's directional capsule with a higher volume threshold, allowing the recording of live music. Here, the mic performed admirably – capturing the nuances of an instrumental performance, albeit with slight deficiency in the high-end.  For those seeking a microphone able to operate in both podcasting and recreational recording (albeit monophonic) capacities, the Snowball is without peer.
Packed with the microphone is a sturdy telescoping tripod, able to elevate the hardware about eight inches off desktops. The actual Snowball itself measures four inches in diameter with enough heft to imply a hearty build quality. While the unit's retro-styling might clash with the cool minimalism of a Mac or the angled exteriors of a PC, the hardware is undeniably eye-grabbing.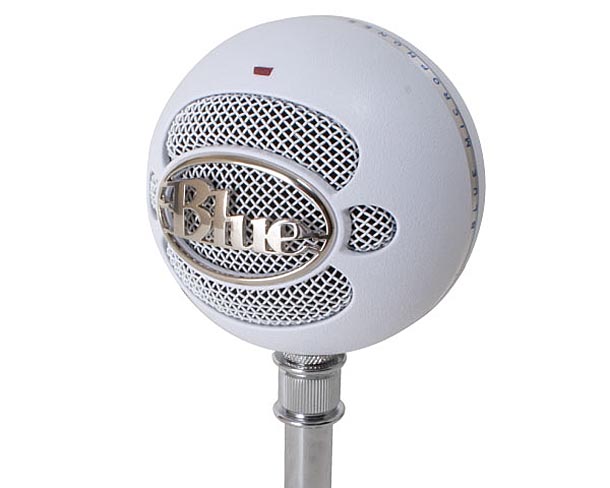 Blue Microphone's Snowball isn't a replacement for a studio filled with high-end recording tools. Instead, the affordable hardware is geared toward both podcasters and gamer's seeking to deliver a professional-sounding commentary over their Call of Duty Killstreak montages. For roughly half the price of a Samson G-Track mic, the Snowball delivers a comparable performance, nimbly balancing sound quality, sturdiness, and economy.
Tech Specs
Windows: Windows 7, Vista or XP; USB 1.0 or 2.0
Mac: Mac OSX 10.6.4+; USB 1.0 or 2.0
iPad: 4.3 iOS+
Transducer Type: Condenser, Pressure Gradient with USB Output
Polar Patterns: Omnidirectional or Cardioid
Frequency Response: Position 1-3: 40-18kHz
Sample Rate: 44.1 kHz/16 bit
Power Requirements: USB Bus Powered
Weight: 16.2 oz
Dimensions: 12.8″ circumference
Included: Snowball microphone, 6-inch tripod stand, USB cable