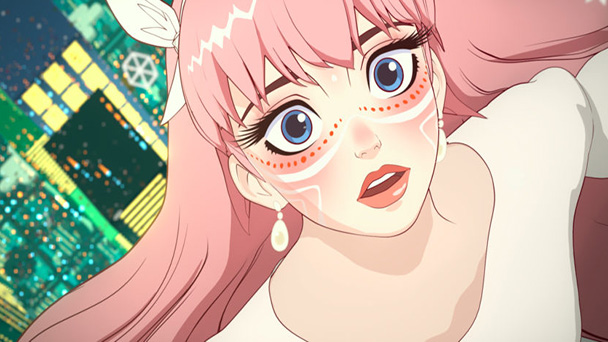 Much like his 2009 film, Summer Wars, director Mamoru Hosoda's latest effort offers an intriguing contrast between the real and virtual worlds. Seventeen-year-old protagonist Suzu Naito and her father live in the verdant spaces of the Kōchi prefecture. Here, pastoral beauty is ubiquitous, from verdant topographies intersected by streams to the welcoming, wood-filled interiors of a traditional townhouses.
But rural life isn't without complications. When Suzu was younger, she witnessed her mother rescue a toddler trapped in the rising waters of a turbulent river. The child returned safely, but her mother did not. Subsequently, her relationship with her father stagnated, and the love of music that her mother had encouraged now languished. The tragedy affected her social life. Beyond a protective childhood friend named Shinobu, and Hiroka, her persistently online best friend, she lacks an extended support system of peers.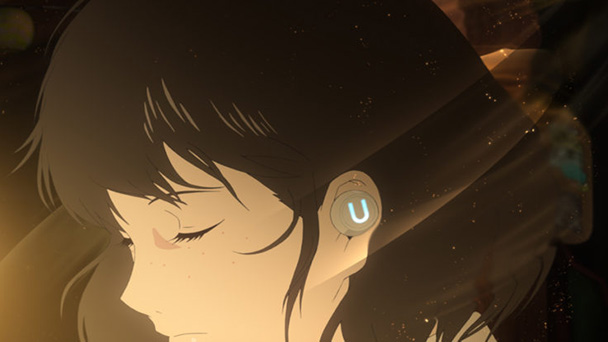 "Suzu" means Bell in Japanese
As such, the e-world of "U" is indisputably enticing. An online retreat that uses biometric data to build users their own distinctive avatar, Suzu becomes Belle. Save for her freckles, she scantly resembles her real-world self and is endowed with an angelic voice. In "U", she's an overnight sensation, immediately earning millions of followers and well as the scorn of trolls. However, that's not the only complication in the virtual world.
One of her concerts is interrupted when an avatar known as "The Dragon" is chased by a group of unform-clad adversaries. Instead of merely pushing back at his persuaders, The Dragon fight back ferociously, securing the disparagement of a massive online audience but the interest of Suzu/Belle. If U offers escapism, what's the root of The Dragon's antagonism?
Tightrope Walker
What follows is Hosoda performing one of the most daring high wire acts in recent cinematic history. A multitude of moments across the film's two-hour and two-minute running time threaten to disrupt a plotline that shifts between loud, shōnen action sequences and tender moments of vulnerability. Belle also integrates a plethora of different concepts. There's science fiction, social commentary, slice of life melodrama, bits of slapstick humor, and a message about the healing power of kindness. There's even a moment that hinges on the incredulous, as seemingly the entire populace of U bands together for a collective moment.
Whenever the film threatens to copy to plotline of Beauty and the Beast or deliver one of those overly dramatic musical soliloquys, Hosoda's footing is expertly repositioned. His posture exudes intensifying confidence with each successive stride. Even if you're well acquainted with either Gabrielle-Suzanne de Villeneuve's original tale or Disney's 1991 adaptation), there are plenty of deft surprises in store. Shrewdly, the writer and director seems to feign every single misstep with the grace of a master acrobat, prohibiting Belle from descending into cheesiness.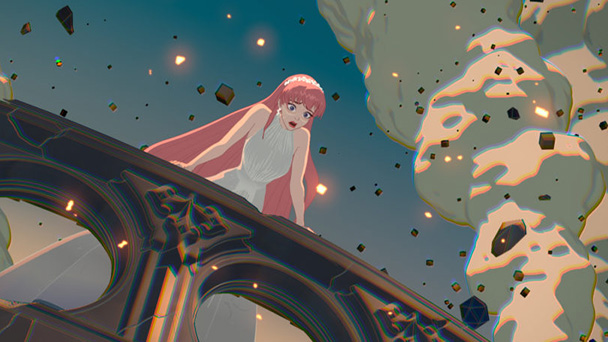 From the Motivation of SJWs to the Laments of VTubers
Much of this proficiency is rooted in the film's deft writing. Plenty of films have preached about the dangers of online spaces or the temptations of virtual worlds. But Belle is more observational, curious with why people seek refuge in the fantastical. For adults, there's plenty of substantial allegory to be found. From 'U's self-appointed policing force, who threaten to reveal a user's true identify to the humility of a person ebbing away at physical stigma, this is far more than a glossy, high-tech fairy tale.
Audiences of all ages will likely be entranced by the film's visuals. Life in Kōchi is rendered in traditional hand drawn style. Bridges and roads are flanked by lush greenery, while the local high school exudes old fashioned coziness. Interiors are frequently rich with details with Hiroka's room stacked with a library of books that fuels her inquisitive, young mind.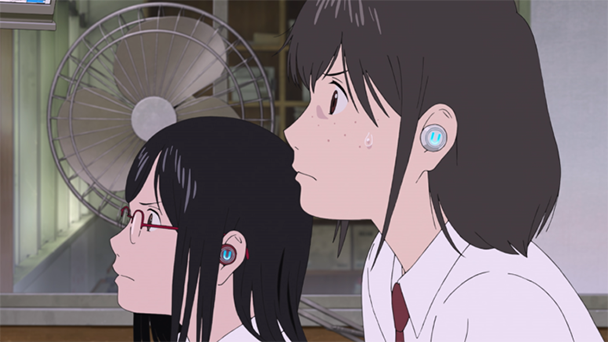 Alternatively, U in rendered in intricate CG, with digital smoothness hinting at artificiality. Draw distances seemingly stretch into the infinite, showcasing thousands of simultaneous avatars engaged in interaction. Other moments, online life becomes a cacophony of busy browser windows. Persuasion is imagined as an online wargame, and commentary from two avatars is supplemented by a tickertape that captures the hyperactivity of Niconico's commenting system. Often, cinematic depictions of online interactions feel too futuristic and can seem contrived. But U digital avatars evoke many of the characteristics of Vtubers and busy Discord servers, upholding the suspicion of disbelief.
Nakamura Steals the Show
Arguably, it's Kaho Nakamura's performance as Suzu/Belle that helps make the film work. As an established musician who can convey vulnerability yet also belt out soaring songs that resonate with emotional intensity, she is perfect for the duality of the character. Expect her anthemic tracks to end up on viewer's Spotify lists, where they can concentrate on her musicianship.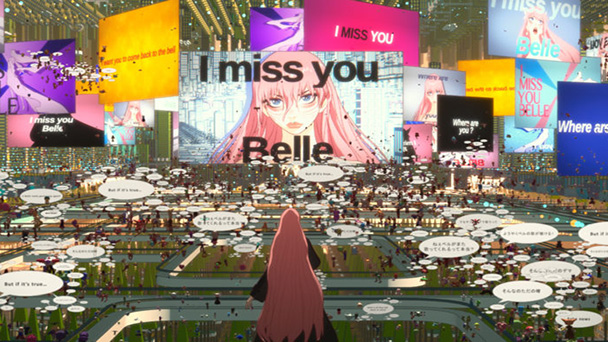 Belle is a dazzling demonstration of the power of animation, able to effortlessly pivot from intimacy to stunning spectacle. Hosoda's work rightfully earned a fourteen-minute standing ovation at the film's Cannes premiere. There's barely a scene in the film that doesn't showcase beauty, whether it's the discreet depiction of care for an injured pet or an utterance that avoids embarrassment for conversational partners. Hosoda's place in the pantheon of animation has been established, at least overseas. With the release of Belle it's time for the Western world to collectively acknowledge his mastery of the medium.
Belle opens in US theaters on January 14th, 2022.