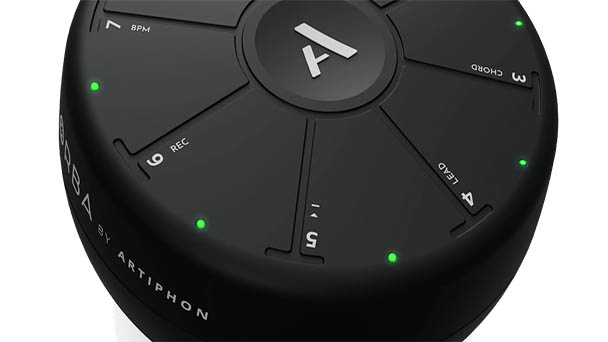 This $99 musical instrument might look a bit strange. But with premium features like velocity sensitive, capacitive touch keys, gyroscopic and accelerometer control, the Orba permits you to create your own eight-bar loops from the comforts of your couch or while waiting in line.
Artiphon Orba
Dimensions:
3.19 inches (diameter), 1.19 inches (height)
Weight:
0.35 lb., 160 grams
Power:
internal lithium-ion rechargeable battery
Connectivity:
Bluetooth, MIDI, USB C
Compatibility:
GarageBand, Ableton Live, Logic Pro X, Pro Tools, Cubase, FL Studio, any MIDI-compatible app
Price:
$99.99 via
Artiphon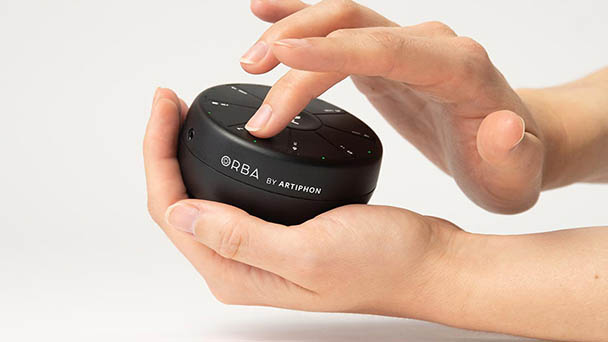 Save for the plastic recorders routinely given out in elementary school, there are a scant number of musical instruments intended for the masses. And that's a shame because music has a powerful effect on the human brain. According to Valorie Salimpoor, a neuroscientist at McGill University, song can lead to the release of dopamine in our brain, producing pleasure. Playing music has additional benefits, with studies revealing that musicians have more 'grey matter' in their auditory cortex, the part of the brain that handlings hearing. Clearly there's a need for an affordable, accessible musical instrument.
When I first heard about Artiphon's Orba, I felt a mix of excitement and skepticism. While the idea of a sub-$100 handheld synthesizer, looper, and MIDI controller sounded enticing, I've been burned a multitude of times by crowdsourced consumer electronics with lofty ambitions. All too often, the retail product has been lackluster. Sporadically, what's shipped out to backers is downright dispiriting.
Half-Sphere of Sonic Enchantment
But the Orba makes a phenomenal first impression, with hardware that exudes Apple-esque elegance and refinement, but without the premium price. Remove the onyx-colored, half sphere-shaped device from its package and you'll immediately notice just how natural if feels in your hand. At 160 grams/5.42 ounces it's lightweight, but there's just enough heft to ensure it doesn't feel cheap. After turning the Orba on by pressing a button on the side of the unit, you're greeted with a rotating display of the instrument's gentle, multi-colored LED lights.
Play makes a powerful first impression. Each of the eight segmented keys (plus the Artiphon button in the middle) are exceptionally smooth thanks to plastic infused with glass fibers. But they are also velocity sensitive. The Orba's default drum kit, and toms and cymbals can be gracefully tapped or beaten for hard rock intensity. Agreeably, you don't have to be too delicate with the Orba. Hitting the instrument against your hand triggers a tambourine-like effect. The best part is that every touch is accompanied by the kind of snappy haptic feedback you might feel from a game controller.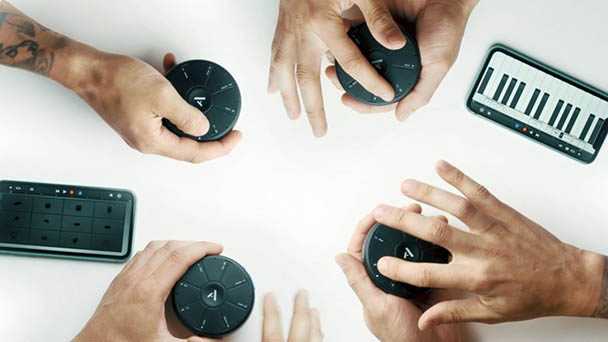 Music for the Masses
The period of gadget enchantment will be long with the Orba, but eventually you'll want to make music. Brilliantly, that can be accomplished within moments of turning the device on, without any kind of preset fittingly. You'll be able to cycle through the unit's four instrument sets with a press of the middle button. Alternatively, you can use the Artiphon button as sort of a shift key, selecting drum, chord, bass, and lead voices instantly. Should you wish to change octaves, a button press and quick finger rotation permits. It's instinctive, but perhaps a bit cumbersome for live performances.
Fortunately, The Orba is well suited for recording basic loops. Another button tap triggers a metronome beat and the device is smart enough to pause recording until a key is pressed. At present, the instrument is quite capable of helping you craft an eight-bar mini-song. Although my music skills didn't permit me to create an ear-pleasing arrangement, I was quickly able to lay down a set of lo-fi beats for other pieces of music. But I've been playing with the Orba everyday for a week, and I do feel a respectable melody will emerge soon. And that's ultimately the allure of the device: you'll learn through experimentation rather than tedious drills or hours of study. But I am hopeful that a musical savant will produce YouTube videos offering a step-by-step guide for making a genuine jam.
Scalability Adds Value
What's great about the Orba is that it works as an accessible standalone device but it can also scale to something more powerful. Advanced play involves the use of gyroscopic and accelerometer input, providing the ability to pitch bend or adjust volume on the fly. Download either the iOS, Android, macOS or Windows app, and you'll be able swap instrument sets. While the default sounds produced by the on-board chip are impressive, at present, don't expect rich instrumentalization for sounds like strings or brass.
Currently the sound packs are free, and while Artiphon representatives wouldn't comment, I'd expect some additional sound banks might arrive with a cost. At present, there's a few kinks to be worked out, especially when using a wireless connection. But the team is aware of the minor issues and seems committed to fixing any blemishes on the software side of things. They also hinted at additional functionality which would extend the unit's capabilities even further.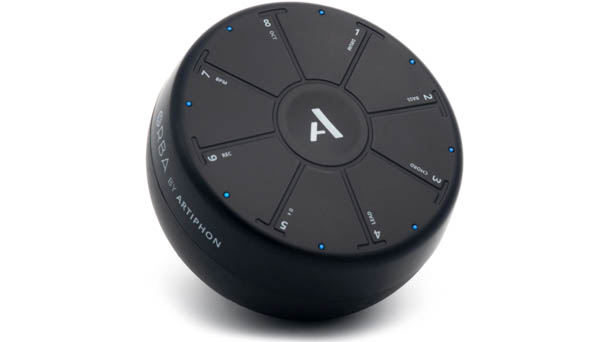 For those who already have a DAW, sequencer, or software synth, the Orba can connect via MIDI, offering one of the least expensive MPE (MIDI Polyphonic Expression) controllers around. While I didn't explore this beyond a few sessions with the desktop version of Garageband and FL Studio 20, I can report it works flawlessly. With the unit's capacitive touch control, input was a breeze and I was told that other application can harness the Orba's gyroscopic and accelerometer capabilities, making it rather cool little contraption.
Conclusion
But for those who don't have those lofty ambitions, Orba performs pleasingly as a standalone device. The built in speaker at the bottom puts out a decent amount of power. If you crave additional volume, there's a 3.5mm headphone jack that can be connected to an external amp, as well as Bluetooth connectivity. For someone who strives to ensure their electronics are mar free, the availability of a travel case ($14.99) and silicon sleeve ($9.99) is an agreeable addition.
While there's a few kinks to be worked out on the software side of things, Artiphon's hardware is ingeniously engineered and well-constructed. The Orba's semi-spherical shape is seamlessly contoured for your palm. Once it's made it way into your hands, the device invites users to take a journey of musical discovery. While some might create impressive compositions, merely being able to explore possibilities makes the Orba a worthwhile purchase.
Tech-Specs:
Included: Orba, USB Cable, Quickstart Guide
Connectivity: USB-C (USB 2.0 Class Compliant Audio/MIDI), 3.5mm (1/8″) TRS Analog Headphone Stereo Out, Bluetooth,
Bluetooth LE MIDI (MIDI only)
Output: 3W built-in active speaker system
Compatibility: iOS 11 and newer, Android 9 and newer, macOS 10.12 and newer, Windows 10 (64 bit)
Review Overview
Summary : Artiphon's Orba puts a portable synth, looper, and MIDI controller in the palm of your hand for a very reasonable price. Recognizing ten different gestures, from slides, shakes, to spins, it's an ingenious device that's hard to put down.