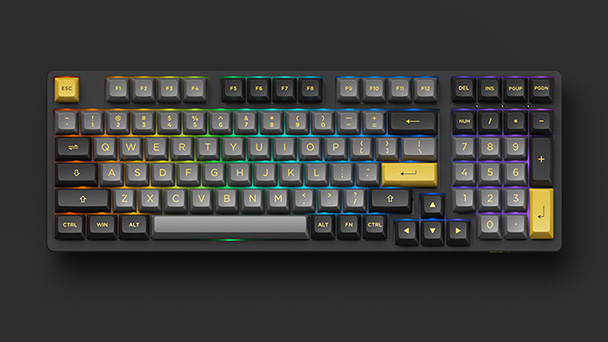 The Akko 3098 is a pretty and pint-sized keyboard that's ideal for Instagram-ready home office spaces. But the lack of any kind of companion app can make common tasks just a bit too complicated. As it stands, it's more pretty than practical.
Akko 3098 Multi-Mode Keyboard
Connectivity: Bluetooth 5.0/2.4Ghz/USB Type-C
Compatibility: Windows and Mac
Lighting: RGB Backlit
Battery: 3000 mAh rechargeable lithium-ion battery
Keys: Double Shot PBT Keycaps
Dimensions: 382*134*40mm
Weight: 1.1kg
Price: $99.99 – $105.99
For many PC owners, form is just as important as function. Scan social media and you'll find game rooms, home offices, and bedrooms that exude futuristic elegance. In these spotless spaces, nearly every component boasts colored LED lighting, with cooling fans, mice, mouse pads, and keyboards all emitting a stylish pastel glow.
Sure, these devices are all outwardly attractive. But beyond earning social media Likes, how practical are these peripherals? That's the question we asked as we put the Akko 3098 Keyboard through the paces of a rigorous workweek. What we found was a versatile, reasonably priced performer that could enrich almost any informal living space. But there are a few attributes that the manufacturer needs to improve.
Open up the 3098's cardboard housing and you'll find the keyboard wrapped in a Styrofoam wrapper. Accompanying the device you'll find a user manual, 2.4GHz dongle, USB-C cable, along with a keypuller and twenty user-replaceable, decorative keys. It's all thoughtfully packaged to ensure that everything should arrive scratch-free, even after enduring a bumpy transport to your home. Here, our delivery helped test the protectiveness of the packaging with a four-foot toss onto hard concrete. While the box endured a dent, everything inside was in perfect condition.
Save the Manual
Ideally, keyboards should be engineered that that first time users don't need to read a manual. But that's not the case with the Akko 3098. Some of the complication is rooted in the versality of the device, which can connect via a wired cable, 2.4GHz dongle, or via Bluetooth 5.0. Setting the mode is easily accomplished via a small slider switch on the bottom of the unit. But the Akko isn't exactly plug-and-play. Initially opting for the simplicity of a USB connection, we had to scan the instruction to see why the keyboard wasn't responsive.
It turned out you also have to enter a keyboard combo (Function+6 in this instance) to get things operational. Although it would have been forgivable if the Akko's keycaps had offered an icon to assist with this, the only messaging from the device was a flashing light beneath the "4" key. But once this idiosyncrasy is realized, pairing the 3098 across other modes proved effortless.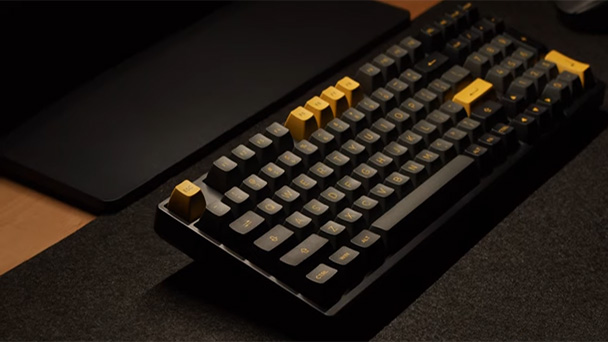 Key Combos for Every Function  
Possessing a rechargeable 3,000-MAh, lithium-ion battery, the Akko 3098 should flaunt a respectable lifespan between charges. We tried our best to run the power down across a seven-day span. Persistently using a wireless connection across ten-hour days and turning the LED lighting to maximum brightness, the Akko didn't need charging. How close was the battery from depletion? There's no way of knowing since there's build-in indictor for battery life. On the upside, neither lag nor missed keys were an issue when using the 3098 in wireless mode.
And don't go looking for an accompanying application to provide any additional data; there isn't one. That means every single one of the keyboard's functions is handled by difficult to recall key inputs. Like one of the LED light effect styles? You'll have to remember if it's assigned to a key combo that includes the delete, insert, Page Up or Page Down keys- since each button cycles though five of the twenty different lighting styles. Yes, you can adjust everything from animation directions, speeds, and brightness, but you might have to refer to a cheat-sheet if you switch them infrequently. Creating macros is even more cumbersome. The Akko 3098 desperately needs a companion app to ease with these functionalities.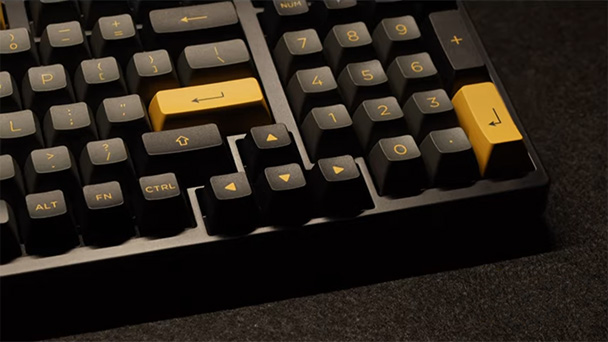 Small Size, But Reduced Ease
The Akko 3098's diminutive size might be another contentious issue. While the keyboard's 382*134*40mm footprint and 1.05 kg eight make it a pint-size charmer, the 98-key layout means you'll be missing handy keys like "Print Screen" and "Page End". Sure, some these functions are replicated by combos, but if you're accustomed to having individual keys, daily use can feel like a compromise. Although I acclimated to cursor movement keys that didn't have the usual space around them, others might not care for the positioning.
The keyboard that Akko sent was furnished with TTC Silent Red V3 switches. And it was here that the peripheral shined. Everything from actuation force to key travel felt refined. While not as noisy as the 'clack' of a traditional mechanical keyboard, there just enough aural feedback to confirm every key press. Pleasingly, key switching is effortless and swapping any of the dye-sublimated PBT Keycaps is a trouble-free task.
But sadly, the Akko 3098's keys aren't translucent like the comparatively priced Glorious Modular Mechanical Keyboard. As such, light emits from the base of the device which provides some ambient lighting but doesn't illuminate each individual key. As such, using the Akko in darkness can be burdensome.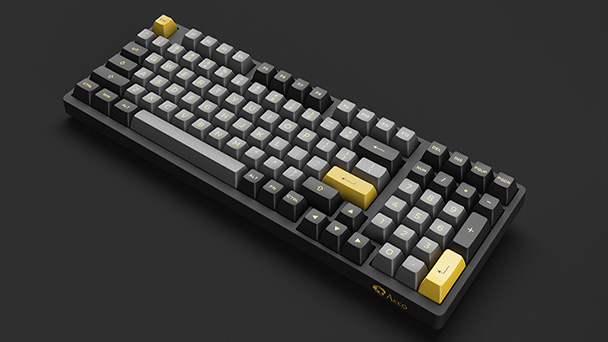 Conclusion
Although the Akko 3098 Multi-Mode Keyboard boasts a respectable build quality, functionality is compromised by the lack of an accompanying app. If your main concern is appearances, the 3098 might be worth considering. But we'd recommend spending a bit more on a keyboard that is both a looker and a worker.
An Akko 3098 Multi-Mode Keyboard was provided
for review purposes by the manufacturer. 
Review Overview
Summary : The Akko 3098 Multi-Mode Keyboard is a beauty and built solidly. But the key combos required for different functionalities are a bit of beast.