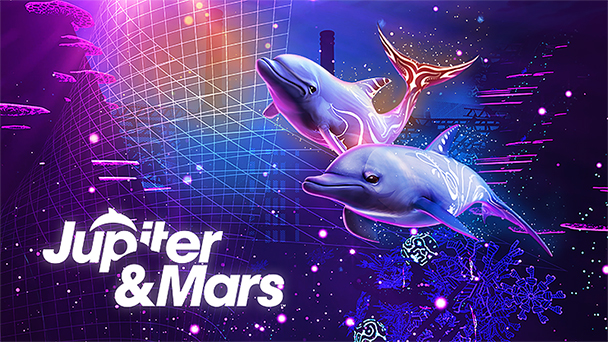 Gaming habitually centers around escapism. When dealing with the inventory of stressors that contemporary life tosses at us, we often need a reprieve. But when the medium is almost exclusively about overcoming issues that are largely disconnected from reality, there's a problem. As American writer Joyce Carol Oates stated, "art should provoke, disturb, arouse our emotions, expand our sympathies in directions we may not anticipate and may not even wish."
Of course, the main impediment is a game's commercial component. Games just can't make us ponder, they also have to turn a profit. All too often that results in an experience rooted in the superficial or at least the inconsequential.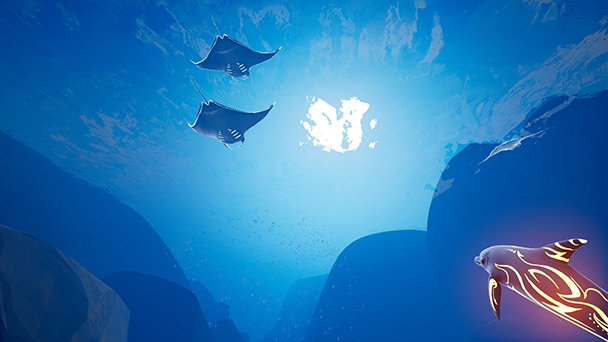 This opposition is at the heart of the recent PlayStation 4 release of Jupiter & Mars, a title that strives to balance ecological awareness, aesthetic beauty, with the satisfaction of exploration and simple puzzle solving. Although the title might not gratify those accustomed to gaming's traditional sense of urgency, those who enjoy a calm, contemplative journey will undoubtedly appreciate Tigertron's inaugural title.
Released on Earth Day, Jupiter & Mars' opening narration conveys establishes a cautionary context. Set in the near-future, the planet's polar caps have melted, quite possibly as a protective tactic. While the human population, referred to as "Earthwalkers" might have died out, their presence persists. Beyond the ubiquity of trash, machines continue running, persistently pumping a steady stream of toxicity into the world. Later, key landmarks make an appearance, an eerie reminder of a civilization so obsessed with unnatural spectacle that they've neglected the biological understructure.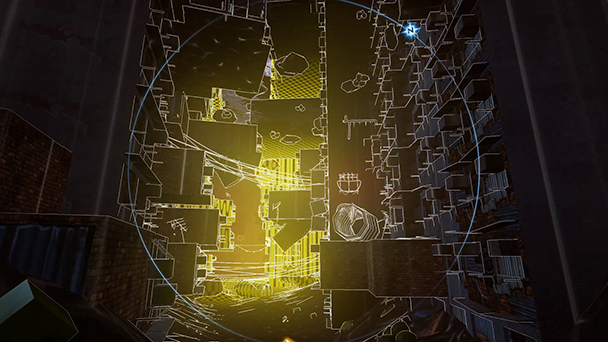 Yet, Jupiter & Mars doesn't wallow in the eco-guilt. Creative director James Mielke's experience at Q Entertainment is unmistakable. Comparisons to Rez are inevitable, as you take to the stylized seas that gleam with radiant color while a buoyant, synth-heavy soundtrack reminiscent of Erasure surges in the backdrop. But whereas Rez was a tautly-controlled experience, with players soaring through linear levels, Jupiter & Mars favors the exploratory. As such, the synergy of sight and sound is absent, but a post-cataclysmic, sunken planet shouldn't feel like a night club.
The game's title, Jupiter & Mars, is unquestionably an allusion to the soaring melody of Bart Howard's 1954 classic, "Take Me to the Moon"1. But here, it's also the name of the game's two dolphin leads. Players take control of Jupiter, who swims around in first person freedom, accompanied by Mars, a dutiful assistant. Spot a suspicious-looking giant clam or an access-blocking barrier, and a single button press sends your companion into action, bottle-nosing the object.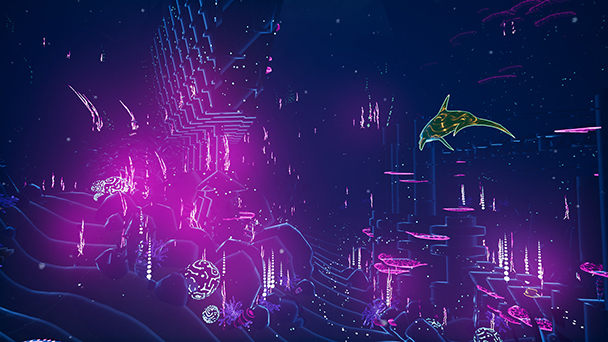 To aid your efforts, Jupiter can use an echolocation function, visualizing the environment in front of you with a striking visual effect. Here, prominent objects will be highlighted, directing your attention to objectives. This will help when you are assigned a task like helping a mama turtle whose babies wandered away and got stuck in debris.
Some might chastise the game for its lack on incentivization. Sure, you can find collectables scattered around the oceanic landscape. But unlike most game where's there's a tangible reward, Jupiter & Mars doesn't provide a power-up for your service. Gratification comes from an attempt to revert crisis. For players accustomed to the constant drip-feed of diminutive dividends, the lack of incentive might be off-putting. But the team at Tigertron are deliberately saying that fulfilment in found in less prevalent forms. Contributing to a collective cause is its own virtue, is the message, challenging game tradition.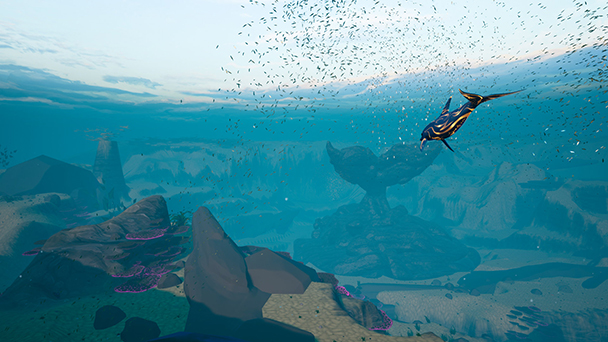 As such, Jupiter & Mars has much in common with games like Flower and Abzu. Conventional antagonism is missing, with jellyfish only becoming an obstruction and an event resembling a boss encounter missing the controller-tossing frustration. Reduce the game to a 'swimming simulator' if you must, but credit should be given for challenging many of the tenets of our hobby.
You might expect a subaquatic exploration to be ideal fit with Sony's PS VR hardware. But woefully, the peripheral is already showing its age. Sure, you can select from a trio of navigational schemes. Head movement steering works well enough, at least until you get into the tighter spaces of the game's latter stages. But the reduced resolution of the device removes some of the allure from the underwater contexts, making for a soggy delivery.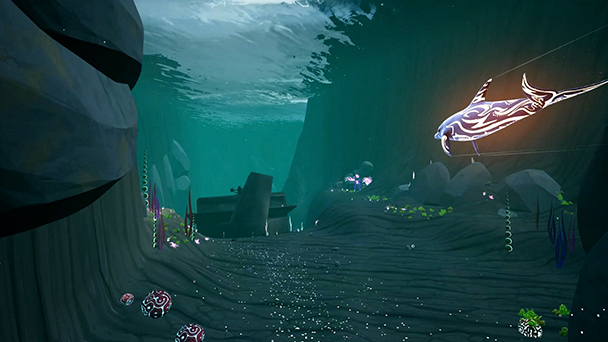 With pause screens that promote charity instead of season passes, Jupiter & Mars' heart is definitely in the right place. And if your heart and mind are open, you'll appreciate the game's smoothing five-hour adventure. Free of the relentless tension that's customary for most games, the title gives you time to think about what's being depicted, instead of instinctively reacting to the next antagonist. If the medium is going to mature, we need more experiences like Jupiter & Mars.
Jupiter & Mars was played on PlayStation 4 with review code provided by the publisher
1 Popularized in 1964 by Frank Sinatra and to the cultured, Megumi Hayashibara and Utada Hikaru's ending themes for Neon Genesis Evangelion.
Review Overview
Summary : While fighting imaginary villains in fantastic environments is fun, Jupiter & Mars brings up closer to future we might not be comfortable facing. Fortunately, it's not the typical eco-downer with hope found is brightly hued oceanscapes and a wonderfully buoyant soundtrack.