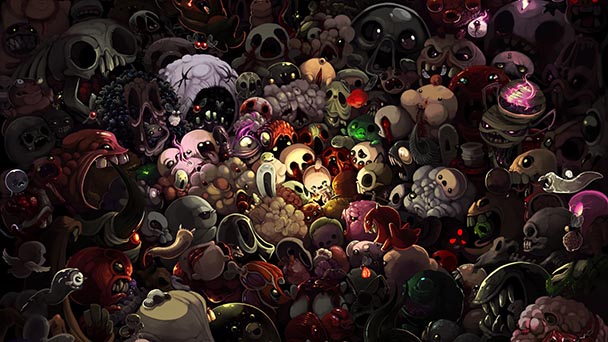 Rogue-likes typically task us with delving into dangerous dungeons filled with enraged foes and just enough assistive loot to sustain the whole expedition. Undoubtedly, 2011's The Binding of Isaac challenged the blueprint. Although the action-based shooter doled out enough resources for players to make it through a succession of procedurally-generated rooms, the setting was far removed from conventional Dungeons & Dragon-cribbed milieu.
Instead, the eponymous lead was fleeing from his mother, who had received a mandate from God to kill the child. Despite design decisions that tempered a distressing depiction of infanticide, the title was brimming with surreal and often gruesome imagery. For 2014's The Binding of Isaac: Rebirth, the viscera, feces, and depictions of childhood trauma were given a subtle upgrade from their Flash-based origins, permitting the title made a pilgrimage to console and portable.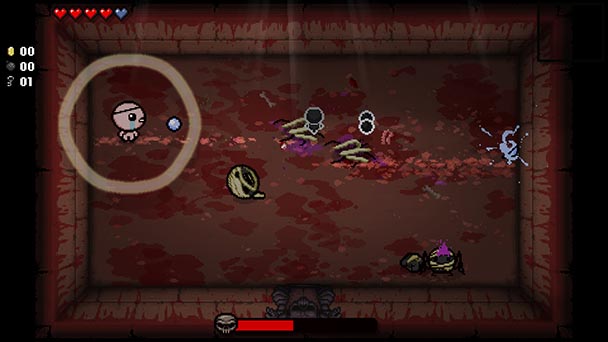 Building on Rebirth's foundations, the release of the Afterbirth add-on maintains the games' masochistic trajectory. Yes, you're still evading Mom by fighting phallic monsters and spiders amidst piles of fly-inundated poop, but now the number of items has been enlarged exponentially. New modes allow for succinct playthroughs and score-based assessments against other players. But the level of difficulty has also been raised, pushing an already challenging game into the cusp of the demoralizing. Don't be surprised if you produce a river of tears equivalent to Isaac's output.
But for sadists, Isaac's intersection of blind luck and the need for razor-sharp reflexes remains, with each over 120 new pieces of equipment carefully woven into the torturous tapestry of dysfunction. Revisit Afterbirth and you'll find a glut of new items like the God's flesh, where Isaac's outpouring of tears can shrink enemies making them susceptible for trampling. Or the Fruit Cake, an item which adds another layer of randomization, putting one of fourteen tear modifiers, or if Dr. Fetus is active, several different bomb effects. What's most surprising is how seamlessly the most of the new items fit into the existing framework, creating synergistic situations for players. Naturally, chance occasionally has it out for players, with desperation leaving you in a precarious situation. At least until Binding's icons and nine new transformations become familiar.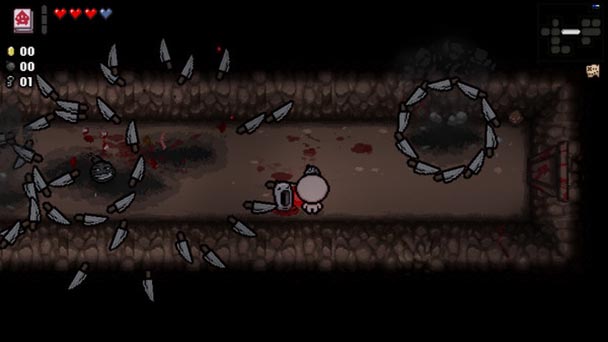 Complementing the new items are rooms designs that add diversity to the basement maps. In larger, scrolling areas, a cluster of creatures might be waiting for careless players, while smaller zones can induce claustrophobia during hectic boss battles against a number of new baddies. Expectedly, these restricted, often spike-strewn rooms can really escalate the level of challenge, all too often revealing Isaac's last will and testament. On the upside, there's an increase in risk/reward situations, with items irresistibly placed over booby-traps.
This quandary is also at very center of Greed Mode, which abandons the usual quest for a wave-based challenge. As your trying to eliminative existing enemies, new ones enter the room periodically, creating an especially tense context. To pause the outpour of adversaries, there is a trigger that can be pressed, but access to the switch means taking physical damage. Without the customary item drops, shops become the main way for players to acquire power-ups, hence explaining the mode's moniker. Completion of this coin-hording variation is the method of unlocking Lilith- one of Afterbirth's two new characters.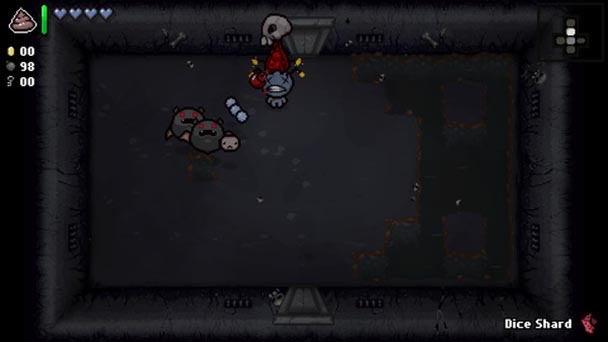 Beyond the inclusion of ten new challenges, Daily Runs introduce competition into Isaac's basement. Here, the calendar date acts a seed for a procedurally-produced trial, establishing elements like character, modifiers, and map layout, while adding scoring to Binding's gameplay. Gamers get one diurnal chance to run the gauntlet, with their outcome posted on an online leaderboard for potential bragging rights.
Rogue-likes often succeed as power fantasies, allowing players to take an enfeebled character on a digestible journey of self-actualization. The Binding of Isaac took the motif one step further, extending a metaphorical struggle against the scourge of dysfunction. Afterbirth's strength is the ability to revisit that battle, adding a cornucopia of content to make the fight seem fresh. Save for a difficult level that seems meant for the most intense of Isaac aficionados, this is the uncommon add-on worth the price of admission, extending the game to its conceivable limits.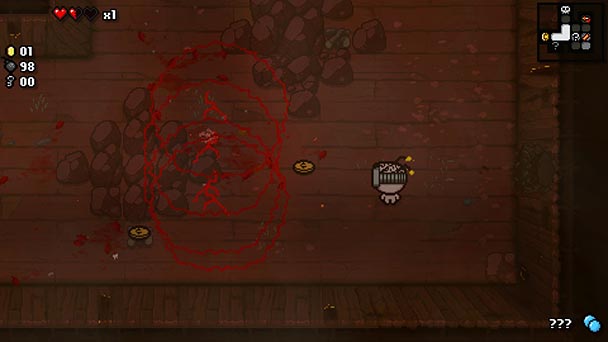 The Binding of Isaac: Afterbirth was played on the PlayStation 4 with review code provided by the publisher.
The Binding of Isaac: Afterbirth
Platform: PlayStation 4, Xbox One, Previously on PC
Developer: Nicalis
Publisher: Nicalis
Release Date: May 10th, 2016
Price: $10.99 via PlayStation Network, Xbox Game Store, or Steam
Review Overview
Summary : Afterbirth extends a vigorous amount of content that gives Binding of Isaac: Rebirth a wholesome dose of new items, rooms, bosses, transformations, and challenges. Collectively, the content produces enough novelty to warrant a purchase by buffs of the base game.