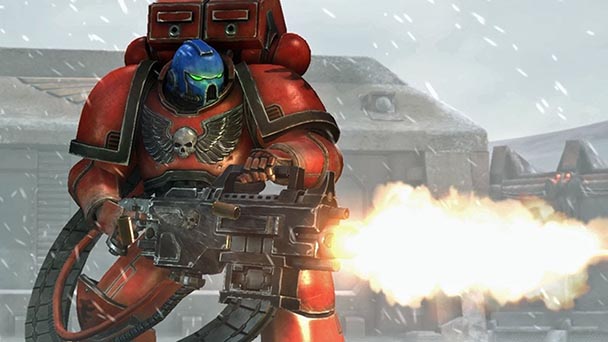 Upon hearing the next Warhammer 40K title was going to be chess game, fans voiced their concerns, feeling this scope would be too limited for a universe as grandiose as that of Games Workshop's popular franchise. Yet, when Regicide finally launched, the community's tone changed drastically. Criticism turned to praise and a combination sounded farfetched to many became in fact, a surprising success.
Yes, Warhammer 40K: Regicide is essentially a chess game. In fact, it even includes two modes of play, one of which is classic chess where pieces are replaced with Space Marines and Orks, creating perhaps the closest experience we've had to the classic Battle Chess series in roughly two decades.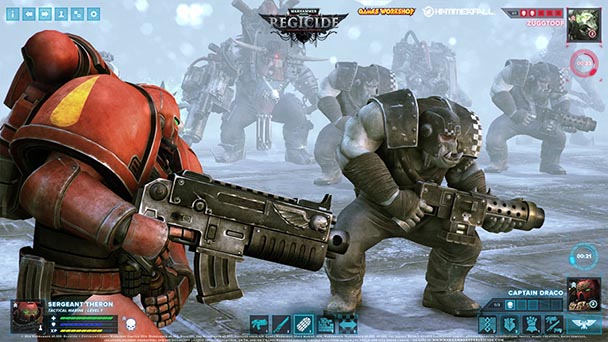 Make no mistake; the main attraction here is Regicide, a spin on centuries old rules re-invigorating a board game in a surprisingly engaging manner. Battles take place in a board with the same number of pieces and movement one is already accustomed to. Players are expected to checkmate the opposite king while avoiding a similar fate to their own.
However, new rules have been added. Upon finishing moving a piece, players are given action points. Here, they may either fire upon enemy pieces, activate unit-specific enhancements or army upgrades. All of these carry a degree of luck to them, meaning your strikes may miss the target or deal critical hits draining their health points. Capturing a piece as you would in any chess game automatically eliminates that unit, posing an interesting strategic concept in which for example, a bishop may capture a rook only to then fire at the king.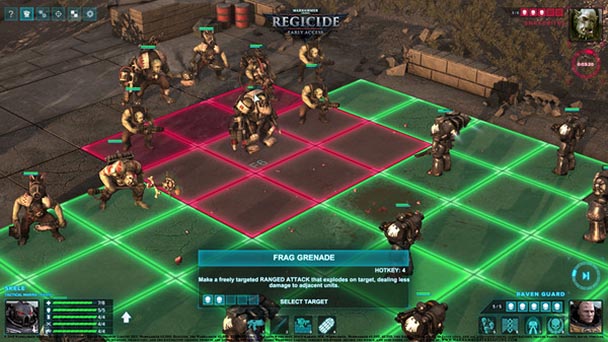 Essentially, this forces players to re-think how they view chess, what was once a suicidal strategy may now be a winning move under this new paradigm. Gamers may choose between the Orks or Space Marines, whose units carry different abilities depending on their race. Alternatively, faction-specific abilities may be unlocked by playing online or navigating through the campaign.
The lack of fan-favorite armies such as the Eldar, Necrons or Imperial Guard is disappointing, though it opens up the possibility for future expansions. Players favor single-player games will be glad to know there's a fairly lengthy campaign with over forty missions to complete. Taking solely the space marines' perspective, the plot is uninteresting, serving instead as an excuse for upcoming battles. These do not employ a full board, providing instead a scant few pieces for each side with primary and secondary objectives which must be completed. Goals can range from killing an enemy unit in a specific way to capturing a portion of the map or merely survive.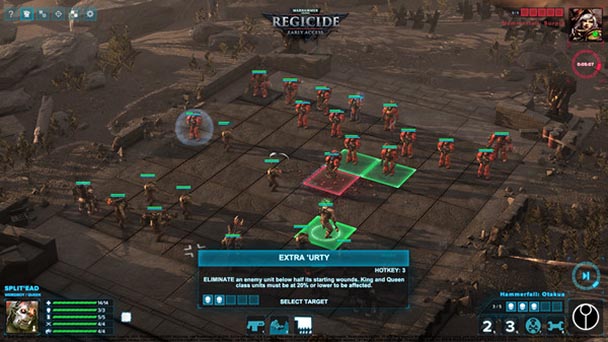 Although Warhammer 40K: Regicide was initially plagued by bugs and glitches, most seem to have been fixed in the current release. Unfortunately, the camera will sometimes be blocked by map debris during battle animations, block any view of the action. Perhaps just as egregious are the walk cycles and fighting segments which can be long and repetitive, though they can be skipped at least. However, Regicide's greatest technical issue isn't a bug, rather it's the poor A.I. which barely offers a challenge, especially when playing through the campaign. It will often ignore open targets, ready for the taking and never sets its own traps. Oftentimes it feels as if the computer is just randomly moving pieces through board with little rhyme or reason. Players can at least set enemy AI during skirmish matches, though it's still no match for human opponents.
Anyone looking a true challenge would likely be tempted to engage the multiplayer segments, though the player-base isn't as high as one would like. This issue is further exacerbated by foes who choose to fold after losing only one or two units, making for an unsatisfying experience.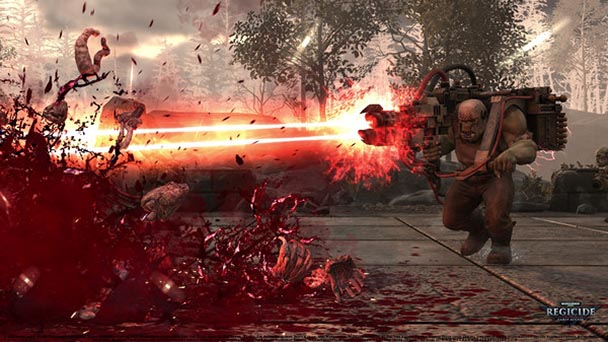 Warhammer 40K: Regicide is a unique mix of Warhammer with classical chess, the addition of new rules and battle segments add a new layer of strategy and revitalizes a centuries-old board game. Sadly, the lack of a robust campaign and proper AI opponents keep it from being a stand-out title.
Warhammer 40K: Regicide was played on the PC with review code provided by the publisher.
Warhammer 40K: Regicide
Platform:
PC
Developer:
Hammerfall Publishing
Publisher:
Hammerfall Publishing
Release date:
September 8th, 2015
Price:
$14.99 via
Steam
Review Overview
Summary : The idea of combining 40K with chess may have been questionable, but in the end, Warhammer 40K: Regicide surpasses expectations.