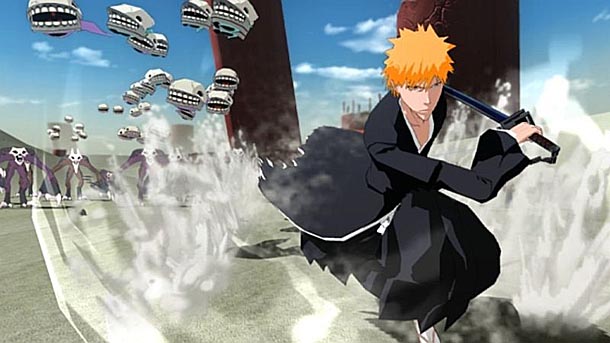 For better or worse, Bleach: Soul Resurrección will inevitably be compared to the Dynasty Warriors franchise, when NIS America publishes the PS3 title this summer. With hordes of low-level hollows effortlessly defeated through simple button combos and devastating musuo-like attacks, there is an irrefutable  similarity between the games. Yet, with a handful of mechanics borrowed from other games, Bleach's combat is consistently gratifying.
Arguably, the title's infinite dash is one of the most rewarding additions. This ability allows players to sprint across the landscape, rupturing resource-hiding objects and enemies alike. Another pleasing nuance ability is Soul Resurrección's varied roster of playable characters- each having their own distinctive play style. Whereas Ichigo Kurosaki's favors the melee-oriented zanpakuto swords, Uryū Ishida prefers the long-ranged, projectile attacks of the Lone Sparrow. Unlike similar titles, each of the twenty-one members of Bleach's cast controls quite differently, requiring a mastery of different techniques. Complementing the dash attack, the game's tempo feels agreeably hasty, recalling the frantic conflicts found in Devil May Cry.
While the game's combat may initiate a few newcomers to the substitute Soul Reaper's exploits, hardcore Bleach fans will surely appreciate Soul Resurrección's attention to detail. From landscapes and enemies which like they were torn right out of the anime to a plotline which captures the supernatural intrigue and characterization of the source material. This summer, players will discover if Bleach: Soul Resurrección becomes one of the few anime-based games to truly deliver on its potential. Watch our play-though of the first level of the game to get a small taste of what NIS America has in store for gamers.