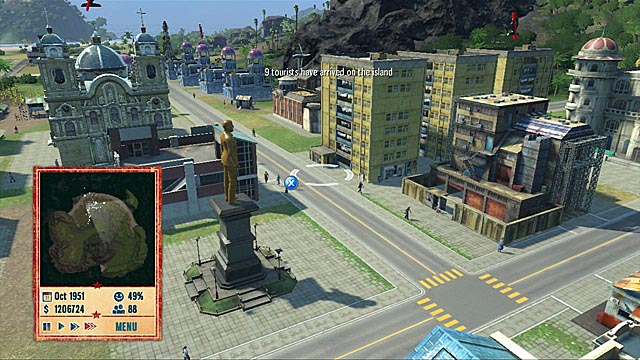 Much like GLaDOS and Wheatley's voice overs which invigorated Portal's puzzles with a refreshing dose of comic relief, sly humor has elevated the Tropico franchise above its humdrum city-building peers. With jabs aimed at riled environmentalists, shady civil servants, and jingoistic generals, the series' clever wit manages to conceal the inherit tediousness of managing taxes and immigration protocol. With the recent port of Tropico 4 to the Xbox 360, developer Haemimont Games further demonstrations the potential to make geopoliticking seem gratifying, while expanding the complexity of their Caribbean simulation.
Much like the Civilization or Age of Empires series', success in each of Tropico 4's twenty missions involves the meticulous balance of short and long-term goals, while keeping a vigilant eye on the coffers. Spread across a variety of ten islands, this increasingly challenging set of assignments starts with players choosing El Presidente from a list of personas based on both actual dictators as well as curious archetypes. Between an optional tutorial and a generous amount of financial aid for countries trying to influence the principals of your banana republic, keeping your island in the black is much easier than it was in Tropico 3. As such, a more diverse set of objectives propels the title, recalling Civilization's variety of militaristic, cultural or educational ambitions. Another key addition in the integration of noncompulsory side-quests, which players can tackle for a variety of perks, including padding their own Swiss bank account. From allowing same-sex marriage to making oil deals with the Middle East, many of the title's hot-button issues might be anachronistic, but they keep the ethical decisions stimulating.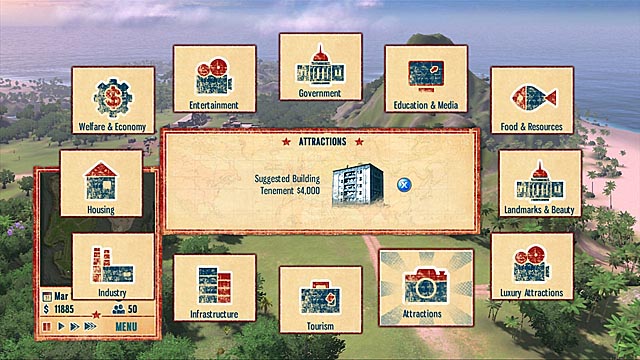 Wisely, you are rarely overwhelmed by Tropico 4's challenges. Although coaxing the populace to populate developing regions can be testing, a roster of advisors assist gamers though some of the rudiments of maintaining a healthy political climate. Of course, more malevolent participants can shirk the advice, turning their isle into an oppressive regime by building a network of prisons and aggressively battling dissidence. One pleasing example: after a cathedral is built, the player can label an insurgent as a heretic, forbidding the person to become a faction leader, but at the cost of reduced respect from the rebel's family.
Although the game doesn't force much of a moral stance on players, each political approach is met with a series of difficult consequences. Whereas previous iterations of Tropico focused on alliances with the U.S. and U.S.S.R., the game's diplomatic options have been bolstered by a wealth of different countries. Now, declaring that Taiwan should be free from mainland Chinese rule can have serious ramifications for your island economy. Beyond the maintenance of foreign relations, rulers also have to deal with the intermittent natural disaster- from tsunamis, twisters, volcanoes to fires.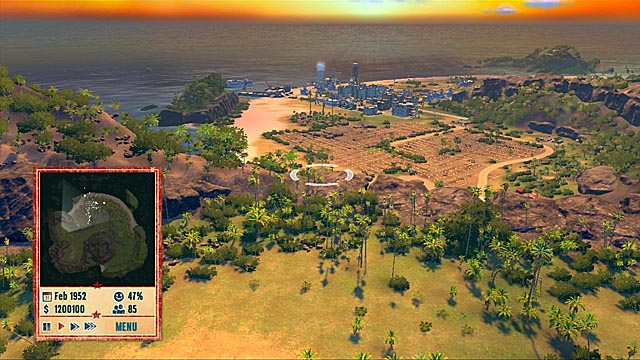 Making key decisions is rather straightforward thanks to Tropico's 4 intuitive control scheme, which replaces the mouse and keyboard interface of the PC version with layered radial menus. Once players familiarize themselves with the general categories of structure types, building is a breeze. Likewise, controlling time is effortless, which is especially useful when your dictatorship is in its infancy or a crisis is breaking out. Unlike many console city-sims or RTS titles, inadvertently demolishing a building is almost impossible, although placing structures can be a bit persnickety.
Visually, Tropico 4 exhibits a greater level of optimization over its predecessor. Where Tropico 3's densely populated isles would sputter from the behind the scenes calculations, the sequel resorts to the occasional drop in animation frames to preserve the framerate. Although an installation to the 360's hard drive isn't mandatory, constant reading from the optical drive create enough noise to spoil the game's vibrant tropical melodies.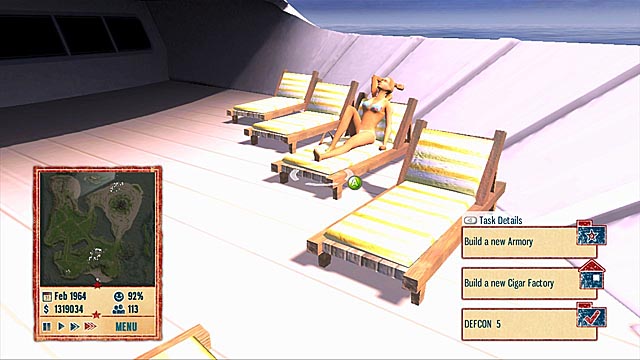 For console simulation buffs, Tropico 4 is top-tier effort. Augmenting its satirical and richly detailed recreation of cold-war island politics with a solid input method, the title delivers a pleasing microcosm begging to be messed with. Beyond the main campaign, a captivating sandbox mode awaits players to tinker with the game's intricacies, warranting a purchase from any hopeful megalomaniac.