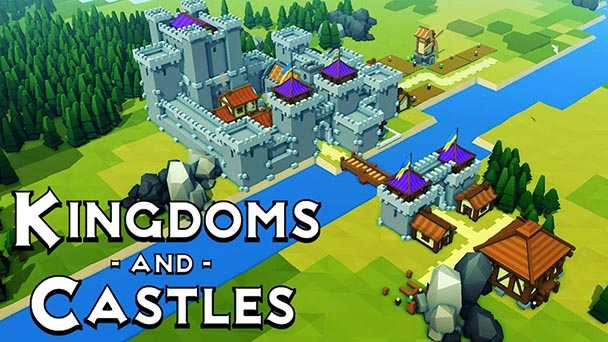 1989's SimCity was an irrefutable work of genius. Although a game built around the idea of urban development might have sounded tedious in description, designating industrial, commercial, and residential areas was as approachable as it was captivating. Understanding the relationships between each type of zone, while offering services, amenities, and a tax rate that kept your citizenry content kept a generation of gamers glued to their monitors.
But like so many inspired game concepts, a succession of sequels instituted feature creep into the city management franchise. Subsequent versions had players worrying about terrain, density, land value, as well as a plethora of financial matters. While these additions might have made the simulation more convincing, it didn't always make SimCity more enjoyable.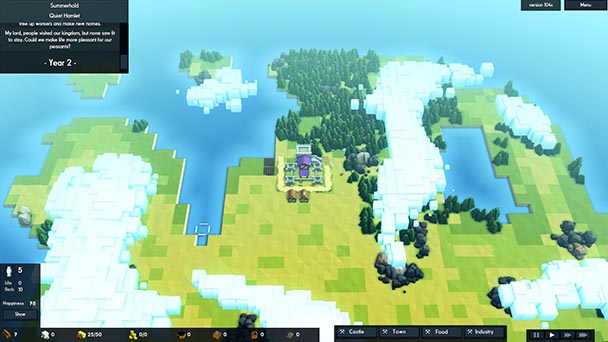 As such, the back to basics approach employed by Peter Angstadt (ABZÛ, Cannonbrawl) and Michael Peddicord (Boom Blox Smash Party, Journey) make the recent release of Kingdoms and Castles so refreshing. Although the PC-based title eschews zoning as well as a modern context, it's a city builder that largely channels the accessibility and open-ended dynamism of Will Wright's cherished classic. While gamers seeking a dedicated tutorial and tangible end-game might be disappointed, those yearning for a diverting city sim should appreciate Lion Shield's inaugural offering. That is, if they don't mind the feeling of playing a title that's still a bit of a work in progress.
Before delving into the minutia of city management, players select if they want substantial opposition, an intermediate amount, or none at all. After that choice, you'll be able to pick from a variety of land masses, each surrounded by water. After selecting a suitable space for your main keep, Kingdoms and Castles relinquishes control, furnishing a robust feeling of autonomy.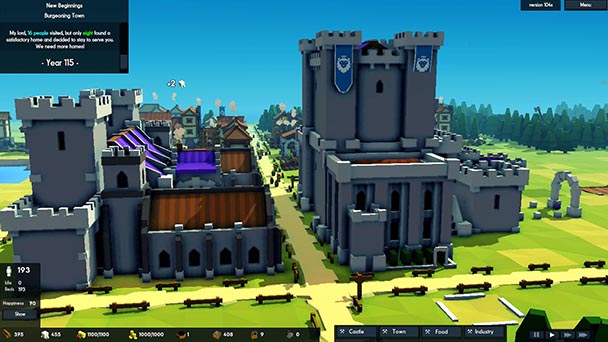 For those who don't appreciate the constant nagging of mechanical explanations and guidance, Kingdoms and Castles will be invigorating. Like most entries in the genre, initially, your diminutive hamlet will live hand to mouth, as you build small hovels and farms to house and feed a emergent population. Resource gathering is a relatively straightforward affair, as your send idle residents to cut down trees and gather lumber or build a quarry to extract stone or iron from color-coded deposits.
And largely, Kingdoms and Castles' user interface makes ruling a relaxed affair. The bottom of the playfield keeps a running tally of all important stats- from population, housing space, the number of inactive denizens, and supplies of wood, stone, food, gold, and the like. Clicking on your keep brings up the counsel from a trio of advisers, who offer recommends about your agricultural, city-, and military-based objectives. Gaining an effective perspective for your voxel village is straightforward as well, with a command set that mirrors real-time strategy tradition. However, one element that's isn't intuitive is when your financial advisor suggests a change in the tax rate. Kingdoms and Castles doesn't let you know you need to build a treasure room first before making a change, which can cause frustration when you keep getting carped.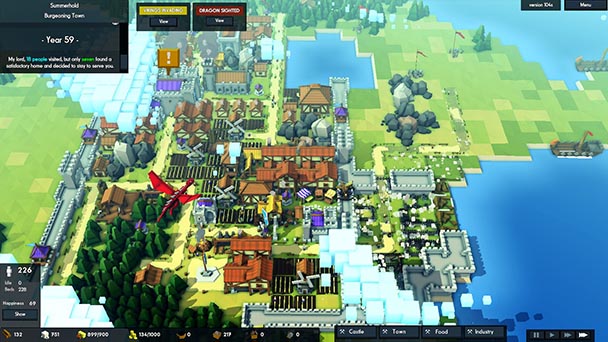 While this might be the  most remarkable omission of instruction, there are others, which might not sit well with players unfamiliar with the city-sim genre. To counterbalance this, Kingdoms and Castles surrenders the complicated, branching tech-tree found in similar situations. Instead, there are prerequisites, with each being clearly communicated, so you'll know how to build that towering citadel. Similarly, it's fairly easy to comprehend what your macro-objectives are, as the title's pop-up menus articulate the desires of your citizenry.
That's not to say that Kingdoms and Castles lacks challenge. Even with antagonism turned off, unharvested crops will spoil during winter, potentially burning through all of your reserves and triggering famine. Beyond that, there's a persistent threat of fires, floods, and plagues to keep your population from swelling to large. With opposition, turned on, defense building practices are necessary, lest you'll succumb to a Viking raid or a dragon attack. Fortunately, both aren't as devastating as they might sound, and with a bit of precaution, both threats don't present too much of a problem. What is an issue is the management of your troops, which feels underdeveloped at the title's current state. Where's the enjoyment in building a formidable army is they are so difficult to order around?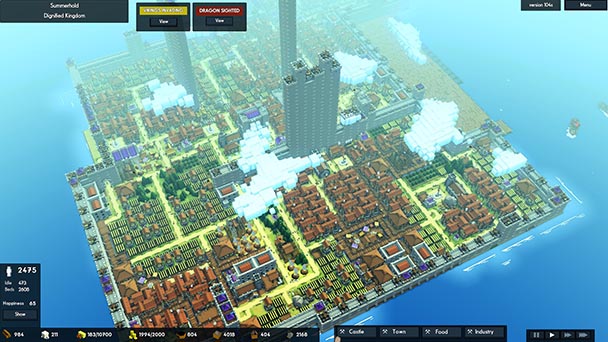 Yet, potentially the biggest issue that will confront players is the lack of a specific endgame. Currently, Kingdoms and Castles has no specific objectives or deadlines, and the laissez-faire approach might not be welcomed for those seeking a sense of closure. While I didn't have an issue with it, many might feel it's another indicator that makes the title feel like it's still in Early Access.
Despite that shortcoming, Kingdoms and Castles is still an enjoyable effort, and should Lion Shield continue to refine the game, it could be one of the better city-management titles in recent years. The decision to not have to micro-manage every citizen and the expression of equifinality are certainly commendable and help to elevate the title above its peers. In its current state, the title is likely worth a purchase for fans of the genre, and should development progress much like one of the game's own cities, that recommendation will only grow stronger.
Kingdoms and Castles was played on the PC
with review code provided by the publisher. 
Kingdoms and Castles
Platform:
 PC
Developer:
 Lion Shield
Publisher:
 Lion Shield
Release date:
 July 20th, 2017
Price:
 $9.99 via
Steam
Review Overview
Summary : Kingdoms and Castles may not feel finalized, but there's enough substance in the this city building sim to satisfy those who want to rule a vaguely medieval, voxel-crafted village. What's more, the price is quite reasonable.